Wada: "Huge loss was like a voice from the heavens"
Square Enix reveals high sales expectations for Tomb Raider, Hitman and Sleeping Dogs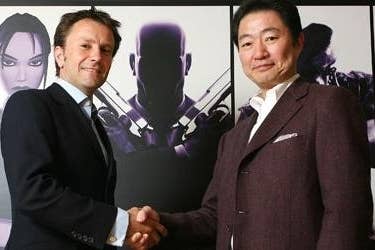 Former Square Enix president Yoichi Wada has said that the "huge loss" the company incurred in the last financial year was like "a voice from the heavens" ordering his resignation.
Yesterday, Square Enix released the transcript from the shareholder meeting that preceded Wada's departure, in which he outlined the contributing factors to the "shocking" ¥12.8 billion negative variance in its expected FY2013 operating income.
"I, personally, would have liked to wait and hand over the firm when it is at its best, however the huge loss was like a voice from the heavens telling me it's time to move on," Wada said. "After given much thought, I have judged that it would be best to support the company in other ways as I hand over my roles and responsibilities. For this reason, I have decided to step down."
A key factor was the ¥7.5 billion dip in net sales from the company's Digital Entertainment segment, which covers console and PC releases. After strong early performance following the acquisition of Eidos in 2009, Square Enix invested heavily in products aimed at the North American and European markets. However, due in part to a "huge slump" in North American retail, nothing on its FY2013 release slate performed as expected.
Sleeping Dogs was expected to sell 2 to 2.5 million units, but it sold only 1.75 million. Hitman: Absolution was expected to sell 4.5 to 5 million units, but it managed only 3.6 million. And Tomb Raider was expected to sell 5 to 6 million units, but hit only 3.4 million by the time the fiscal year ended four weeks after its launch. Wada also said that the sales estimates used in the company's reports are actually 10 to 20 per cent lower than each title's, "full sales potential."
The other major factor was the "extraordinary loss" incurred through the company's efforts to combat what Wada described as an "outdated" revenue model, and a selling capacity that was, "far weaker than we ever imagined." In fiscal 2013, Square Enix incurred a ¥4 billion loss on disposal of content, more than half of which came from culls at its Japanese studios. This also involved the ¥1 billion closure of a new US division devoted to casual gaming on smartphones.
"We have done everything we can do to adapt and respond to the drastically changing environment. However, we have not been able to accomplish satisfactory results since FY2011," Wada said. "I intended to do what had to be done, but these results came despite my best efforts. We are performing negatively in the Amusement sector, negative in EUR/NA console games, and although Social Media Games are doing well, MMO is not performing to the level we anticipated.
"The seeds that we have planted have by chance, or by necessity, all worked in synch negatively resulting in a huge loss for FY2013."