USK adds loot boxes and online risks to age ratings
German ratings board expands labels to provide more information on potential risks to minors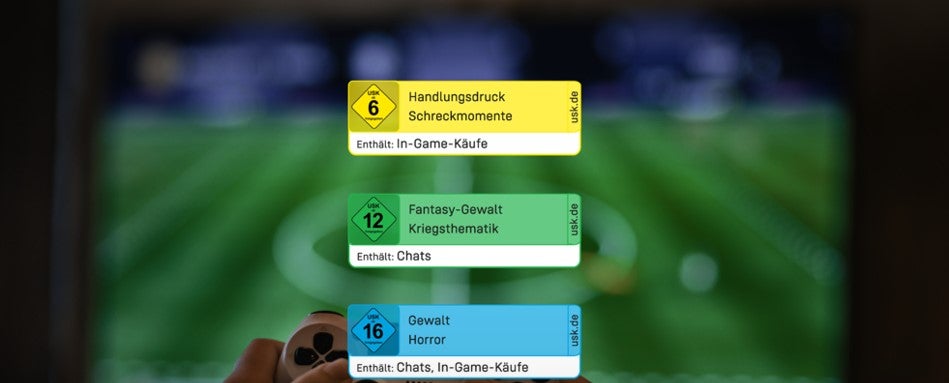 USK, the video games rating board for Germany, has expanded its test criteria and will now take a range of "possible online risks" into account when classifying a game.
In a post on its website, the body said the new rules will come into effect on January 1, 2023 and apply to all submissions going forward.
USK will continue to rate games based on whether content is inappropriate for younger players, but now it will also consider the inclusion of purchasing options or online communications.
Specifically, the ratings board will highlight the presence of online chat features, loot boxes and in-game purchases. The presence of purchases does not appear to automatically increase the age rating, with USK offering the example above of a game featuring in-game transactions but still suitable for players aged six or above.
But the independent committees that assign age ratings will now consider "whether these circumstances justify a higher age category." Factors here will include whether players need to give over sensitive information, and whether the publisher already implements protective measures such as parental controls.
"A ruling practice on the specific effects of usage risks on the specific age rating will become established over time," USK adds.
The image above also shows another major change; USK is expanding the ratings labels that will appear on game boxes, online marketplaces on the USK database to deliver more information about the game's contents.
The labels will now include:
the age rating (top left of each label)
information on why that rating has been given, e.g. theme, violence, inappropriate content, etc (the coloured rectangle to the right of the rating)
information on additional features such as online purchases and chat (white bar along the bottom)
There are more details on the updated criteria here.
These changes have been made in line with the amendments made to Germany's Youth Protection Act last year.
Sign up for the GI Daily here to get the biggest news straight to your inbox