Games deals in 2018 worth record $25bn but "could signal top of the market"
IPO market falls 90 per cent but games investment reaches "unprecedented" levels, according to Digi-Capital
Market analytics firm Digi-Capital revealed this week that games deals have already exceed a record $25 billion in the first nine months of 2018.
However, as Digi-Capital noted, this "could signal top of the market"; when this previously happened in 2014 games investment and M&A plunged immediately to the lowest level in a decade.
"The games deals cycle has swung from boom to bust twice already since 2010, so the next six months will determine if history repeats itself or the dollars continue to flow," said managing director Tim Merel.
While the latest report from Digi-Capital highlights the "unprecedented" level of investment witnessed in 2018, M&A have yet to reach the same heights of 2016, and the games IPO market has almost entirely evaporated.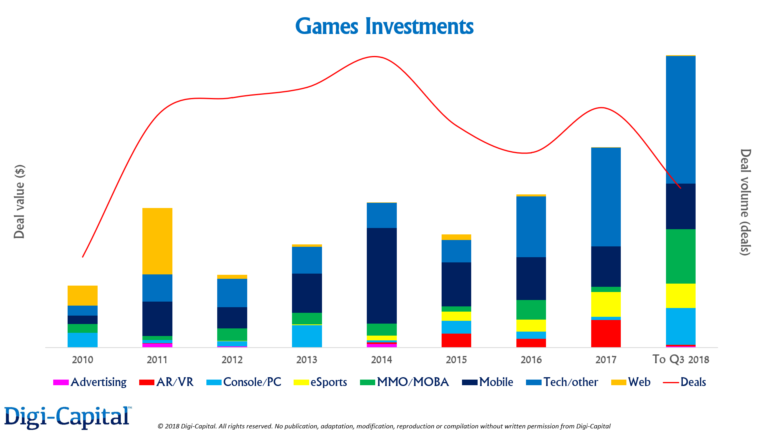 Games investment is performing exceptionally well, thanks in part to Epic Games' $1.25 billion investment round in Q4, taking the total to $5 billion as of October.
Between January and September, $3.8 billion was invested in games companies, which is 50 per cent higher than the previous full-year record from 2017.
Games developers received serious investment in MMO/MOBA, mobile and console/PC games sectors, "despite the high level of consolidation in those sectors". A chunk of this came from Tencent, diversifying beyond challenges in domestic markets from new Chinese games regulation.
Meanwhile, an industry focus on esports belied the lower investment in the sector which received just eight per cent of VC games investment, and less than one per cent of long-term games market revenue.
Although games M&A hit a near-record $20.1 billion in the first nine months of 2018, a single deal accounted for nearly half of the total, when South Africa-based media group Naspers sold two per cent of Tencent for over $10 billion, earning a 60,000 per cent return on its investment.
The games IPO market is looking the least healthy, having fallen 90 per cent from a record $17.1 billion in 2017, to only $1.1 billion in 2018. Just earlier this month, Green Man Gaming delayed its planned £100 million flotation for a second time due to "horrendous" equity markets.
"Games IPOs since 2010 have followed a consistent pattern, with one big year followed by two quiet ones," said Digi-Capital. "Again this dynamic has happened twice already, and 2018 looks it could be the third iteration.... VCs and management dreaming of 2019 IPOs could be losing sleep right about now.
"Deal-making is hard to predict at the best of times, but cycles have a tendency to come back around. So while 2018 is one for the record books for games deals, nobody wants to be without a chair when the music stops."