US game revenue down 5% to $4.6bn in March, says Circana | US monthly charts
Resident Evil 4 Remake topped the sales chart, while Warner Bros' Hogwarts Legacy comes in second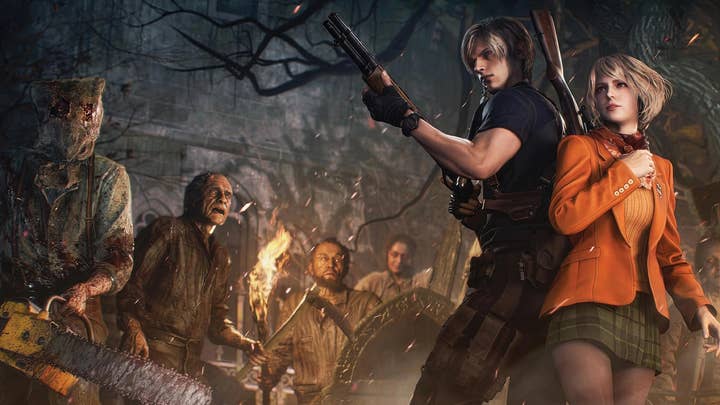 Sign up for the GI Daily here to get the biggest news straight to your inbox
During March, US consumer spending on games reached $4.6 billion, a 5% decline year-over-year, according to the latest Circana data.
Software comprised most of the month's revenue (83%), with game content reaching $3.83 billion in March. However, the segment was down 7% compared to last year's performance.
Consumer spending for the month on hardware was up 10% year-over-year as it hit $566 million.
Among console sales in the month, Sony's PlayStation 5 was the top-selling platform for both units and dollars. In fact, US hardware sales for PS5 have now surpassed those of PS4 at the comparable time in the older console's lifecycle (29 months after launch).
Meanwhile, the Xbox Series X|S systems were second in dollar spending, and the Nintendo Switch was second for hardware units sold.
Accessory spending grew by 1% year-over-year to a total of $239 million during March. The PlayStation 5 Dual Sense Edge Wireless Controller Black was the top-selling gamepad for the month.
Capcom's Resident Evil 4 Remake debuted in March as number one for game sales. Meanwhile, Warner Bros' Hogwarts Legacy reached second, and Sony's MLB: The Show 23 premiered as the third best-selling title during the month.
Here are the top 20 selling games from the period of February 26 to April 1, data courtesy of Circana:
| Rank | Last month Rank | Title |
| --- | --- | --- |
| 1 | New | Resident Evil 4 |
| 2 | 1 | Hogwarts Legacy |
| 3 | New | MLB: The Show 23 |
| 4 | 2 | Call of Duty: Modern Warfare 2 |
| 5 | 6 | The Last of Us: Part 1 |
| 6 | 5 | FIFA 23 |
| 7 | New | WWE 2K23 |
| 8 | 7 | Elden Ring |
| 9 | 4 | Madden NFL 23 |
| 10 | 13 | Mario Kart 8 |
| 11 | 12 | Minecraft |
| 12 | 10 | Octopath Traveler 2 |
| 13 | 21 | Metroid Prime Remastered |
| 14 | 14 | Pokémon: Scarlet/Violet |
| 15 | 11 | God of War: Ragnarok |
| 16 | 15 | Kirby's Return to Dream Land |
| 17 | 3 | Dead Space |
| 18 | 19 | NBA 2K23 |
| 19 | 17 | Sonic Frontiers |
| 20 | 41 | Lego Star Wars: The Skywalker Saga |
Sign up for the GI Daily here to get the biggest news straight to your inbox