Untitled Goose Game, A Short Hike take home top prizes at GDC and IGF Awards
Control picks up three GDC Awards, Disco Elysium and Baba Is You win two each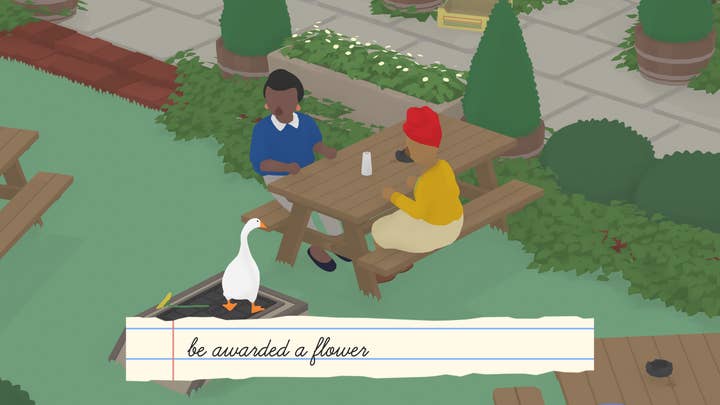 This evening, the Game Developers Conference held its annual Game Developers Choice Awards and Independent Games Festival Awards in a live streamed, online-only event.
The IGF Awards were hosted by League of Geeks director Trent Kusters, with last year's Seamus McNulty Grand Prize winner Lucas Pope returning to present the top honor to A Short Hike by Adam Robinson-Yu and Mark Sparling.
A Short Hike also won the Audience Award, which was voted on by the community.
The full list of IGF winners is as follows:
Seumas McNally Grand Prize: A Short Hike (Adam Robinson-Yu, Mark Sparling)
Best Student Game: Bore Dome (Goblin Rage)
Audience Award: A Short Hike (Adam Robinson-Yu, Mark Sparling)
Excellence in Audio: Mutazione (Die Gute Fabrik)
Excellence in Narrative: Heaven's Vault (Inkle)
Excellence in Design: Patrick's Parabox (Patrick Traynor)
Excellence in Visual Art: Knights and Bikes (Foam Sword)
Nuovo Award: The Space Between (Christoph Frey)
Following the IGFs were the GDC Awards, hosted by Kim Swift and including presentations of the Ambassador Award to Kate Edwards and the Pioneer Award to Roberta Williams.
House House's Untitled Goose Game took home the Game of the Year award, while Control received the most total honors with awards for best audio, best visual art, and best technology.
Disco Elysium and Baba Is You won two awards apiece -- Disco Elysium for best narrative and best debut, and Baba Is You for innovation and best design.
The full list of GDC Award winners are as follows:
Game of the Year: Untitled Goose Game (House House and Panic)
Best Debut: ZA/UM (for Disco Elysium)
Innovation Award: Baba Is You (Hempuli)
Best Technology: Control (Remedy Entertainment and 505 Games)
Best Narrative: Disco Elysium (ZA/UM)
Best Audio: Control (Remedy Entertainment and 505 Games)
Best VR/AR Game: Vader Immortal (ILMxLAB and Disney)
Best Mobile Game: What the Golf? (Triband Productions and The Label Limited)
Best Visual Art: Control (Remedy Entertainment and 505 Games)
Best Design: Baba Is You (Hempuli)
Audience Award: Sky: Children of the Light (Thatgamecompany)