Roberta Williams to receive GDCA Pioneer Award
King's Quest designer will be recognized for her work in graphic adventures and for co-founding Sierra On-Line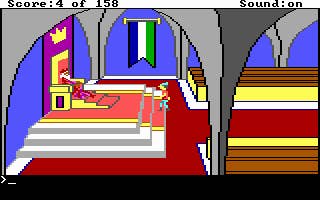 The Game Developers Choice Awards organizers today named Roberta Williams as the recipient of their 2020 Pioneer Award.
"The GDCA will recognize Roberta Williams for her influential work in the graphical adventure game genre, for creating the landmark games series King's Quest, and for co-founding Sierra On-Line with her husband Ken Williams," the group said.
The Pioneer Award "celebrates those individuals who developed a breakthrough technology, game concept, or gameplay design at a crucial juncture in video game history - paving the way for the myriads who followed them."
In 1980, Williams helped create the graphic adventure genre with Hi-Res Adventure #1: Mystery House, which she wrote with Ken. There would be seven Hi-Res Adventures over the next three years including one Williams designed based on Jim Henson's film The Dark Crystal.
In 1984, Williams' signature franchise King's Quest debuted, creating a template numerous adventure games would build off for years. She would work on eight King's Quest games (as well as a remake of the original) before retiring from game development in 1999. Beyond King's Quest, she also led development on the 1995 full-motion video adventure game Phantasmagoria, and designed a number of Mixed-Up Mother Goose titles.
"It's hard to truly measure the impact of Roberta Williams' landmark titles; they not only pushed the technological envelope at the time, but they helped establish video games as a legitimate storytelling medium, and one that could appeal to men and women alike," said Game Developers Conference general manager Katie Stern. "Modern blockbuster titles now incorporate compelling stories as a matter of course, but those fundamental narrative elements were created anew by Roberta and her colleagues in the 1980s and her groundbreaking work helped establish what games could and should be. For that reason, we're proud to recognize her ingenuity, creativity, and hard work with the Pioneer Award."
As usual, the GDCAs will take place during next month's GDC at the Moscone Center in San Francisco. This year's awards are set for March 18 at 6:30 p.m., and will also see former IGDA head Kate Edwards honored with the Ambassador Award for using advocacy and action to help gaming "advance to a better place."