Unity's users can now access its internal roadmap
Engine company ushers in a new era of transparency, reveals impressive new analytics tools, and sets its sights on dominating VR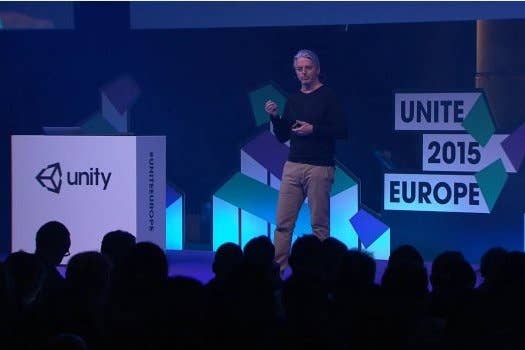 This month, Unity Technologies celebrated the 10th anniversary of the launch of version 1.0 of the Unity engine, and it is marking the occasion by giving its huge audience an unprecedented degree of access to its internal processes.
As of right now, users of Unity 5.1 can see the company's internal roadmap online, which includes planned updates that stretch to version 5.4 of the engine and beyond. In addition, each update will be accompanied by a "confidence" level, indicating the company's level of certainty that it will ship in a given form or and with the stated version of the engine.
"Some features might be rough, or maybe we showed them to some of you and you said that we'd made completely the wrong thing," said Unity's Lucas Meijer during the opening keynote of Unite Europe, which takes place in Amsterdam this week.
"We're unable to predict the future, but the next best thing we can do is share what we know so you can make more informed decisions"
"We are unable to precisely predict the future. But the next best thing we can do is share what we know so you can make more informed decisions for your business as you move forward."
In the past, the Unite conferences have been the company's principal medium for announcing updates and the details of its road-map. With this new level of transparency that may change, but Unite Europe's opening keynote certainly wasn't short on intriguing new developments for a toolset that never fails to impress with the span of its reach.
This was illustrated by John Chen, general manager of Unity's Analytics, who pulled some huge numbers from the real-time data platform he oversees. Last month, for example, Unity was used by more than 1 million monthly-active users - or "monthly-active developers" to use the company's preferred phrase. In that same time period, products built with Unity were installed more than 750 million times.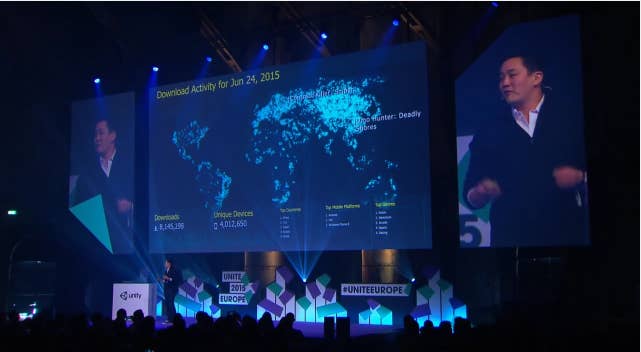 Unity Analytics played a major role in the keynote, in fact, with Chen announcing several new products and much tighter integration with the Unity Engine.
"Unity is one of the most important development communities in the world," Chen said, "and we have the opportunity to use this footprint to build cool features that will be a competitive advantage for you. That nobody else will have access to."
"Device Intelligence" will give Unity users access to a wide range of useful data about hardware and software, including the most popular device models, manufacturers, operating systems, GPU models and underlying trends in a given country, or even a game genre.
"Fragmentation is a huge issue on mobile," Chen continued. "Deciding which OS to support, which hardware specs to optimise for; there has truly been a lack of data until now. People use Google searches, static reports, even anecdotal evidence from friends to make key decisions about platform support.
"The days of sending parts of your team to China on a field trip are over. Device Intelligence will be the first in a series of benchmarking tools that take advantage of Unity's footprint."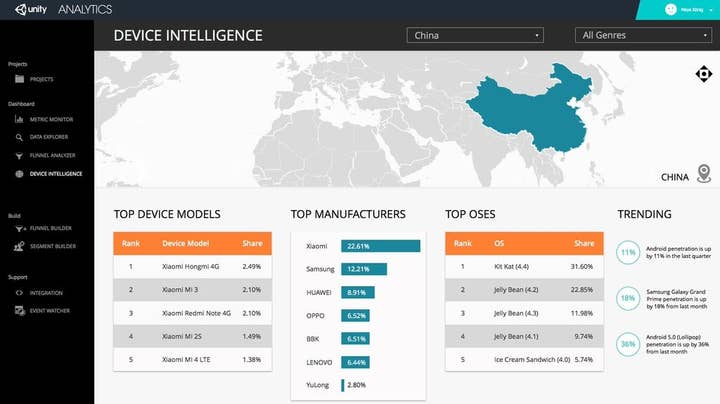 Another interesting new feature is "Heatmaps," a tool that generates a colour-coded overlay for game levels based on real-time analysis of player behaviour. The Heatmaps tool is already being tested by "thousands" of developers, Chen said, and they have reported clear improvements in key metrics like session length and level completion based on its findings.
And Unity is integrating its Analytics platform into the engine itself, starting with a beta in version 5.1, ensuring that all of its users can seamlessly measure and optimise performance. And starting with version 5.2, Unity Ads will also be integrated into the engine, complete with an editor that lets developers create custom ad formats to better fit the experiences they want to create.
"We will continue to work to make sure that Unity is the best development environment to experiment with VR"
Looking to the future, though, it's clear that Unity's thinking is dominated by the very same technologies that have been so prominent at conferences throughout 2015: virtual and augmented reality, but specifically the former. As such, Unity 5.1 will be the first version of the engine to feature out-of-the-box support for VR platforms, starting with Oculus Rift and Samsung Gear VR.
"Virtual reality is a completely new way for people to interact with computers, to interact with simulations," said Lucas Meijer as the keynote drew to a close. "With this completely new thing also comes a lot of challenges, not least the fact that everything we did on a desktop computer no longer works.
"I'm convinced that, if we were able to look forward in time to 5 years from now, and we could see the sort of experiences and interaction models we have with VR then, I'm convinced that those things have not been invented yet. And I'm convinced they will be invented by you.
"The only way I know how to do something like that is to try and try and try new things to see what sticks. That happens to be exactly the kind of thing that Unity is really good at."
"We will continue to work to make sure that Unity is the best development environment to experiment with VR, and the best environment to fail fast."