UK Industry responds to Chancellor's Autumn statement
Help for SMEs and tax credits praised but skills funding still needed, say trade bodies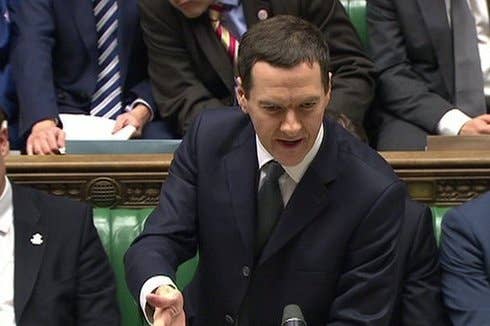 The UK's two industry trade bodies have responded to this afternoon's Autumn statement from the Chancellor of the Exchequer with a mixture of disappointment and support: pleased by enhancements to industry tax credits and improvements to small business loans, but let down by what they feel are failures to support skills and exports.
For TIGA, the £400 million pledged to the government-backed Enterprise Capital Funds showed commitment to small business, as did a further £500 million for bank lending to SMEs. Still, however, the body feels that export tax relief would be a huge boon for the country's games business.
"The UK needs to promote a more balanced economic recovery which is less dependent on financial services, consumer expenditure and an expansion of private borrowing to buy houses, and more reliant on investment and exports," said TIGA CEO Richard Wilson. "This is why TIGA has proposed an Export Tax Relief to boost exports, incentives to encourage investment in training, university incubators to strengthen regional growth, improvements to the SEIS as well as the introduction of a Prototype Fund and Creative Content Fund to enable more small development studios to expand, flourish and prosper. "TIGA will continue to advance its agenda to strengthen the videogame development and digital publishing sector in the run up to the March Budget and the General Election in 2015."
For UKIE, the major let-down was the absence of a renewal of the funding for the Creative Skillset program which has been encouraging STEM students and courses for the last couple of years.
"We're disappointed not to see any commitment in the Chancellor's statement to continue investment in skills for the games industry via Creative Skillset's Skills Investment Fund, which comes to the end of its two year funding in April," said UKIE CEO Jo Twist. "Although abolishing employers' National Insurance on apprentices is a positive move, we believe that targeted support is still needed for the games industry to ensure that skills supply meets the increased demand that Video Games Tax Relief is now beginning to create.
"It is positive however, that the Chancellor recognised the access to finance issues small businesses face, and has tried to relieve some of this by announcing more support for peer-to-peer lending, an extension to the Funding for Lending scheme, and expansion of the British Business Bank. An increase to the R&D tax credit, making it a 230 per cent relief for SMEs, is also the right move.
"We are also pleased to see an exports package of £45m to help SMEs in particular. We called in our Manifesto in August for increased support to help games companies do more business overseas, and most urgently for grants to help them exhibit and attend international tradeshows to be enhanced, not cut. The autumn statement includes a proposal to 'double to 60,000 the attendance at international exhibitions by SMEs [UKTI] supports'; it is absolutely vital that games businesses can access this new support to access key emerging markets, and we will be working with Government and our partners at UKTI to make sure this is the case.
"We continue to work closely with policy makers and Government on sensible measures to help games businesses thrive."