UK digital charts: GTA V No.1 but Blood & Truth was definitely the best-selling game
Rockstar's hit was the most downloaded title but digital sales for PSVR exclusive secure its position as overall UK No.1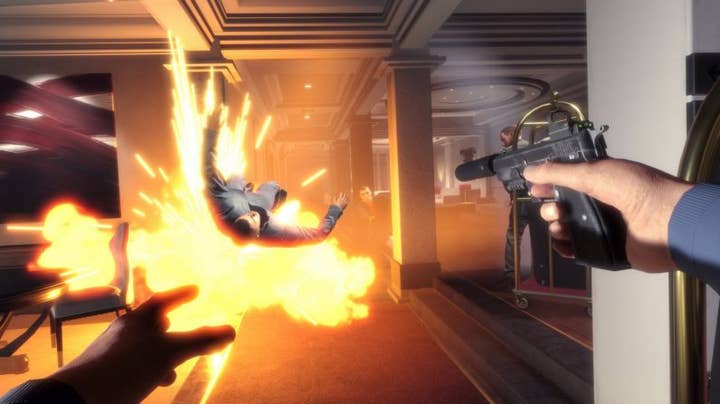 Sony London Studio's Blood & Truth was definitely the UK's best-selling game for the week ending June 2 -- although Grand Theft Auto beat it when it comes to downloads.
Last week, we shared the the first ever UK digital charts, compiled by GSD, which featured Total War: Three Kingdoms at No.1. Team Sonic Racing topped the GfK retail chart, but when comparing the two reports, it was clear that Total War: Three Kingdoms was the overall best-seller.
We have sort of a reverse situation here where the digital charts actually cement the victory seen in the retail charts. Blood & Truth was the first VR game to reach No.1 in the GfK rankings, but only reached No.3 in GSD's digital chart. However, combining the sales from both confirms the PlayStation VR shooter was the best-selling game in the UK that week.
In fact, Blood & Truth's combined sales beat those of Grand Theft Auto V by around 3,000 units.
Elsewhere, we once again see discounting playing a role in shaping the charts as Ubisoft's Watch Dogs 2 rockets up 171 places to No.5 and EA Sports UFC up 157 to No.8. A reduction on indie WWII shooter Battalion 1944 also puts it in the Top 10.
The GSD chart is created from data supplied directly from publishers and developers, whereas the GfK chart (which covers the physical market) is created from data supplied directly from retailers. GfK's chart typically arrives on Monday, whereas the GSD data takes longer to compile. It's also worth noting Nintendo's digital data isn't currently taken into account.
As we previously reported, this chart is a work-in-progress but can give better context as to what players are spending on.
Here is the GSD Top Ten for Week 22
| Last Week | This Week | Title |
| --- | --- | --- |
| 2 | 1 | Grand Theft Auto V |
| 1 | 2 | Total War: Three Kingdoms |
| New | 3 | Blood & Truth |
| 5 | 4 | FIFA 19 |
| 174 | 5 | Watch Dogs 2 |
| 4 | 6 | Monopoly Plus |
| 3 | 7 | Minecraft |
| 165 | 8 | EA Sports UFC 3 |
| 12 | 9 | Rainbow Six Siege |
| 50 | 10 | Battalion 1944 |
The GSD chart features games published by Activision Blizzard, Bandai Namco, Capcom, Codemasters, Electronic Arts, Focus Home Interactive, Koch Media, Microsoft, Milestone, Paradox Interactive, Sega, Sony, Square Enix, Take-Two, Ubisoft and Warner Bros. Notable absentees from the data include Bethesda, Konami and Nintendo.