UK Charts: FIFA 20 reclaims No.1 from Animal Crossing: New Horizons
Mario Kart 8: Deluxe speeds back into the top five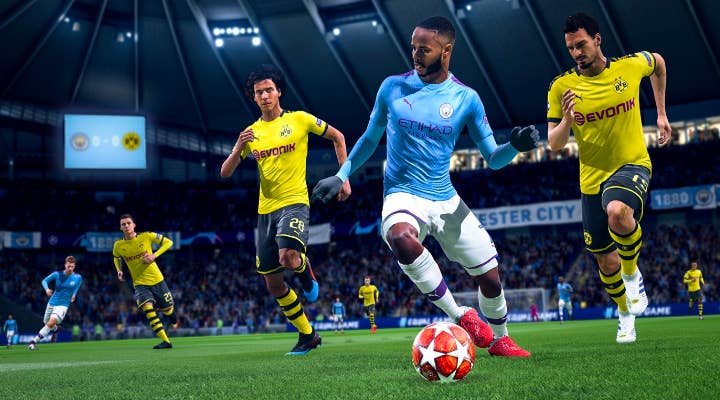 FIFA 20 comes out top in its tussle with Animal Crossing: New Horizons this week in terms of UK boxed game sales.
The football game dropped 7% in sales week-on-week, but still manages to rise a space as Animal Crossing suffered a 32% drop and slipped to No.2.
Although the top two games dropped in sales, that's not true of the rest of the chart. Call of Duty: Modern Warfare at No.3 posted a 36% increase in sales, Mario Kart 8: Deluxe raced up three spaces to No.4 with a 98% sales jump, while Grand Theft Auto 5 at No.5 saw a 52% sales improvement.
You have to go all the way down to No.15 to find another game that dropped in sales week-on-week. That game was Nintendo's Ring Fit Adventure, which has fluctuated up and down the charts over the past six weeks as the game goes in and out of stock.
There is just one new release in the charts this week and that was Snowrunner at No.12. The sequel to 2017's Mudrunner, the game is an off-road simulation driving game that has a dedicated following.
Despite the continued lockdown situation keeping High Street stores closed and the absence of any major new release, boxed game sales rose 16% week-on-week with more than 234,000 titles sold. Xbox One sales rose 23% week-on-week, PS4 sales are up 19% while Nintendo Switch game sales increased 9%.
Here is the GfK Top Ten for the week ending May 2nd
| Last Week | This Week | Title |
| --- | --- | --- |
| 2 | 1 | FIFA 20 |
| 1 | 2 | Animal Crossing: New Horizons |
| 3 | 3 | Call of Duty: Modern Warfare |
| 7 | 4 | Mario Kart 8: Deluxe |
| 5 | 5 | Grand Theft Auto 5 |
| 6 | 6 | Star Wars Jedi: Fallen Order |
| 9 | 7 | Luigi's Mansion 3 |
| 8 | 8 | Final Fantasy 7: Remake |
| 10 | 9 | Red Dead Redemption 2 |
| 11 | 10 | Forza Horizon 4 |