Ubisoft's Guillemot on evolving audiences, Wii U, and possibly buying THQ
Ubisoft's CEO acknowledges interest in THQ's assets. "For sure, it's something we can consider," he tells us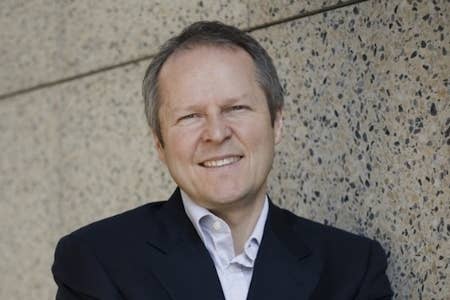 Among third-party publishers, you aren't likely to find a bigger Wii U booster than Ubisoft chairman and CEO Yves Guillemot.
That's hardly surprising, given his company's big bet on the system (it has 8 games in the Wii U's "launch window," including six day one titles). But even Guillemot has some things he'd like to see Nintendo doing differently.
Specifically: He's not a big fan of the console's price.
"I always prefer lower pricing, so I can't say I'm happy," he says. "I'm never happy when the machines are expensive. What we have to do there is remember that compared to an iPad, it's cheap. With what it brings [to the gaming table] it's cheap. But I hope they'll be able to drop their price in time."
Pricing concerns aside, Guillemot is, in fact, pretty happy with the system. He's been an advocate of launching a new generation of consoles for a while now, so he's glad to see things finally starting to change. While some industry analysts say they believe casual gamers have abandoned consoles for mobile devices. Guillemot thinks they're just looking for something new - and with the new systems, they'll finally have it.
"We know hardcore people buy all the machines, but there will be lots of casual gamers buying the machines as well"

Yves Guillemot
"I think this audience is actually still playing a few times per week, but they need something new," he says. "And the [Wii U] GamePad is interesting; it's interesting because it's a touchscreen that people know how to deal with. This GamePad can be as revolutionary as the Wiimote, just because people are used to dealing with it."
The return of that casual audience is important to Ubisoft, since the company relies on it to power sales of games like Just Dance (which saw a notable sales decline in its first few weeks this year). 45 percent of Ubisoft's FY2012 sales, in fact, were from the casual market - a number that's falling this year as interest in Wii games has slid precipitously.
"We're just in a transition year where the Wii will be replaced by Wii U," says Guillemot "There's an inflection point that will happen this year where Nintendo will sell more and more machines. We know hardcore people buy all the machines, but there will be lots of casual gamers buying the machines as well. I think it will not make all of the gap [from Wii sales], but it will start to narrow it."
As for Just Dance 4, Ubisoft officials also note that the game traditionally sees its biggest sales boost in the holiday period, rather than immediately after launch. And Guillemot says the audience for that franchise is showing signs of shifting, as the game itself evolves.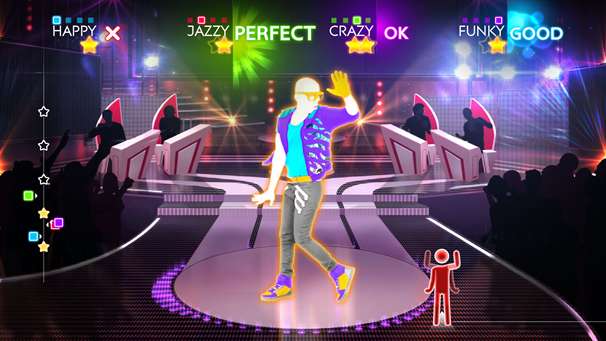 "Last year, we brought out Just Dance exercise," he says. "And that was played by 25 percent of people who played the game - they do that during the week, rather than weekends. What we're doing is increasing the number of things you can do with Just Dance. Now, you can use it for fun or you can use it to lose weight."
Keeping a close eye on the changing interests of players is critically important these days for publishers. Failure to do so can quickly bring a company to its knees.
You don't need to look much further than THQ for proof of that. Guillemot, though, says those sort of corporate crises are part of the nature of this industry.
"What happened to [THQ] is something that happens regularly when we have transition," he says. "Some can make it, some decide to go in different direction. It happened with Atari and Midway and also Acclaim last generation. … It's something that happens in this industry and that's the way the industry consolidates."
As THQ considers strategic alternatives and speculation grows that the company might be putting certain assets up for sale, Guillemot says Ubisoft is open to considering some of them (though he declined to say which most pique his interest).
"They have good things," he says. "We are always interested in good brands. For sure, it's something we can consider, but I can't tell you more."
Ubisoft, of course, has plenty of strong brands in-house, more than it can keep up with sometimes. Assassin's Creed is an annual franchise, as is Just Dance, but other former stalwarts have fallen into the shadows somewhat - specifically Tom Clancy games.
"They have good things. We are always interested in good brands. For sure, it's something we can consider"

Guillemot on potential interest in THQ
After a string of games that had less than spectacular reviews, Clancy-themed games now hit every other year. Guillemot says the company is now more focused on the quality of the titles - and realizes that there's no current way to annualize all of its big series. But the coming new generation could potentially re-prioritize Clancy games.
"Our goal is to get back to 85-90 [Metacritic] mark [with Clancy games]," he says. "Generally new consoles are a good way to bring back some IPs. Clancy is a big brand for the company and our plan is to bring it back and make it more regular. Right now, though, it's expensive to build and we can't do everything at the same time."
The most recent Clancy-themed game was Ghost Recon Commander - which Ubisoft canceled at the end of last month. The game was fairly well received, but flagging consumer interest in social games and the expense of running it made the decision an easy one, says Guillemot.
"We've had more difficulty with Facebook in the past couple of years," he says. "It was a good business, but it has shrunk a bit. And it became a more complex and expensive business to run. We had opportunities with other areas, so we said we should concentrate on those that are growing faster."
Still, he notes, Facebook was a valuable learning experience for the company. And just as Just Dance was born from the Raving Rabbids series, other titles could come from Ubisoft's toes in the water with the massive social network.
"What's good with Facebook games is you have millions of people playing and you have to learn how to attract them and retain them and monetize them," he says. "We learned to do 24/7 customers service. All of this is going to help us a lot on the console side because more and more we give the same kind of service to our customers."
"What we like in the persistent world is you are close to your customer and you can give them a service and improve it and make sure they are a part of that experience. Also, they can create content and socialize."
If this sounds like Ubisoft's interested in launching an MMO, Guillemot's not going out of his way to diffuse that speculation.
However, he says "we are not going to do the exact MMOs that exist on the PC. We were going to take the best of [what we learned on Facebook] and morph it."