Ubisoft wants to expand Assassin's Creed audience to kids
Publisher's Splinter Cell brand manager says Mega Blox deal was intended to introduce children to franchise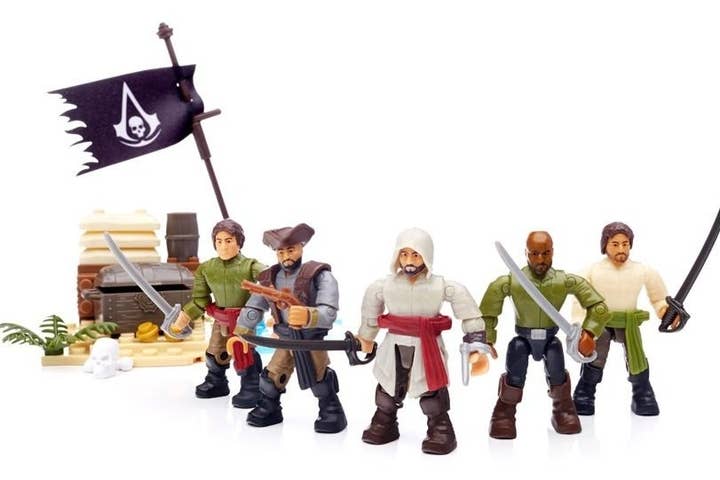 The Entertainment Software Rating Board explicitly forbids advertising games rated M for Mature specifically to audiences under the guideline's suggested age of 17. That's apparently not enough to keep publishers from seeking those audiences out anyway, as Ubisoft international brand manager Yannick Spagna today said the publisher had been trying to introduce children to its historical action franchise Assassin's Creed.
Spagna actually manages the Splinter Cell brand and an unannounced project for the publisher, but he used Assassin's Creed as an example during a panel discussion on branding at the GameON Finance conference in Toronto. When asked about the revenue share branded activities bring in for Ubisoft, Spagna said in many cases, the publisher enters into branding deals not to pad the bottom line so much as to expand its reach to new audiences.
"On a big IP, like Assassin's Creed or that type of game, I think now the idea is to reach a maximum of people, so it's not about needing advertisement to get additional revenue," Spagna said. "Plus I'm not sure this is the right business model to do that. When you think about it, would you like to have, while playing Assassin's Creed, shaving cream advertising every five minutes when you spent $70 to buy the game? I'm not sure this is what you want. For big IPs, smart brands are the best partners. They do a line with Mega Bloks together. On their side, it's nice because toys are looking for the hype around video games. And we are looking for a new audience: kids, children, it's more like that."
Earlier this year, Mega Bloks and Ubisoft announced the Assassin's Creed line of construction block kits. The suggested age range on the kits spans from 10 and up to 14 and up, depending on complexity. The company also produces kits based on M-rated franchises like Call of Duty and Halo.
After the panel, Spagna clarified his comments to GamesIndustry.biz.
"This quote is not about Assassin's Creed the game," Spagna said. "It's about Assassin's Creed the brand. It's the same way you have The Lord of the Rings brand, the books, Shadow of Mordor, the Lego. It's a huge franchise, a brand, and within that you have different experiences that are tailored to specific audiences."
Spagna said the Assassin's Creed games may not be suitable for children, but the bright and colorful Mega Bloks kits are a very different incarnation of the idea.
"If you think about it, we could even do an Assassin's Creed game tailored for kids," Spagna said. "Imagine a Lego game. It would mean changing a lot of things… I played hours and hours of Lego Lord of the Rings, and you kill people but not kill people, because they're Lego characters."