Ubisoft sued over Assassin's Creed copyright infringement
John L. Beiswenger claims numerous similarities with his novel, Link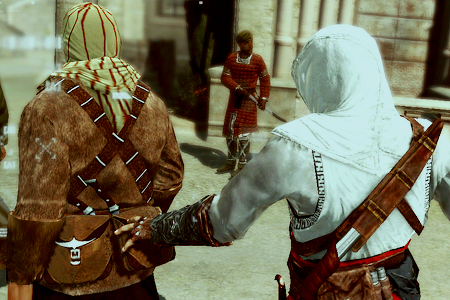 John L. Beiswenger, an American science fiction author, is suing Ubisoft over alleged similarities between his novel, Link, and the Assassin's Creed franchise.
Beiswenger's novel is based on the premise that ancestral memories can be "accessed, recalled, relived and re-experienced" by participants in a radical new scientific process. The suit lists a wide range of similarities, from narrative themes to specific use of individual words.
Link also includes numerous references to assassins and assassinations in relation to the new process. The legal document cites a number of extracts from the book, including this from page 290:
"'If John Wilkes Booth fathered a child after he assassinated Lincoln, and we found a descendant alive today, we could place Booth at the scene and perhaps smell the gunpowder.' 'Ancestral memories?' 'As far back as you want.'"
Other similarities mentioned include the technology used to conduct the memory experiments and, "spiritual and biblical tones, with references made to Jesus and God, the Garden of Eden, and forbidden fruit."
Beiswenger is seeking damages for each product released since Assassin's Creed was established in 2007, including all four games, the guide-books, the comic series, and two trailers.
The suit requests that damages of no less than $1.05 million be awarded to Beiswenger, with that amount rising to $5.25 million if the judge rules that Ubisoft for wilfully infringed his copyrights. It also requests that the judge prevent the release of Assassin's Creed III and all related products.