Ubisoft Montreal: Convincing a AAA studio to try "indie" games
Patrick Plourde explains how he got his indie-styled Child of Light off the ground at the outfit behind Assassin's Creed and Watch Dogs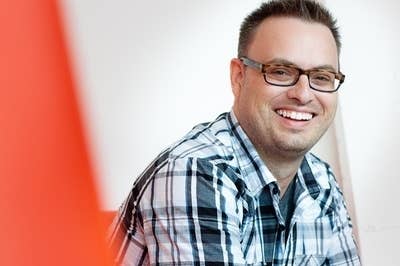 Ubisoft Montreal is the mammoth studio at the heart of Ubisoft's sprawling worldwide studio system. The 2,400 developers there are the stewards of some of the publisher's biggest series, including Assassin's Creed, Watch Dogs, and Far Cry. It is possibly the most AAA studio that ever AAA'd.
But early next year, it will release Child of Light, a turn-based combat game in a fairy tale world inspired by classic Japanese role-playing games. It's a personal project for creative director Patrick Plourde, one with a small team, a small budget, and a small scope. Plourde will discuss the project next Tuesday at the 2013 Montreal International Game Summit in a presentation titled "Going Indie in AAA," but he recently spoke with GamesIndustry International to discuss some of the issues in and around his talk, starting with how he got Ubisoft to go along with it in the first place.
"I finished Far Cry 3 and then I had one shot to make a pitch," Plourde explained. "It could have been for any type of game, and I decided to use that opportunity to pitch Child of Light. For Ubisoft Montreal, it's really different, so everybody was surprised when I made that pitch."
"If I would have pitched that for $40 million, then it would have been 'No.' But there was a certain level of risk I knew they would be willing to take financially."

Patrick Plourde
Even if the pitch wasn't what people had expected, Plourde was still optimistic it would be approved. Having worked at the studio for a decade, he knew what management, specifically Ubisoft Montreal CEO Yannis Mallat, would want to hear. He stressed that it would be beautiful and nostalgic, a small, artistic project that would stand out. And then he made the business case for it, pointing to sales of indie hits like Limbo, Journey, and Bastion as examples of the sort of returns these smaller projects could have.
"If I would have pitched that for $40 million, then it would have been 'No,'" Plourde said. "But there was a certain level of risk I knew they would be willing to take financially."
But a small project doesn't mean "low-profile." Plourde collaborated with well-known musicians in the local Montreal scene. That not only made the game better, but gave the project more credibility within the studio. Plourde wanted people to think of Child of Light as more "prestige" than simply small, and the approach seemed to be working. He described a sense of momentum behind the game, even in a studio as big as Ubisoft Montreal.
"It got a lot of traction, especially with people with a lot of experience, because there's a time where if you worked on like, four Assassin's Creeds and five Rainbow Sixes, or stuff like that, you go, 'You know what, I'd like to experiment with something else,'" Plourde said.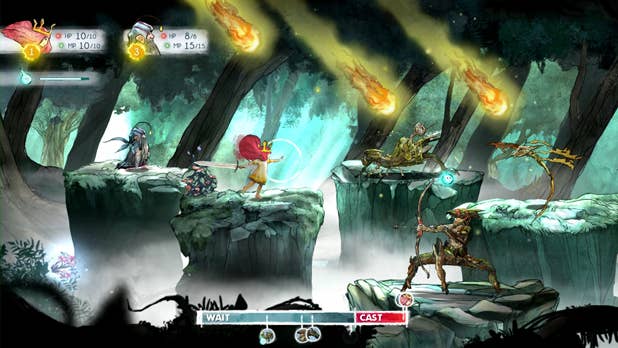 Plourde also believes projects like Child of Light can be a good tool for large studios to retain top talent. Plourde suggested the studio might have easily lost 10 or 15 developers if it hadn't gone ahead with Child of Light. On top of that, the project has also attracted people from other studios to sign on with Ubisoft Montreal.
"It kind of rejuvenates the idea of Ubisoft Montreal," Plourde said, adding, "Basically, depending on what interests you, there should be something for everybody to say, 'You know what? I can build a career here and stay here.'"
As for how other AAA developers could convince their own employers to back such projects, Plourde had a wealth of advice, not the least of which was to understand one's own position within the company. Developers must look at their management as investors and be brutally honest with themselves as to whether or not they've established themselves as good investments. Are you a rising star in the company? Someone known for being able to ship stuff? Have you been able to interest a core team of experienced developers on board for your project?
If the answer to those questions is no, Plourde said, "Suddenly, this is going to be a really tough sell. In that case, I would suggest those people, if they really want to do it, to go indie."
That's not to say those developers aren't able to realize their visions. Plourde pointed to his former Ubisoft Montreal colleague Phil Fish as an example. He didn't have the pull within Ubisoft Montreal to get Fez greenlit, so he went off and made it a hit on his own. Of course, having that "pull" is a lot more than being able to answer the above questions in the affirmative. Plourde also stressed the importance of networking, of keeping a high profile within the company, and of being able to pitch.
"If the game is a missed opportunity, then it's going to be a missed opportunity for years. Even when I pitched Child of Light, they mentioned Beyond Good & Evil."

Patrick Plourde
"It helps to have been within the loop of doing that with big productions, because you kind of know how to make those presentations," Plourde said. "You know how to make a pitch for a concept around what people in the room like or don't like. It's not just about, 'I like this game, it's a cool game, and I want to do that with my friend.' It's going to be really tough to get funding, or footing to start that conception within the studio. I was that guy also, before. You enter the company and go like, 'I have these great ideas! I want to make some games, you should just let me do it.' It's junior people talking."
After a stretch in the industry, that youthful naiveté led to discouragement. But before long experience made him realize the right ways to go about getting his game made.
"You start to realize after a couple of projects, 'This is how it works. I understand the politics. I understand the machine. I understand what can be done. I know we can actually produce that and it makes sense.' That experience is great. It's a must if you want to do that within a big studio. Otherwise I think it's better to go indie."
Getting a AAA studio to sign on for a project like Child of Light may have been stressful, but the real pressure for Plourde is just getting started. First, the number one pressure on him is to make a great game. Second, he's more exposed, professionally and personally. Child of Light is "his game" in a way his previous AAA efforts were not, so the reaction to it can't help but be taken as a more direct reflection on him. Finally, Child of Light's success--or lack thereof--could have significant implications for other creators who would like to push their own indie-style projects at AAA publishers.
"If the game is a missed opportunity, then it's going to be a missed opportunity for years," Plourde said. "Even when I pitched Child of Light, they mentioned Beyond Good & Evil. They said 'Beyond Good & Evil was not a success, and we made that mistake once.' And it's like, yeah, but it's 10 years ago... If somebody tries something and fails, there are going to be repercussions for other people. For me it would be a shame if that happens. I don't think people are malevolent or evil about that. It's just if it fails, they're going to be careful greenlighting other projects like that."