Ubisoft grows full-year sales 45% as digital surges
[UPDATE] The Division now delayed into 2016; Ubisoft also commits to VR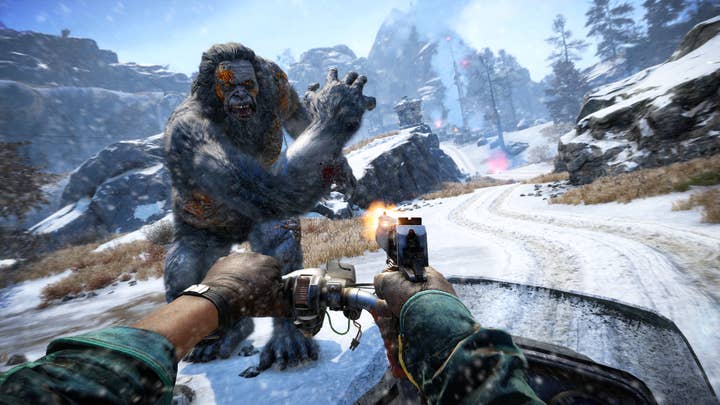 Ubisoft has just reported its 2014-2015 fiscal year results, reflecting a bounceback year in which the company's Assassin's Creed Unity, Rogue, Far Cry 4 and Watch Dogs titles were among the seven best-selling games of 2014 and helped boost both revenues and income for the French publisher. Full-year sales grew more than 45 percent to €1.46 billion. The digital segment in particular grew almost 97 percent to €382.7 million and accounted for over 26 percent of total sales (which is up compared to 19.3 percent in the previous fiscal year).
Ubisoft's non-IFRS (international financial reporting standards) data also shows that gross profit grew to 77 percent of sales at €1.13 billion (up from 71.7 percent in the last year) while operating income grew nearly 12 percent to €170.7 million. Net income for the year totaled €112.7 million with "a record net cash inflow of €232.4 million against a €120.1 million net outflow in 2013-14." That resulted in Ubisoft having net cash of €211.3 million compared with net debt of €12.7 million one year earlier.
While the year was solid for Ubisoft, the fourth quarter did see a slight dip in sales, as Ubisoft reported a total of €169.9 million versus €194.1 million in the previous year's Q4. That said, sales did exceed the target of €146.0 million that the publisher issued during its Q3 report.
Looking ahead, Ubisoft is excited about its upcoming slate and is encouraged by its performance in the last year. It's worth noting that on the earnings conference call today, Ubisoft did push The Division back into calendar Q1 2016 (between January and March).
"We have another very high-quality line-up for 2015-16, including new Assassin's Creed and Just Dance games, the hotly anticipated return of the Tom Clancy's Rainbow Six franchise and the launch of a new high-potential creation, Tom Clancy's The Division. Thanks to these new releases, very solid back-catalogue and digital revenues, and favorable exchange rates, we expect to see a further improvement in profitability," said Ubisoft CEO Yves Guillemot.
"We intend to continue pursuing our strategy of in-house creation of major franchises for the entertainment industry. Driven by ever more engaged communities, the ramp-up of our high-potential live services and overall growth in the sector, we believe this strategy puts us in a strong position for the foreseeable future."
For the upcoming first quarter, Ubisoft said sales are expected to be around €80 million, which would be down significantly from the previous year's Q1 which brought in €360 million thanks to the releases of Watch Dogs and Trials Fusion. For the full fiscal year, Ubisoft reiterated its non-IFRS operating income target of at least €200 million and "stable sales." In addition to the aforementioned franchises, the publisher said it will have another triple-A title that has not yet been announced.
Update: On the earnings call, aside from delaying The Division into next year, Ubisoft talked a bit about its feelings towards virtual reality, and as it turns out, the publisher is rather excited to get started on VR projects. "First we believe a lot in virtual reality because we see that it's giving gamers a chance to be more immersed in worlds. We are developing a certain number of games that are going to take advantage of those possibilities," said Guillemot. "We are very bullish about the potential, and we think it's going to bring more players to the universe of video games."
Guillemot noted that Ubisoft is working on current brands to see how they can take advantage of VR but they don't want the titles to suffer from difficulty of long play sessions. A few titles will be planned in the first year, and then regular VR games will come after that.