Top 3 Facebook publishers see declines in December
Listed companies struggle, but rest of top ten enjoy rises
Facebook game publishers Zynga, Electronic Arts and Playdom all suffered declines in active users during December.
FarmVille publisher Zynga saw monthly active users increase to 216.8 million, but according to analyst firm Cowen & Company this is mostly likely due to an audience checking out new title CastleVille - which is expected to decline as daily active users of the game are now past peak. For all the company's titles, daily active users were down 608,000 to 47 million.
Electronic Arts saw daily active users drop by 1.2 million to 10.9 million over the month, with The Sims Social declining for the third consecutive month. MAUs for the publisher were down 7.1m to 51.4 million.
Disney's Playdom also suffered a drop of 448,000 daily active users to 3.1 million as Gardens of Time continued to lose users. The company has been criticised by investors for not releasing new games on the social network quick enough. MAUs were also down by 2.9m to 15.5 million.
Zynga's dominance on the Facebook platform continues to wane - in Q4 2011 it had an estimated 35.7 per cent share of Facebook DAUs, down from the 50 per cent peak in Q1 2010.
But while the three publicly-listed companies were struggling, the rest of the seven companies that make up the top ten saw an increase in DAUs when combined.
Tetris Online and Happy Elements saw some of the biggest increases over the month, according to AppData, with Wooga, King.com, GSN, Halfquest and Playtika also benefiting from increased competition and growth in secondary markets such as the Middle East.
Top 10 Facebook Game Publishers by DAUs (December)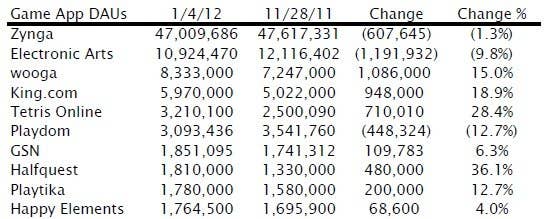 Top 10 Facebook Game Publishers by MAUs (December)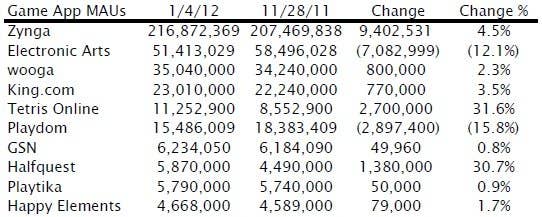 Source: AppData compiled by Cowen & Company.