The Legend of Zelda: Skyward Sword HD is the fourth Zelda to reach No.1 | UK Boxed Charts
It may well have surpassed sales of the original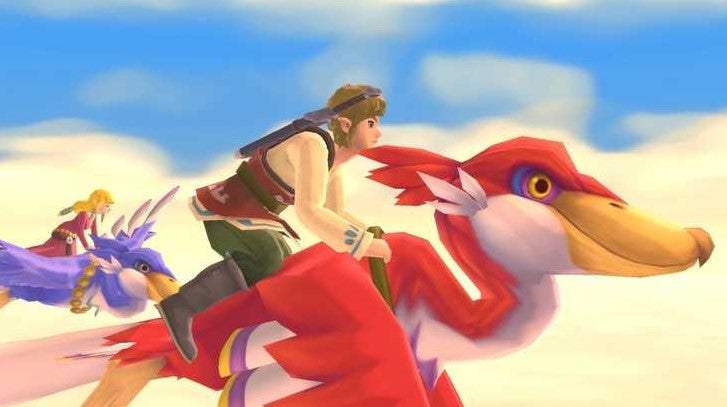 Nintendo's latest remaster, The Legend of Zelda: Skyward Sword HD, was the best-selling boxed game in the UK last week, GfK data reveals.
It's only the fourth time a Zelda game has claimed No.1, following Link's Awakening on Switch in 2019, Wind Waker on GameCube in 2003 and Ocarina of Time on N64 in 1998 (when it was Christmas No.1).
Skyward Sword HD sold slightly better at launch than the Link's Awakening remake from 2019 (sales are 1.3% higher). Link's Awakening launched alongside the Switch Lite and during a typically stronger month for game sales (September). On the other side, the UK install base for Switch has increased exponentially since 2019.
The HD version of Skyward Sword sold 9% fewer boxed copies at launch than the original managed way back in November 2011 (when it charted at No.7). Of course, digital sales are not included in these charts and as the Wii version was not available as a download, it's likely that this new version actually sold better at launch than the original.
It's worth noting that although Skyward Sword arrived on Wii when its install was at eight million (significantly higher than where the Switch is currently), it was coming towards the end of its life (Wii U arrived a year later) and at a time when Wii sales were in rapid decline.
Having to settle for No.2 on the starting grid is F1 2021. It's quite a slow launch for Codemasters' new racing game, with boxed launch sales down almost 30% compared with last year's game. 34% of sales were of the Xbox version, the PS4 edition accounts for another 34%, and the remaining 32% was on PS5.
Elsewhere, last week's No.1 Ratchet & Clank: Rift Apart drops to No.10 after an 80% sales drop week-on-week. Meanwhile, Monster Hunter Stories 2: Wings of Ruin tumbles ten places to No.13 after a 68% sales decline in its second week.
Here is the GfK Top Ten for the week ending July 17, 2021:
| Last Week | This Week | Title |
| --- | --- | --- |
| New Entry | 1 | The Legend of Zelda: Skyward Sword HD |
| New Entry | 2 | F1 2021 |
| 2 | 3 | FIFA 21 |
| 5 | 4 | Mario Kart 8: Deluxe |
| 6 | 5 | Animal Crossing: New Horizons |
| 7 | 6 | Minecraft (Switch) |
| 11 | 7 | Super Mario 3D World + Bowser's Fury |
| 9 | 8 | Grand Theft Auto 5 |
| 4 | 9 | Mario Golf: Super Rush |
| 1 | 10 | Ratchet & Clank: Rift Apart |