The future of women in games | Playable Futures Podcast
Our Playable Futures series continues with Sony's Shawne Benson and Girls Make Games' Laila Shabir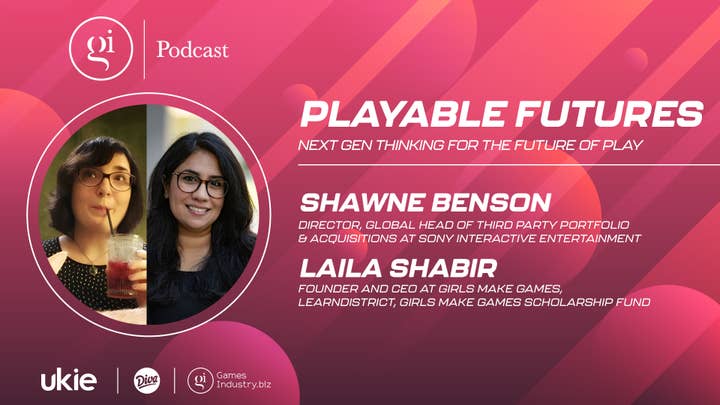 Sign up for the GI Daily here to get the biggest news straight to your inbox
Shawne Benson, Global Head of Third Party Portfolio & Acquisitions at Sony Interactive Entertainment and Laila Shabirm, Founder & CEO of Girls Make Games speak to Will Freeman for the latest instalment of our Playable Futures Series.
Our eighth outing sees us tackling what continues to be a prominent talking point within the industry - women in games. For a sector often associated with toxic stereotypes around gender, this enlightening chat looks at the ways in which the industry has changed to encompass more diverse voices and the future benefits of doing so.
You can read highlights from the episode below the podcast player
The Playable Futures Podcast accompanies Playable Futures, a collection of insights, interviews and articles from global games leaders sharing their visions of where the industry and medium will go next. A series of ten articles so far have been published on GamesIndustry.biz, with more planned. Playable Futures is a collaborative project brought to you in partnership with GI.biz, UKIE and Diva.
The GamesIndustry.biz Podcast is available via Spotify, iTunes, Google Play, Stitcher, Overcast, Player FM, TuneIn and other widely-used podcast platforms, or you can subscribe via our RSS feed. You can also download this episode directly.
Title music by Thomas Marchant. Episode produced by Keira Freeman.
"I think it's pretty obvious that if we have more women doing anything, everybody wins," Laila posits. "From an industry standpoint, we have more creators, which means we have more players. That kind of goes hand-in-hand… It's about thinking about how these creators expand our influence."
"In the earlier eras, video games didn't feel like they were for us"

Shawne Benson, Sony
"In the earlier eras, games didn't feel like they were for us," Shawne adds. "What I love about where we're headed is we're being able to empower more creators that have different diverse perspectives. Art imitates life, right? And if we're only imitating through our very unique, narrow point of view, it's going to be really hard for people to have a broader perspective and it's also going to be harder for us to attract new audiences to come to play our games and make it feel like it's a welcome space for them."
As both explain, neither Laila or Shawne have had what could be described as conventional or linear paths into the industry. Both had siblings and enjoyed games but, as women, they never thought they would work in games, having initially pursued very different careers.
"I thought I was going to be a professional musician. Then I thought I was going to be a theatre artist," Shawne laughs. "I didn't follow that, but you know what, it still took me to someplace really cool… Don't forget to listen to your intuition and where you're hoping and where your passion lies."
Today, Benson's role at Sony Interactive Entertainment sees her and her team managing content strategy, partnerships and content advocacy with third party publishers. The role grants her unique insight into the inner workings of the industry at large and how diversity has bolstered its offering.
"I think about it from the business perspective: how can we create a more thriving community of content that feels like there's a little bit of something for everybody, and welcome different ways to play? I've seen so much great innovation from diverse creators that I wouldn't see from big AAA studios that are predominantly not as gender diverse as I would like, and it's getting there."
For Laila, it's about showing women and girls that their passions are a valid, viable career path and that, ultimately, age and gender should not be an obstacle. Through her work with Girls Make Games, Laila and her team offer in-person and virtual summer camps that encourage girls as young as eight to start creating and developing their own interactive ideas.
"It's important for girls to feel like they have the knowledge, opportunity and confidence to pursue the career they want"

Laila Shabir, Girls Make Games
"From my point of view, and the work that we've done, it's really important for me to see girls themselves feel like they have the knowledge, the opportunity and the confidence to pursue the career that they want."
Both share the view that welcoming people from different backgrounds and encouraging them to share their vision and experiences will ensure a bright, vibrant and, most importantly, diverse future for games.
"The world needs to hear your ideas," Laila adds. "A lot of times, you think, 'It's just an idea that I'm interested in. Who's gonna want to play this?' How often do we do that? Your ideas have value and the world needs to see them."
Shawne agrees, noting that while bigger studios used to be averse to telling introspective, personal stories, indie devs from all walks of life are now helping to re-shape the thinking of the industry as a whole.
"You start seeing these pioneers of small creators from different walks of life, creating new storylines that are now starting to infiltrate the more mass consumer media. I want to see more of that. And I think it's really critical to have the right talent in place to be able to fuel that type of entertainment pipeline in the future."
Sign up for the GI Daily here to get the biggest news straight to your inbox