Newzoo lays down ten key factors that will determine the growth of esports
"Crunch time for esports as it enters adolescence," says market intelligence firm
With yesterday's announcement from market intelligence firm Newzoo that esports revenue will exceed $1.65 billion by 2021, the means by which the industry will grow must also be considered.
As part of its 2018 Global Esports Market Report, Newzoo has laid out the ten key factors that will determine the pace of growth in the esports industry. These have been broken down into three categories: the dimensions of growth, the accelerating elements, and the shaping of an industry.
The first dimension of growth focuses on franchises. Newzoo argues franchising structures provide certainty for organisers, teams, and broadcasters. Last year, both Riot Games and Blizzard Entertainment began operating franchises in the North American League of Legends Championship Series (NALCS), and the Overwatch League (OWL) respectively.
Newzoo posits that by removing seasonal promotions and relegations for participating teams, they are able to foster continued support, ensuring that large fan bases do not simply disappear when a team is relegated.
Major sports leagues in North America such as the NFL, MLB, and NBA have long operated a franchised system, which helps to garner longer-term investments from sponsors and accelerate the growth of the league.
Franchising is directly linked with the importance of winning local support from fans, another key factor in the sustainable growth of the industry. Due to the digital and global nature of esports, establishing a structure whereby people can support a local team does not come naturally. However, grassroots level esports leagues and tournaments could increase local competition and benefit the industry at large.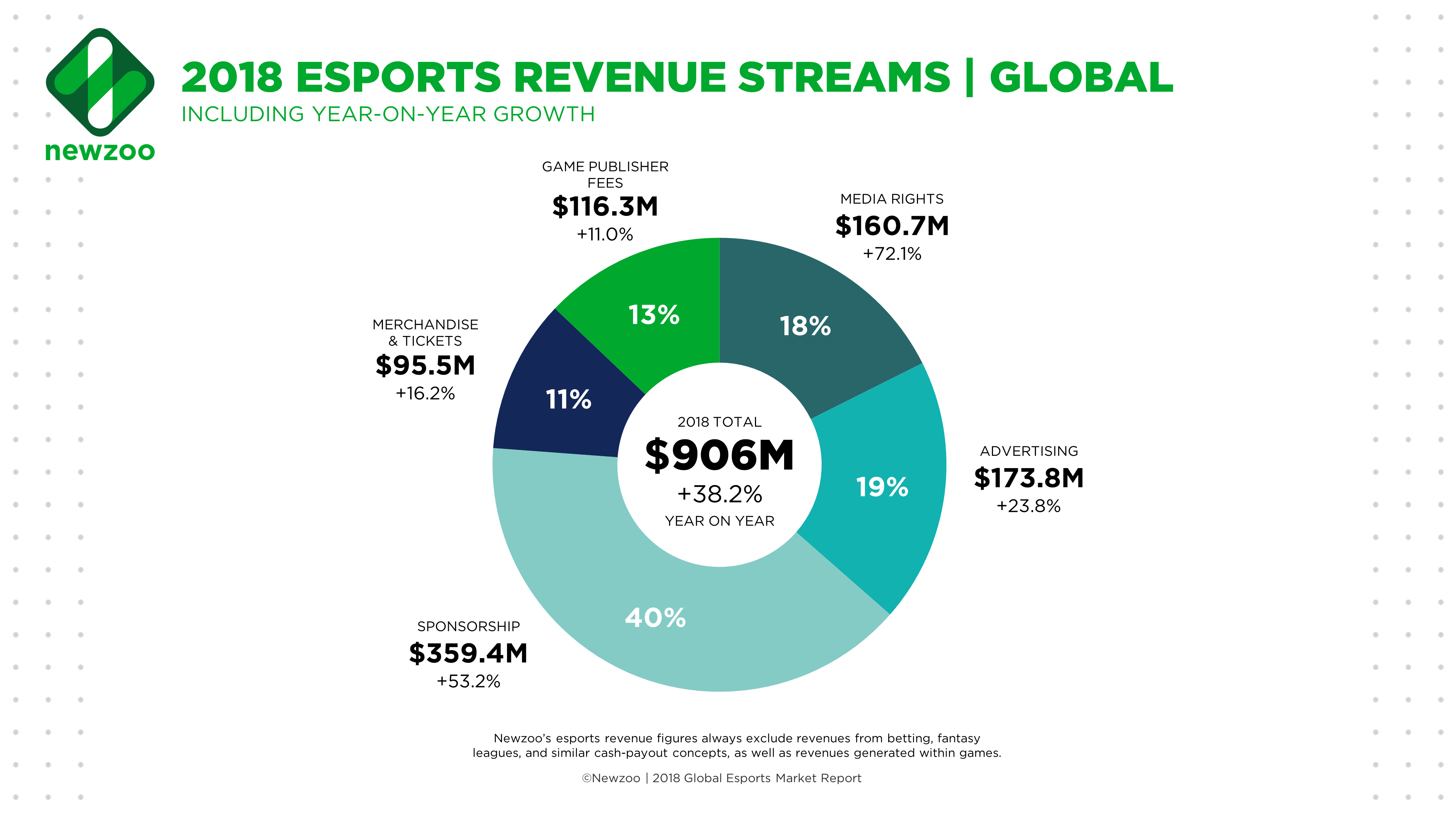 One way to achieve this is through the development of collegiate esports, which has the additional benefits of scouting and nurturing talent. The collegiate approach has already proliferated through North America with traditional sports, and publishers like Riot Games have even started taking the scene seriously.
The final dimension of growth, Newzoo suggests, is team profitability. As it currently stands, many esports teams operate at a loss; even larger esports leagues such as the NALCS were established as loss-leaders.
As the industry develops and evolves, the overheads for running a team have begun to spiral out of control. From increasingly competitive player salaries through to team housing and support staff, the growth in sponsorship has, for the most part, failed to keep pace with the rising costs of running a first-class professional team. This problem is worsened by the prospect of teams dismantling - a common occurrence in esports - and losing the hard-won loyalty and engagement of fans.
Revolutionary technology such as cryptocurrency and blockchain will also play a substantial role in the future growth of esports
Newzoo also highlights three accelerating factors towards industry growth, the first of which is the current and future identity of mobile esports. While mobile gaming revenue exceeded $50 billion in 2017, making it the largest sector of the gaming industry, its position in esports is harder to define.
"In Asia, mobile esports already has a similar structure to PC-based esports franchises, with many top mobile competitive titles having professional leagues, live stadium events, and millions of viewers," the report states. "Tencent's King of Glory (Arena of Valor outside of China) is a leading example of this."
PC gaming franchises are expected to continue to dominate the western esports market, with mobile remaining niche outside of Asia. However, because of the inherent transience of mobile gaming, live competitions can be organised on a more casual level, such as the growing trend of Clash Royale competitions being held in bars and cafés.
Revolutionary technologies such as cryptocurrency and blockchain will also play a substantial role in the future growth of esports, Newzoo suggests.
"Many startups launching consumer services based on blockchain have their roots in games. Gaming has pioneered digital business models, marketing mechanics, and virtual currencies and economies," the report reads.
With esports breaking into the mainstream... How the industry regulates itself is expected to come under newfound levels of scrutiny
It later adds: "As a completely digital and global industry, esports is expected to be among the first economies to fully embrace these modern technologies to the benefit of its passionate fan communities."
New formats and franchises will play a vital role in the long-term development of esports, particularly with an eye towards accessibility. Currently, the most popular esports titles are MOBA, strategy, and fighting games, all of which have a high barrier to entry and understanding. The rise in popularity of Overwatch and PlayerUnknown's Battlegrounds run contrary to this, demonstrating that there is a large audience for more accessible games in esports.
Newzoo's report highlights three elements for consideration with the shaping of the industry, especially in terms of the esports economy, streaming and infrastructure, and the involvement of associations and government bodies.
With teams, organisers and publishers all vying for influence, the esports ecosystem is varied and complex. Publishers have a unique level of control within the ecosystem that is not replicated in traditional sports, leaving them with authority over the highest level of competitive play.
On a local level, however, it's less reasonable for the publisher to exert such control and, as a result, it will likely continue to rest with grassroots organisations.
However, as Newzoo suggests, it is fans who hold ultimate power within the esports ecosystems and, according to the report, a growing number of viewers do not play the games they watch.
"These viewers will likely have the strongest ties with the team or league they follow," the report reads. "The stakeholder that can attract the most fans to its brand will be in the strongest position for negotiation. In that respect, teams are in a good place to grow their influence on how esports evolves."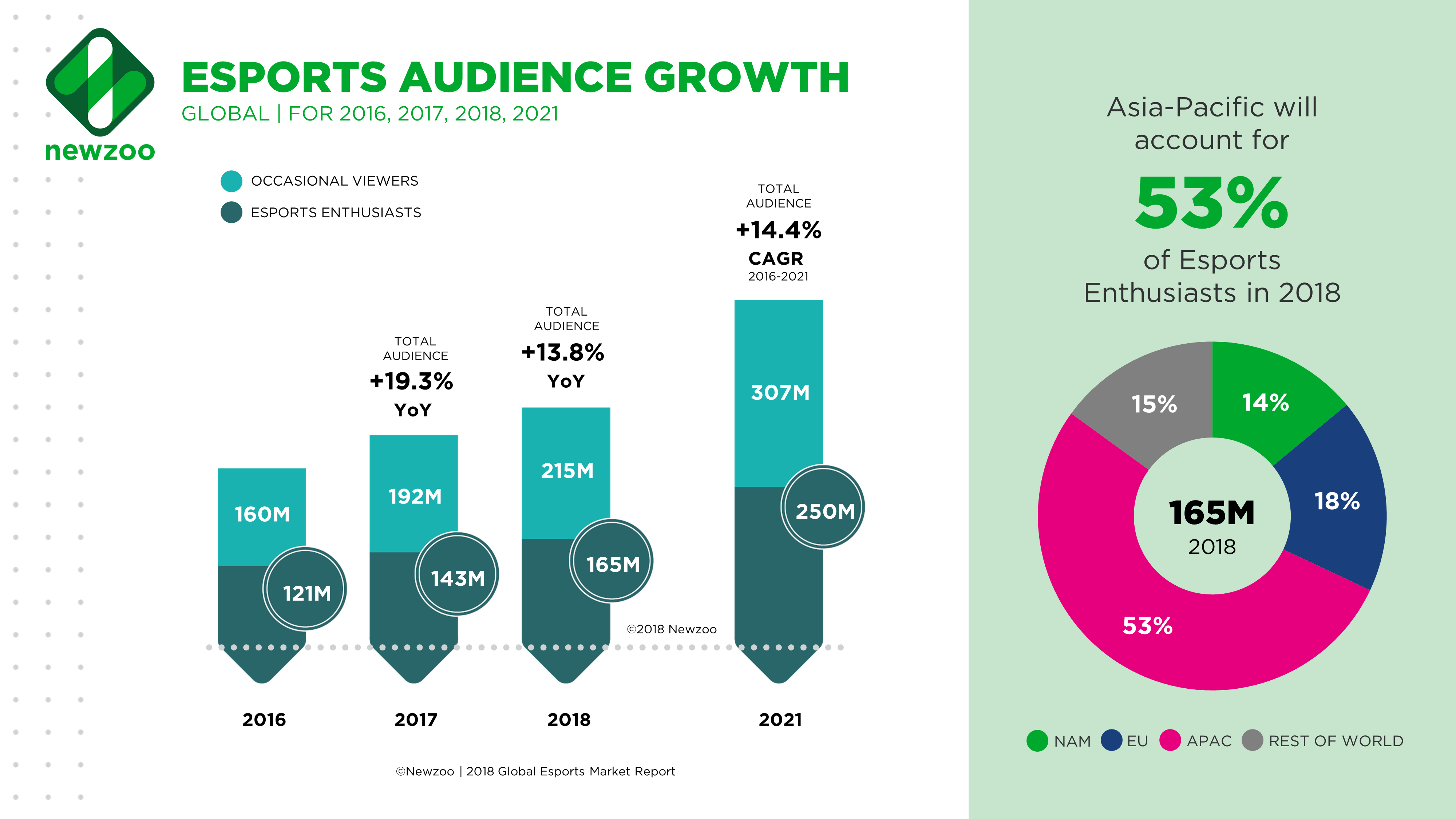 With the total esports audience expected to reach 380 million this year, media and telecom companies are showing increased interest. This has already been demonstrated in traditional sports, with Verizon bidding on mobile streaming rights for the NFL, and more recently with a $45 million per year deal between Twitch and the OWL.
"The quest for engaging content is driving this development. In the future, we will see telecom, media, sports, and entertainment converge increasingly," reads the report. "The fact that Chinese tech giants are seeking to increase their footprint in the West adds to the impact of the current mergers and acquisitions wave. Gaming and esports companies will be at the center of this wave that is only just beginning."
Finally, with esports breaking into the mainstream - coupled with its growth as a business - the role of associations and government bodies must be considered. How the industry regulates itself is expected to come under newfound levels of scrutiny. Even with efforts to legitimise the industry with organisations such as the Esports Integrity Coalition, Newzoo asks whether self-regulation is enough, and does esports need help from outside parties to properly establish itself?
"Involvement from existing governing bodies from the sports world is still relatively low," reads the report. "National governments have become more involved in setting up regulations regarding player contracts and visas, but many other areas remain untouched. This is expected to change soon, as esports has become a hot topic among governments and sports associations across the globe."
Although the data from Newzoo regarding esport's potential growth over the next four years is staggering, it is also not guaranteed. As the report suggests, it's "crunch time for esports as it enters adolescence."