Global esports revenue projected to reach $905.6m in 2018
Total esports audience to surpass 380 million this year
Global esports revenue is expected to reach $905.6 million in 2018, with further growth to $1.65 billion by 2021 according to a report from market intelligence firm Newzoo.
The report - which forecasts based on incorporated data from multiple soruces - found that revenues will increase by more than $250 million compared to 2017. North America is expected to generate the highest share with 38% of the global total.
Sponsorship remains the highest grossing revenue stream worldwide, contributing $359.4 million compared to $234.6 million the year prior. Meanwhile, game publisher fees will remain the slowest-growing revenue generator, reaching $116.3 million in total, up by $11.5 million from 2017.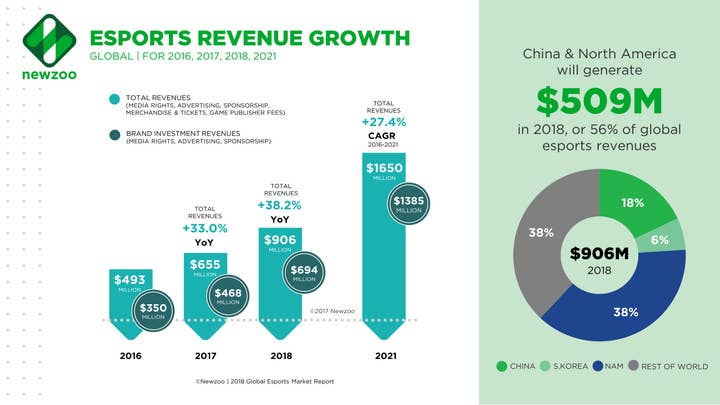 The global esports audience continues to enjoy healthy growth, and is expected to reach 380.2 million in 2018. Esports enthusiasts - people who watch esports more than once a month - will comprise 165 million of the total, up from 143.2 million the year prior, and will grow to almost 250 million by 2021.
The number of occasional viewers - people who watch esports less than once a month - will reach 215.2 million in 2018, up from 191.9 million in 2017, and will grow to surpass 306 million by 2021.
Esports awareness has a steady projected growth, thanks in part to the increased exposure of esports as a mainstream entertainment industry.
Emerging regions like Latin America, the Middle East, Africa, and Southeast Asia will also contribute, largely driven by improving IT infrastructure and urbanisation.
In 2018 the number of people aware of esports is expected to reach 1.6 billion, up by 300 million from 2017. China is expected to contribute the most to global awareness, with 468.3 million people.