Telltale's The Walking Dead "made Skybound what it is"
Skybound Stories CEO Dan Murray says episodic game had more impact on the company than the TV show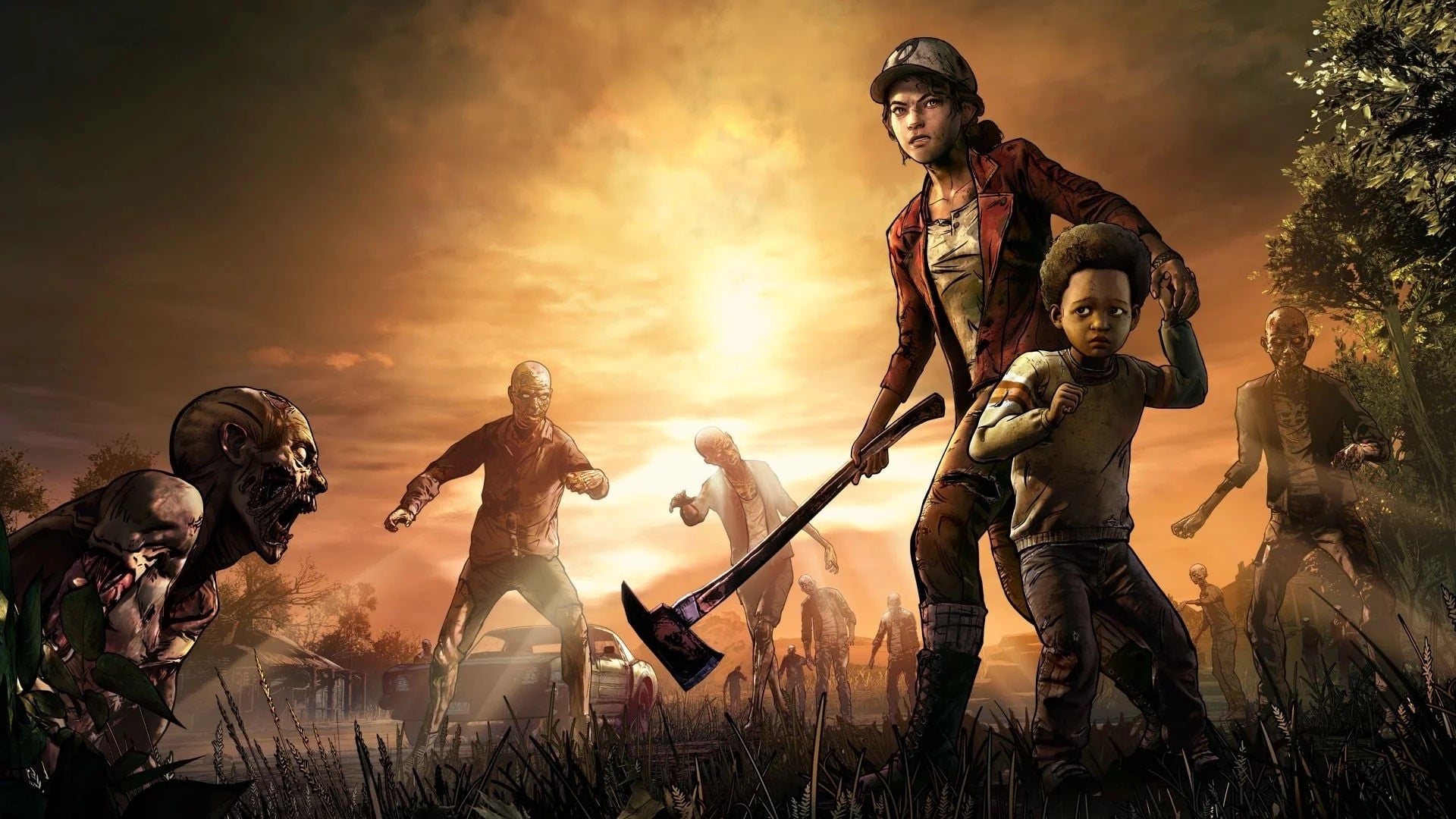 The Walking Dead has become a global phenomenon thanks to the AMC series, but IP holder Skybound says the Telltale video games have had a more profound impact.
Dan Murray, the CEO of Skybound Stories, appeared on a panel alongside 343 Industries' Kiki Wolfkill at Reboot Develop today, hosted by GamesIndustry.biz editor-in-chief Matthew Handrahan. The panel discussed how both The Walking Dead and Halo have expanded beyond their original medium into other forms of entertainment.
Murray demonstrated this by explaining the 'Wheel of Awesome', a phrase Skybound uses to describe its strategy of taking an IP into as many markets as possible, including 'spokes' such as TV, video games, comics, live events, online programming and more. Naturally, The Walking Dead is the company's prime example of how successful this can be.
"If it hadn't been for the video game, Skybound wouldn't really look like this today. It informed everything we've done since then."
"What started as a comic book became a television show, and then really it was the video game for us at Skybound, the Telltale Walking Dead game, that fuelled this company," said Murray. "If it hadn't been for the video game, Skybound wouldn't really look like this today. It really was that initial product we built in the video game space that informed everything we've done since then.
"There's a lot of backend philosophies of how, for us, the purpose of why this [the Wheel of Awesome] exists has less to do with how many things we can build and more to do with how we can connect content creators to an audience. And a lot of it is built with methodologies coming from the gaming space around backend services to do that."
Skybound, Murray added, avoids the phrase 'transmedia' because "that comes with implications as to how these things merge" -- an audience might expect continuity between the TV show and video game, for example.
"With the Telltale game, it's an entirely new universe, an entirely different storyline with new characters," Murray said. "There's some connective tissue... [but] we believe it's better to treat each medium as primary, meaning the video game should just stand on its own."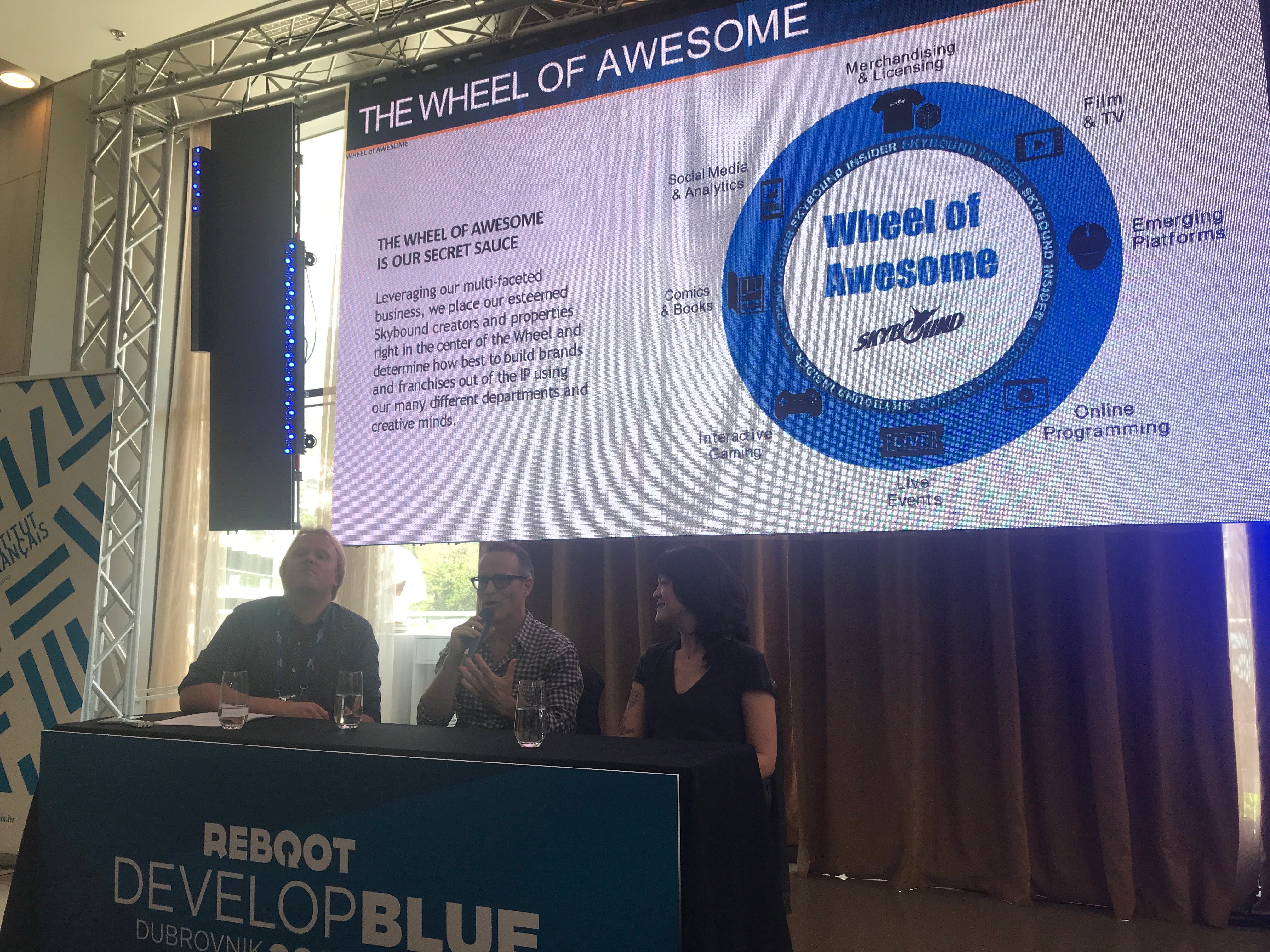 After Telltale struggled to find the success it hoped for with Jurassic Park and Back To The Future, it began focusing on comics due to the natural crossover with its audience. As such, the studio's The Walking Dead outing was already being planned before the TV show even aired. By the end of the game's first season, Skybound saw its full potential.
"What happened was we found an entirely new audience that had never seen the TV show, had never read the comics, they just found Telltale's Walking Dead," said Murray. "And that just woke us up to the fact that we don't need to connect the dots. We can do that later when the audience is already invested in that medium itself."
"We found an entirely new audience that had never seen the TV show, had never read the comics, they just found Telltale's Walking Dead"
He went on to say certain franchises naturally lend themselves to transmedia (or the Wheel of Awesome). The Walking Dead, for example, isn't centred around one character but the beginning of a civilisation, which gives Skybound and its partners the opportunity to tell many stories for many different perspectives.
With the Telltale partnership, Skybound -- even its founders David Alpert and The Walking Dead creator Robert Kirkman -- worked closely with the studio on developing that particular story. It even introduced a television production model to the process -- although Murray later stressed that Skybound doesn't think about the AMC show when doing the game or any other project. The source material of the comics are used as a blueprint, because treating other media as an extension of TV would be "doing a disservice to [that] medium itself."
The goal for the Telltale title was to forge an emotional connection. Murray said, "That was the challenge -- can you make a video game that will make the player cry? We weren't trying to build a game that allowed players to live in a world and the gameplay serves that, it was very much driven around narrative and character development."
Another reason Skybound saw the promise of the Telltale series is because the studio understood what lies at the heart of The Walking Dead. Kirkman himself often describes the franchise as a soap opera with zombies, where the undead are just a background aspect like the weather -- something not every developer understands.
"When we get approached by games companies, it's always about the zombies," said Murray. "The pitches I get are like, 'It's a zombie game.' Telltale came and said, 'It's not a zombie game, it's a story about a girl who loses her parents and finds a guardian, and they start to bond and it's almost like a father-daughter relationship.' Throughout that story, they connect in a very emotional way, and that's something everybody can relate to.
"We get a lot of GIFs and stuff around the TV show, but the stuff that's more insightful is coming from people talking about the Telltale game and Clem"
"We're constantly getting feedback from our audience and it's amazing how vocal that Telltale audience are, and how informed they are. We get a lot of GIFs and stuff around the TV show, but to be honest, the stuff that's more insightful about story and character is coming from the people who are talking about the Telltale game and Clem specifically."
Sadly, of course, Telltale Games collapsed at the tail end of last year. Murray said the team at Skybound were "surprised like a lot of other folks", but the company stepped in to finish the final season.
"The Telltale game and Clementine's story was so rooted in Skybound -- it's the thing that made Skybound what it is, because that story resonated with so many people it really put us on the map," said Murray. "We were fortunate enough to have the publishing unit in place... we weren't ready, we were just getting the division on its feet, but when it happened we were able to pivot. We had two episodes left, we were right at the finish line."
Kirkman, in particular, pushed for Skybound to complete Telltale's work, even telling his staff -- still evaluating whether or not they could -- that he would announce it at New York Comic Con, which was held shortly after the studio's mass layoffs.
"We did it, we took that leap of faith," said Murray. "But we at least had the confidence because we knew we had the staff to execute and most importantly in that case we had the people who were making the game. They were there, they were putting in the time and effort.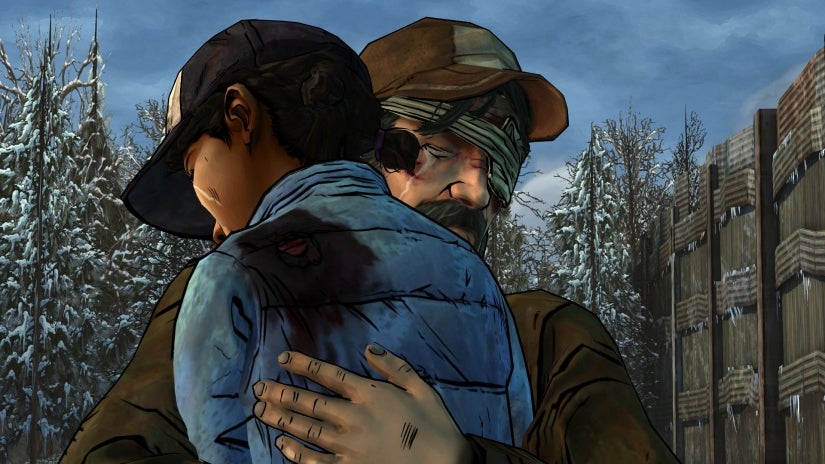 "That story, and especially that last season, we [had already] gotten so much more actively involved in the final season because we really felt it was important to bring it back to where it started in season one. To be honest, the stories had gotten a little bit off course so we got much more involved, and we were so happy with how it came out and with the scripts that had been developed. It really wasn't a question whether we would do it or not, it was more, 'how the fuck are we going to do it?'"
Murray said it was particularly important to rehire the Telltale team, and Skyound moved as fast as it could to do so. The company even rented the cubicles in the original office space, "because we had to move fast and didn't want to put them in a new space." Murray says the logistics were "a nightmare" but it got the game finished.
It's been a tough time for developers working on The Walking Dead titles. Telltale collapsed before the final season was complete, and Overkill's The Walking Dead has been caught up in the struggles that have seen Starbreeze face insolvency. Do these damage the overall brand from Skybound's perspective?
"We all know games development is a risky business," said Murray. "Sometimes all it takes is one bad game to kill a company, or one good [rival] game in your category. Sometimes those things are out of your control.
"I would still look at season one of the Telltale game as a huge success story, because that season of The Walking Dead made Telltale into something no one expected them to become in that space. And for us it put Skybound on the map."