Ted Price: Influx of fledgling developers will be "mind-numbing"
CEO of Insomniac Games is excited for the growing talent pool in the industry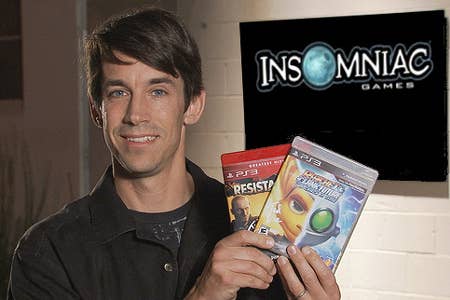 Ted Price, CEO of Resistance and Ratchet & Clank developer Insomniac Games (now working on OverStrike), has been impressed by the new generation of talented game designers coming into this industry.
Speaking to GamesIndustry International recently, Price remarked, "I think that the folks who are the new designers at the company bring an energy and a perspective that those of us who are in our forties don't have and it's incredibly valuable to get their insight. It's a blend of the people who've been around and know core mechanics and people who have fresh ideas that makes great things happen."
Price is a true veteran of the industry from the console side, but the booming social and mobile markets has been attracting a new breed of designer and it's impressive to witness. Insomniac is just beginning to get involved in these digital platforms through its Click business. Young talent will no doubt be key.
"The nice thing is that there are so many new developers getting into the market thanks to the proliferation of games and just the tools that kids can use to make their own games, so I think we have a huge upcoming crop of fledgling developers that are going to hit the industry in about 5 to 10 years that's going to be mind-numbing. It's going to be really cool for all of us," Price said.
We definitely get the sense that Click is going to evolve eventually into a more important division for Insomniac if Price's comments on multi-screen IP are any indication: "There are so many opportunities for players to get their entertainment now, so many different terrains - I think the winners are going to be those IP that exist on as many screens as possible."
He continued, "I think the kids today don't make a distinction between the screens they're playing on, whether it's a phone, a tablet, a TV, PC; they want their entertainment everywhere all the time. And I think the most successful developers in the future will be those who can provide that."
Price also noted that these new digital platforms are radically changing the business. And considering how risk averse some publishers can be, being able to succeed on a grand scale without investing tens of millions of dollars will be an invaluable skill that a younger designer might provide.
"What's cool is that there are other avenues [besides consoles] to make world changing games. If anybody thinks that the world hasn't been changed by Angry Birds, then they're not very connected," he said. "I mean, there are games that have been made for relatively cheap amounts - small teams, short development cycles - that have done incredible things to change people's perceptions of what games are."
Price concluded, "So I think the next big thing can come from anywhere. It is not going to necessarily cost millions and millions of dollars. So that's what's exciting about being in the games business."