Take-Two quarterly sales down 37%
Publisher cites tough comparison against Max Payne 3 launch as digital makes up record 52% of revenues [UPDATE: BioShock Infinite ships 4m]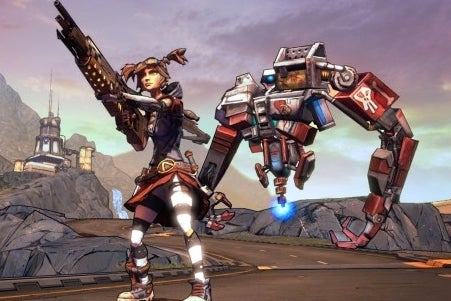 Take-Two Interactive today released its first fiscal quarter numbers, with the company reporting sharply lower sales and millions in losses amid "better than expected financial results."
For the three months ended June 30, Take-Two saw sales down 37 percent year-over-year to $142.7 million. That was largely due to a tough comparison against the previous year's first quarter, which saw the launches of both Max Payne 3 and Spec Ops: The Line. Take-Two's only retail release for the just-finished quarter was Max Payne 3 on the Mac.
As for what accounted for the publisher's sales, Take-Two namechecked Borderlands 2 (which had multiple new DLC packs released), NBA 2K13, Grand Theft Auto IV, and BioShock Infinite. The company said catalog sales made up 60 percent of its sales, while digitally delivered goods accounted for a record 52 percent of the company's revenues.
The publisher also reported a net loss of $61.9 million, an improvement on the $110.8 million lost in the year-ago period. The publisher noted that the recent quarter's tally also includes a $29.6 million impairment for capitalized software development related to a 2K game, but declined to say whether that project was cancelled or still in development.
Take-Two likely won't need long to turn its fiscal year around. The publisher is scheduled to release Grand Theft Auto V on September 17, just weeks before the end of the current quarter. Take-Two expects the much-anticipated Rockstar Games sequel to drive a majority of its revenue, which it is projecting between $750 million and $800 million. The company also expects a return to profitability for the quarter, with a net income per share between $1.20 and $1.35. For its full fiscal year (ending March 31, 2014), Take-Two expects revenues to come in near the $1.78 billion to $1.88 billion range, with net income per share between $2.25 and $2.50.
[UPDATE]: In a post-earnings conference call, Take-Two chairman and CEO Strauss Zelnick updated shipment figures on some of the company's recent hits. He said BioShock Infinite had shipped more than 4 million copies, and is expected to be the most successful entry in the series to date. Meanwhile, Borderlands 2 has shipped more than 7 million copies, and is on track to be the most successful title in the history of the company's 2K Games label.