Tablet gaming revenues to reach $13.3 billion by 2019 - Juniper
Research firm forecasts threefold increase for tablet game sales, driven by improved storage, graphics and better broadband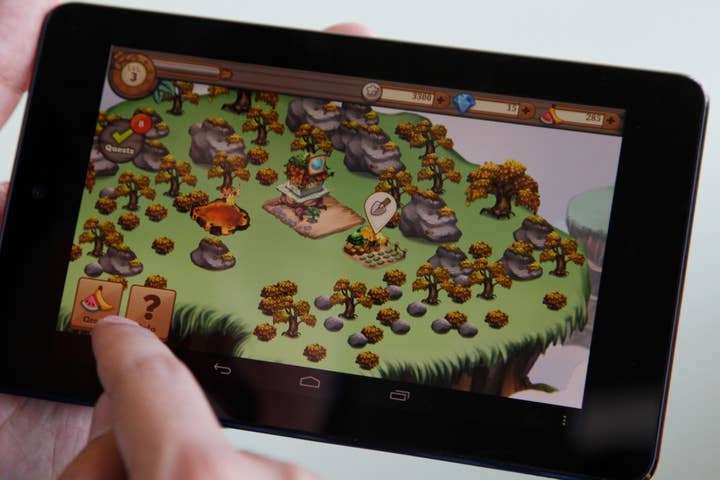 The mobile and tablet scene has exploded in the last few years, and that's only expected to continue, according to Juniper Research. The firm said in a new report that the tablet gaming market in particular is primed for incredible growth in the next several years. Juniper now is forecasting worldwide sales from tablet games to jump threefold from $3.6 billion this year to $13.3 billion by 2019.
Juniper said much of this growth will be driven by more sophisticated tablets that offer better graphics and more storage, as well as improving broadband internet around the world. The report also cites "consumers' preference for convenience and ubiquity" compared to other possible gaming platforms.
With the continued mobile/tablet boom, indies will have a real opportunity, but Juniper also warned that the next year "could be critical" for smaller indies since marketplaces containing over a million apps would require greater funding to stand out among the crowd. It's for this reason that Juniper believes that crowdfunding will increase among indies in the next few years as well.
In a separate report on the PC and console sector, Juniper also noted that the continued shift to digital and inclusion of more free-to-play elements in games is "inevitable" as sales decline. Advertising is becoming more and more important with the rise of free-to-play as well, since only about six percent of mobile games will be paid for at point of download in 2019, Juniper said.
Juniper added that a shakeup in PC and console hardware is possible too: "Competition from newly emerging dedicated game hardware manufacturers, such as Steam Machine and Shield, poses new challenges for the traditional players as well as an opportunity for the segment to revitalise itself."