Swery's White Owls is building a better work culture for Japan
At Reboot Develop, Hidetaka Suehiro said his new studio's treatment of employees is, "inspired by foreign game companies"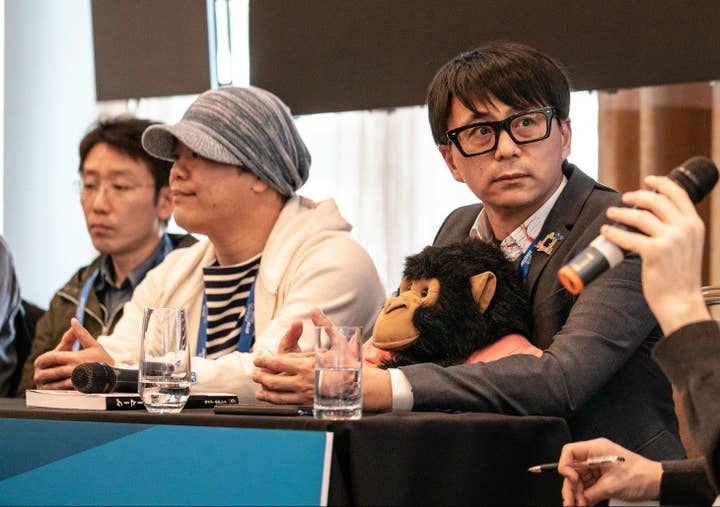 When Hidetaka "Swery" Suehiro founded White Owls, he wanted to create a working culture that gave employees freedom and balance in their lives -- and to accomplish that, he had to look to companies outside of Japan for inspiration.
Suehiro was speaking as part of a panel at the Reboot Develop Blue conference, when a member of the audience mentioned issues around worker rights that have been widely discussed in Europe and North America -- unionisation, crunch and mental health among them -- and are seldom far from the headlines on any given week.
Another panelist, the game writer Masatoshi Tokuoka, addressed the subject in broad terms, admitting that it was a "sensitive issue" for an industry in which people occasionally prefer to work long hours.
"Making games is a task where sometimes you want to work for a long time"

Masatoshi Tokuoka
"Making games is a task where sometimes you want to work for a long time," Tokuoka said. "If you're really getting into the groove, when you're on a roll, then all of a sudden everyone's like, 'We have to shut down the office, you have to leave' -- that can be a problem in itself. It's a very delicate situation."
Tokuoka made a universal point, one common among creative industries around the world. However, Japanese working practices are different to those in other hotbeds of game development like the UK, the US, and Canada -- and not always in admirable ways. As Rob Fahey pointed out in an op-ed article addressing the "tyrannical and abusive" work culture at Konami in 2015, the Japanese industry has, "a pretty well-deserved reputation for demanding extremely long hours from staff," and to a far more prevalent degree than elsewhere in the games business.
According to Suehiro, the discussion around these issues -- and particularly unionisation -- isn't the same in Japan for a variety of reasons, not least the legal and practical realities of hiring and firing a workforce.
"In a lot of non-Japanese companies, in terms of hiring employees and letting go of employees, it's pretty much an equal road when it comes to what's necessary to do that," he said, speaking through a translator. "But in Japan it's not equal, and it's sometimes very hard to fire employees or get rid of them.
"White Owls is inspired by foreign game companies"

Hidetaka Suehiro
"If they were to unionise, the workers in Japan, and make their position even stronger than the employer's' position, a lot of companies would just go under. They wouldn't be able to support themselves."
When Suehiro returned to the industry following a period of ill health, he wanted to establish a new studio built around principles that were not common in Japan. Indeed, the inspiration to do so came from attending Reboot Develop two years before, and the conversations he had at the event with studio owners from Europe and North America.
"I used all that knowledge to create White Owls," he said, of the studio he officially announced to the world at the start of 2017. "Today, White Owls is inspired by foreign game companies, where the employees are able to balance their personal lives and their work lives."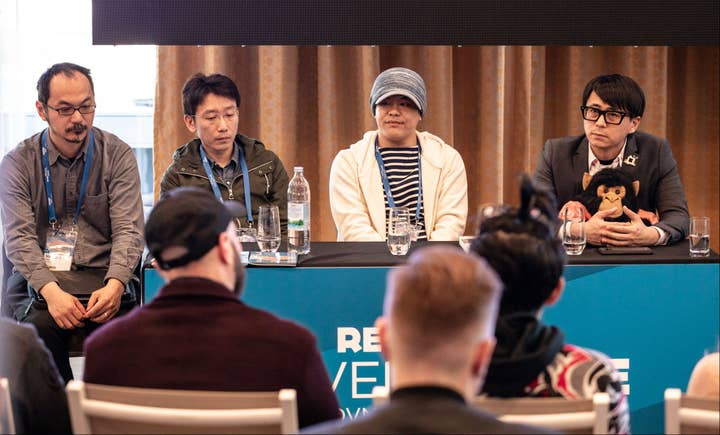 The goal, he said, was to create a work culture where employees, "wouldn't need to unionise, because they'll have all of the rights and the health benefits that they need." Key to this is an acceptance that more hours spent in the office does not necessarily equate to more work completed or higher productivity -- an idea that Rob Fahey pointed out is particularly common in Japanese workplaces, and regarded as, "a sign of company loyalty and generally essential to promotion hopes."
"White Owls' work schedule is very flexible. Our employees come in when they want and leave when they want"

Hidetaka Suehiro
"White Owls' work schedule is very flexible," Suehiro said. "Our employees come in when they want and leave when they want. They're allowed to take on other jobs if they want, or if they have the time for it. They're also allowed to work from home, if it's possible for the project at that time.
"I encourage them, if they have work to do, to get out of the office, to go and work at a bar or something -- to go and relax."
The doors of White Owls' Osaka-based offices are locked at 10pm every night without fail -- "because the building owner is an old lady and she has to go to bed," Suehiro joked -- and anyone who decides to stay and work after 6pm is allowed to do so in a relaxed manner, with a beer or alcoholic drink if they choose.
This kind of open, flexible culture is not common in the Japanese games industry, a fact confirmed by the art director on White Owls new game The Missing, who was also in attendance at Reboot Develop.
"The thing Swery always tells me is, 'I'm sorry if our company ever goes under -- just make sure you have other options," the art director joked, before revealing that he does, in fact, have other options; in keeping with Suehiro's claims about White Owls, he was allowed to continue lecturing at university while also occupying one of the game's most important creative roles.
"Technology has changed for the better," Suehiro said. "We have all these different options when it comes to engines, when it comes to tools; you have the [Unity] Asset Store, where you can buy assets and customise them and put them into your game. In that way, it has become easier to make games
"But the most important part for me personally is to find the right people -- people who understand your vision -- and to build a team with them. That will always be the most vital thing."
GamesIndustry.biz is a media partner of Reboot Develop. We attended the event with assistance from the organiser.