Summer Game Fest was a good media event, but where does it go from here? | Opinion
There were signs of life after E3 in LA this week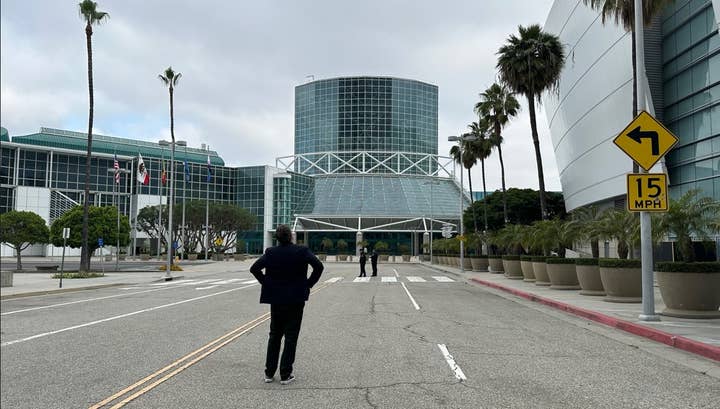 Sign up for the GI Daily here to get the biggest news straight to your inbox
There was a moment on Sunday when it felt like E3 again.
Microsoft's showcase may have been a digital stream, but there was a small auditorium where people could sit and watch. The fans were there, doing the usual whopping and hollering. Phil Spencer, Sarah Bond, Matt Booty, Todd Howard and the Microsoft exec team appeared on the stage. It was smaller, but it wasn't a million miles away from the Xbox press conferences of old.
As the Starfield video began airing, I took the opportunity to leave – I could watch it later – and frantically typed up my review of what I'd seen. By the time that was live, I was called into a panel with the Xbox execs, and then I was ushered into a deep dive session on the new Forza Motorsport.
This was just like E3. AAA games, business leaders, and back-to-back news and insight on the future for games.
And then… it stopped. I didn't have another appointment for five hours. That would never have been the case at E3. So I typed up the panel and went for a walk.
Summer Game Fest, and its associated events, were not E3. And in many ways that was a great thing, and in some ways it wasn't.
Even if E3 had happened, it would have been a week that underdelivered on its reputation for major games and big reveals. Across the three biggest showcases, only a handful of new titles were revealed (although there were far more when you factor in the various indie events). Geoff Keighley's showcase featured an incredible 42 games, but only eight were entirely new projects. There were some good ones, such as Prince of Persia and Sonic, but it was mostly updates on previously announced games or new content for existing service titles.
Even if E3 had gone ahead, it would have underdelivered on its reputation
Xbox's event was similar. There were a few new first-party teases, such as Clockwork Revolution and South of Midnight, plus a handful of third-party reveals. But most of the games shown were updated trailers for the likes of Fable, Starfield, Forza Motorsport, Avowed and Hellblade 2 – all previously announced projects.
Meanwhile, Ubisoft had already unveiled its big titles by the time its showcase had come around, including Star Wars Outlaws and Prince of Persia: The Lost Crown.
With no Sony, no Nintendo, no EA… this was never going to live up to the blockbuster laden E3s of the past. But even those that did turn up lacked surprises. Part of this is down to the continuing fallout of COVID on game development, but also the industry has been heading in this direction for years, with AAA games taking longer to build and living for longer as live service products. The days of major publishers rocking up in LA with half a dozen new games to show are over.
But what of the physical component to Summer Game Fest? There were effectively three significant in-person media events that happened in LA. Xbox and Ubisoft both held their own, and then there was Summer Game Fest's Play Days event. The latter included titles from Warner Bros, Bandai Namco, EA, Epic Games, Tencent, Disney, Sega and Square Enix.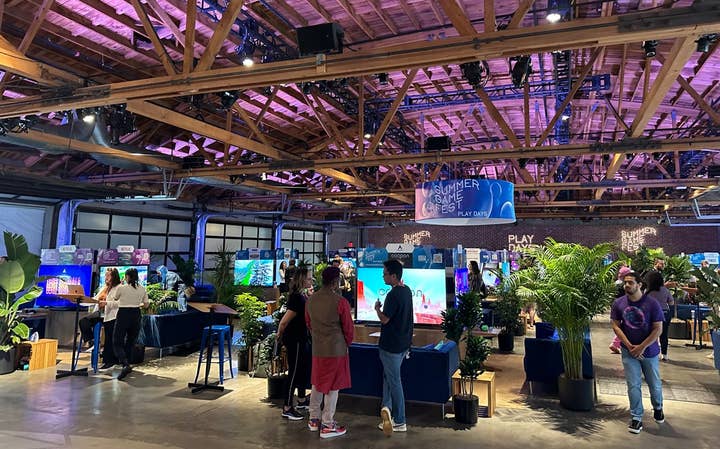 Play Days is very different to E3. Produced by Iam8bit, it was far less showy and a lot more relaxed. And for many of the companies that were there, far more effective. The biggest games on show were Mortal Kombat 1, Alan Wake 2 and the expansion for Cyberpunk 2077. Great stuff, but not exactly FIFA and Call of Duty. This meant the smaller titles were given a chance to shrine. Almost every developer I spoke to at Play Days had a smile on their face. Two of the companies I spoke to said it was a shame there wasn't more international media, but most were pleasantly surprised by the number of Europeans in attendance.
For the media attendees, it was more mixed. The event was significantly more enjoyable to cover than E3, but the lack of major titles was a little disappointing. There were good companies in attendance, but they were not showing their biggest games. EA was promoting Immortals of Aveum, Square Enix had Foamstars and Activision brought along its Crash Bandicoot multiplayer game that's out next week. It's a smart move for them to bring along the games people aren't talking about, but it wasn't quite what the journalists needed.
Xbox had big games in its showcase, but at its actual event, there was very little to see. A deeper session on Forza Motorsport and a couple of smaller games, a media panel… that was about it. Certainly nothing playable. I can see why they had decided against booking an E3 booth.
By contrast, Ubisoft's event was far stronger, with media able to get deeper looks on Assassin's Creed Mirage, Star Wars Outlaws and Avatar: Frontiers of Pandora. There were lots of hands-on opportunities, too, including with The Crew Motorfest and Prince of Persia. I can see why they did want an E3 booth.
All in, I thoroughly enjoyed my time in LA this week. The workload wasn't as relentless. I saw most of what the week had to offer. I was able to stop and talk to people, and not just exchange nods as I hurtled to my next session. And I am currently on my flight home feeling rejuvenated and excited about video games. Everyone involved did a great job.
And yet… something has been lost. Whenever I've been to E3 in the past, I always felt I was part of something big. E3 went beyond the games media and into the mainstream. It was global. It was aspirational. In LA this past week, I saw some great stuff, but I didn't feel like the world was watching.
In LA this past week, I saw some great stuff, but I didn't feel like the world was watching
The Summer Game Fest stage show didn't sell out, both Ubisoft and Xbox's showcases were in smaller venues, there were no film crews grabbing vox pops outside the conferences, there was an overall lack of mainstream media presence. And although there were 100+ international journalists in attendance, it very much felt like a US games media show.
But does that matter? In today's world where games are already mainstream, do we need to do something big and flashy to convince the BBC or CNN to cover us? And when it comes to international attention, there are plenty of big shows across the world that publishers can use to reach global media, including the likes of Gamescom and Tokyo Games Show.
Ultimately, where this week goes from here will be interesting. It's possible E3 returns, but that will be dependent on the likes of Nintendo and Xbox, and it doesn't feel likely at this point.
It's possible Summer Game Fest stays as what it is… a US media event. A precursor to the bigger shows in Europe and Japan over the coming months.
Or perhaps – and this would be my bet – we'll see the Play Days event scale up a little bit, and more major companies like Ubisoft and Xbox will come to LA and hold their own shows. Perhaps some broader, non-media specific industry events will crop up, too. Rushing around LA in Ubers and jumping in and out of security queues will make for a poor attendee experience, but that hasn't stopped the industry in the past.
When I left for my walk in the middle of the Xbox day, I found myself wandering over to the Los Angeles Convention Center. The doors were locked, so I peered through the window and it was a sad sight. No big game banners, no excited industry chatter, no queues… it was just empty.
I really enjoyed what Summer Game Fest was this week, but I do miss what's been left behind. Hopefully in 2024, we'll get that hybrid between the two.
Sign up for the GI Daily here to get the biggest news straight to your inbox