Submissions open for the UK GamesIndustry.biz Best Places To Work Awards 2020
Featuring a new prize for the response to COVID-19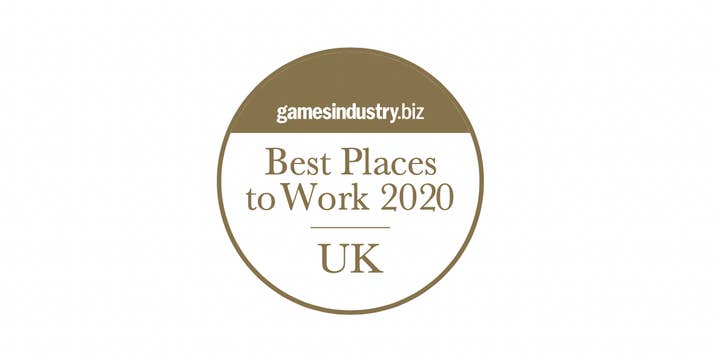 The UK GamesIndustry.biz Best Places To Work Awards will return on Friday, September 18th.
UK games companies -- including developers, publishers, retailers and service companies -- can submit themselves for the awards from today.
This year's ceremony will take place entirely digitally and will include a series of talks that will tackle the biggest issues in employment, such as the impact of COVID-19, company culture and diversity. The event is presented by recruitment specialist Amiqus.
This year will also feature a special prize for the games company that has responded best to the coronavirus crisis.
The awards are judged via a two survey system -- one for the employer to fill in and another for the employees. The results of those surveys determine whether you will receive one of our Best Places To Work badge. We've made some changes to this years survey to reflect the changing landscape, with input from experts in company culture, HR and recruitment.
All responses are entirely confidential and deleted once the judging is complete. Businesses that do not receive a high enough score will not be named.
Participant can receive a short report from us (for a small fee) featuring their overall employee scores and how they compare so that they can identify any areas of improvement.
Our big special award also return, with the best Small, Mid-Sized and Large company awards, plus trophies for excellence in Diversity, Learning & Development, CSR (Corporate Social Responsibility), Health & Wellbeing, and the aforementioned Crisis Management award. We'll also reveal this year's UK games industry Best Boss, while Amiqus will present a very special G Into Gaming prize for diversity.
To take part, email bestplacestowork@gamesindustry.biz, to receive the first survey or to submit your boss.
"The extraordinary situation we've all found ourselves in over the last few months has, more than ever before, thrown under the spotlight good leadership qualities," says Amiqus business manager Liz Prince.
"The logistics, of course, of pivoting businesses to remote working was a huge challenge for many, but right across the games industry we've seen studios and other companies adapt swiftly and successfully.
"But keeping teams connected, motivated and well is an on-going challenge until it is safe for everyone to return to their places of work. We've seen great examples - flexible working options for staff who have caring responsibilities; weekly Zoom quizzes to keep staff in touch with each other; studios providing teams with free subscriptions to fitness and wellbeing apps; free vouchers for Deliveroo; and more. These companies and their leadership teams are going above and beyond to protect their staff and help them through these difficult times for all.
"So we're delighted to help celebrate those companies who are going the extra mile for their staff by supporting the Best Places To Work Awards. Once again, we will also be presenting an award for Diversity, via the G Into Gaming initiative, to celebrate an individual who has taken a leading role on diversity and inclusivity within their business and the wider games community. "The Best Places To Work Awards event feels more important than ever this year and we are honoured to be part of it."
Final deadline for submissions is Thursday, August 13th.