Storror bets on Kickstarter to make a "pure parkour" game
The parkour group skipped big publishers to retain creative control, but will crowdfunding be enough to deliver on its ambitions?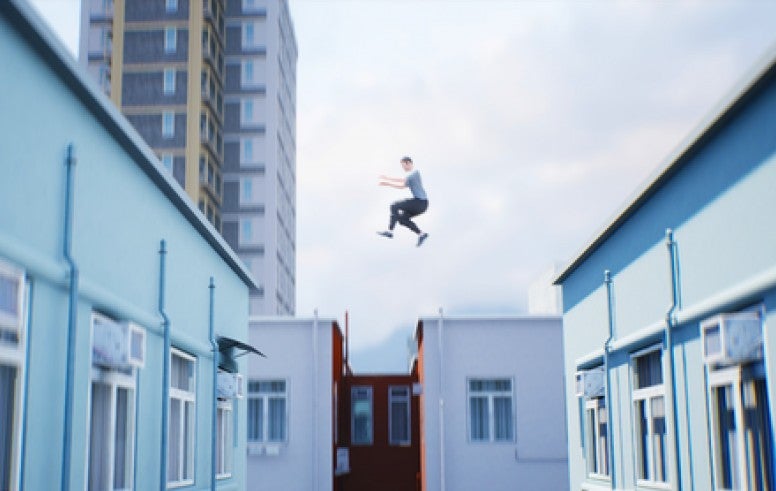 If you're familiar at all with the concept of parkour, it's likely you know the name Storror. The parkour team has over 6.88 million subscribers on YouTube, where they post travel vlogs, training videos, and challenges. The group also helped choreograph and perform parkour sequences for films such as Michael Bay's 6 Underground. On its channel, all seven members demonstrate their parkour skills, racing the tube, performing flips and tricks, and diving off tall objects. Recently, though, the team has tested itself in an entirely new way.
In early December, Storror announced plans to crowdfund its first ever video game, for PC, PlayStation and Xbox. The project, named Storror Parkour Pro Video Game, quickly surpassed its modest funding goal, earning a total of £75,000 throughout its entire campaign.
Storror's goal for the project is to create "a pure parkour experience", one that not only allows for greater freedom of movement, but that celebrates the culture associated with the sport. It's worth noting, though, that Storror's plans are extremely ambitious based on the level of funding it has acquired and the features it's promised to backers.
"What we're trying to achieve is the creative freedom you have with moving your body in physical space"

Drew Taylor
According to its Kickstarter, players will be able to free-roam environments at their own pace, complete medium-duration missions such as escape attempts, and nail short-burst challenges that are all about perfecting a single move. It has also promised a multiplayer mode to play with friends and character customisation, and have put a huge focus on the parkour moves themselves. On Kickstarter, it published a list of parkour moves that will be featured in the game, everything from Tic Tacs (wall runs) to Laches (swinging off a bar or branch) to Catpasses (a form of vaulting over an object).
"The games that have had parkour elements before have just been so limited in what you can do," Storror's Drew Taylor says in an interview with GamesIndustry.biz. "Like in Assassin's Creed, for example -- it's almost like you press a button and it does the whole thing for you. What we're trying to achieve with this is the kind of creative freedom you have with moving your body in physical space. We now have the whole control pad to decide what you want to do, as opposed to just a couple of buttons. That freedom is what we're looking for."
The UK studio Hole in the Sleeve is co-developing the project alongside Storror. This is a new developer of roughly 12 people, made up of both newcomers to the industry and seasoned professionals with experience working at Sony Liverpool, Criterion Games, and Revolution Software. The lead for the project is Davide 'Dado' Pirola, who previously served as a programmer on F1 2002, Black, and Burnout Paradise: Remastered.
Pirola has never led a project of this kind before, but after stumbling across Storror's videos online, he was inspired to reach out and get the ball rolling. At the time, Pirola was developing 3D models for an online platform for real estate agents to sell properties virtually. As part of this, he was using Open Street Map data to create cities quickly and efficiently -- technology that gave Pirola the confidence to pitch a game to Storror, aiming to leverage this same approach to create open-world environments with a smaller team, and on an indie budget.
"We've obviously done a lot of things, but there's a few things we want to do as we get older," Taylor tells us. "Like we want to do an academy...[and] we want to do a video game. But it's obviously not really the sort of thing where we've really put that much time into considering -- 'Who should we pitch it to? What would it be?' -- because we really don't know anything about games or how games get made. Then one day a random email appeared in our inbox and got forwarded to me... It was Dado, and it was like, okay, this could be how we pull that off."
"We can approach EA or some big developer, but we're just going to lose creative control"

Drew Taylor
One of the key reasons for going to Kickstarter for funding was the desire to remain independent and maintain creative control. Storror wanted to collaborate more closely with Hole in the Sleeve, and offer feedback or suggestions based on their own experience inside the parkour community. For instance, one of the locations being built for the game is the famous IMAX spot just a minute away from London's Waterloo Station. To locals, it might not look like much, but to parkour fans it's an historic landmark.
"It's so perfect for us, because yes, we can approach EA or some big developer, but we're just going to lose creative control over it," says Taylor. "And because parkour is kind of a niche sport -- it's not necessarily that mainstream yet -- without creative control from people within the culture and community, it's not going to be a parkour game. It's going to be something like Mirror's Edge, where they take the cool bits of parkour and sprinkle it with a load of other random video game stuff -- it's not parkour. It's parkour movements, but it doesn't represent the culture at all."
Support for the project so far has been overwhelming, but there have also been some reasonable concerns from backers -- specifically regarding the scope of the project. Despite the past credentials of the two teams, neither Hole in the Sleeve nor Storror has ever released a video game before. Couple this with the tight deadline -- it is scheduled to launch in Early Access in June 2021 -- the team's approach to development, and the modest budget it has managed to pull together, and it's easy to see the challenge ahead. Speaking to Pirola and Taylor, however, they seem undaunted by the task.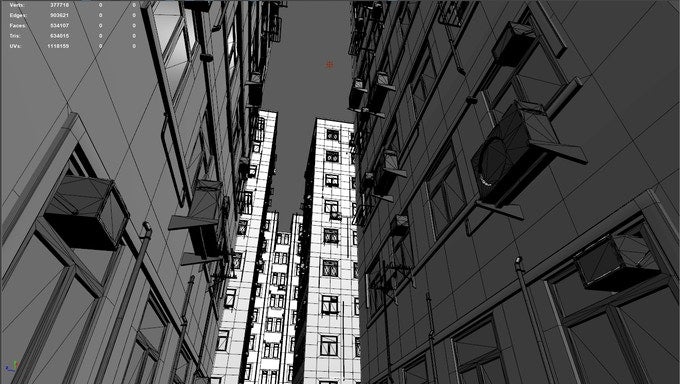 Pirola states: "I think for me it's more important to just not [dismiss] anything that we think may be hard to do, within reason. Let's approach this as completely open until we really reach the point where it's like, okay, this is basically impossible. As it is now, everything really is open."
"It's so flexible and kind of organic the way it's developing at the moment," Taylor adds. "We don't even really know how much money we are going to have to play with, so we're just working stuff out step-by-step... It's a strange way of working, but I think it also gives us the most freedom to make the best game possible."
But despite the team's confidence, it's hard not to think of other examples of studios biting off more than they could chew on Kickstarter. Fans aren't likely to be canny investors, and success on Kickstarter doesn't guarantee a product that's either finished or of a high quality. In 2014, for instance, Winterkewl Games and the Yogscast, another popular YouTube channel, cancelled its Yogventures Kickstarter after the project proved "too ambitious and difficult for them to complete with their six-man team." And they aren't alone either, with numerous other studios encountering issues with balancing funding and scope.
"We're never going to go, 'You need to work eighty hours a week to do this or that,' because it's not who we are"

Davide Pirola
Even Double Fine, one of the early studios to use Kickstarter for funding, couldn't finish Broken Age with the initial $3.3 million raised through the platform, instead having to release the game in two parts. In 2015, R8 Games repeated this problem -- the studio raised well over its target of £35,000 for its WipEout successor Formula Fusion, but an update described the struggle to fulfill "the many, varied and unrealistic promises made by the originator of this Kickstarter" with the initial funds raised. After releasing Formula Fusion in Steam Early Access to mixed reviews, R8 Games had to secure investor funding to deliver on promises like console ports, eventually committing to a total rebrand of the project that's taken multiple years and significant investment to pull off.
At the moment, Storror's is promising an Early Access version for backers by June 2021, with a full release scheduled for March 2022. When a fan raised this concern in the comment section on Kickstarter, Pirola replied with a message that raised alarm bells: "I've forgotten to mention that yes, we are professionals, but also super geeks that have the fortune to make their passion their job, so a normal day's work is 20 hours. When we are really tired, we cut it down to 16."
After seeing this, we wanted to clarify Pirola's thoughts on crunch, and whether the team would be subjected to these conditions. He responds: "When I was working in Sony, we had very bad cases of burnout, so I'm very aware it's very bad for the industry... A set up like ours is, well, it's not perfect, but we don't have this problem... We're never going to go, 'You need to work eighty hours a week to do this or that,' because it's not who we are. We're totally different types of people.
"Everything is flexible. We've got a Discord channel now with some of the backers and we have around 500 people there. Everyone there is super hyped, but if we say 'no, instead of March, we're going to go April' they'll say 'yeah, yeah, cool.' It [isn't] like when you sign a contract...and you need to hit that deadline."
With so much yet to be decided and whether the game will need future funding still up in the air, we're curious about whether the team would ever look to partner with a publisher.
Taylor answers: "Obviously it costs a shit load of money to make a game. It always comes down to, for us, what is going to make the game the best possible game it can be. Whether that is getting money from a publisher, private funding, or bootstrapping and doing Early Access...it's all kind of making the decision as we're going along and blagging it. At the moment we're working towards a demo, basically paid for by the Kickstarter and personal funds. Once we've got the demo we're basically going to [look again] at funding, and how we...build on that and what's the best option."
As mentioned above, Storror and Hole in the Sleeve are currently working on a demo for the game. Once this is completed, the two aim to get this into the hands of their backers. Despite some concerns, backers' opinions towards the game are still largely positive. The parkour community is hoping that it succeeds in bringing the sport more mainstream attention.