Glu-ed to the Kardashians
"There's definitely a high demand for new content" says SVP and GM of Glu Toronto
While the AAA industry focuses on guns, sport and dragons the mobile market has recognised an untapped audience in female players who want games that reflect their passions. And like it or not, The Kardashian family are about as pop culture as it gets.
Glu capitalised on the fame and fortune of Kim Kardashian to find their own mega success with Kim Kardashian: Hollywood. The game has a simple premise and a merciless free-to-play system, players must work their way up from nobody to A-List celebrity by taking part in ad campaigns and attending events, burning through virtual cash, energy and charm as they go.
GamesIndustry.biz spoke to a coy Christopher Locke, SVP and GM of Glu Toronto, to see if he would spill on the secret formula for celebrity games (he wouldn't) and if Kim Kardashian really had a hand in the creative process.
Eurogamer Can you share any updated numbers about the success of the app so far? Downloads, revenue, etc?
Christopher Locke
During Glu's Q2 earnings call, we disclosed that Kim Kardashian: Hollywood made $1.6 Million over 5 days in June. The game then spent several weeks in the top 10 of the App Store's Top Free chart and is currently number 5 on the Top Grossing Chart. App Annie recently released its Worldwide App Index, reporting that Kim Kardashian: Hollywood was the most downloaded game on iOS in July 2014.
"Mrs Kardashian's creative influences helped shape the game tremendously"
EurogamerWhat demographic did you have in mind for the title, and are those the people that are now playing it?
Christopher Locke
The game has a very broad appeal, we see players enjoying the game from every demographic. However, our core audiences are fans of celebrity culture and women 18 to 36.
EurogamerHow much did the Kardashian brand shape the gameplay?
Christopher Locke
Gameplay was largely already established since Kim Kardashian: Hollywood was built on an existing Glu engine. However, Mrs Kardashian's creative influences helped shape the game tremendously. She was involved in the process from start to finish and hand-selected the many of the outfits, accessories, hairstyles, and other in-game items.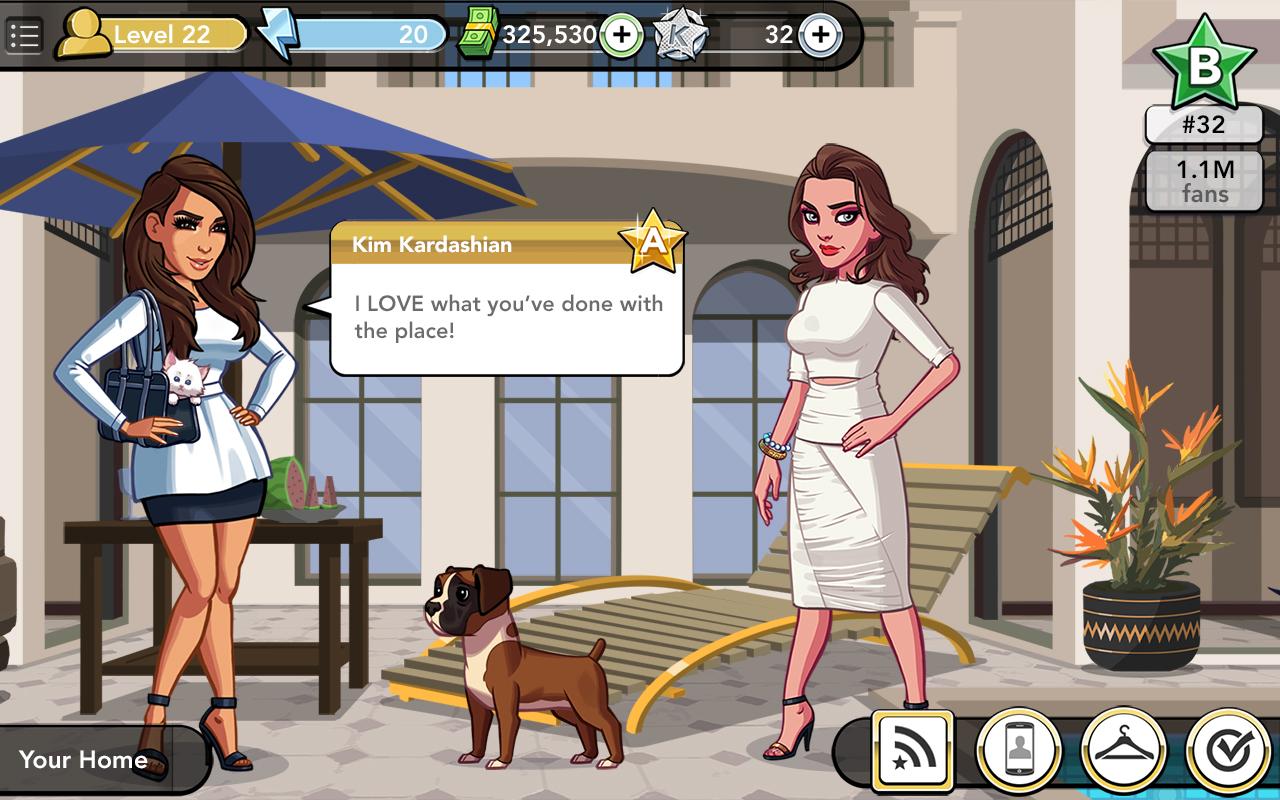 EurogamerWhat do you think have been the key elements of its success?
Christopher Locke
We attribute its success to a combination of Glu's proven game engine and Mrs Kardashian West's brand power. The mechanics of the game appeal to a wide audience and Kim's presence offers players a taste of the Hollywood life that they may not otherwise experience.
EurogamerHow did this differ front creating a non-celebrity title? Were there a lot more approvals involved?
Christopher Locke
Mrs Kardashian West took great interest in the project and the process went very smoothly. Her involvement continues as we roll out updates and content - from aesthetic items to new locations and game features.
EurogamerPeople are often a little critical of games where money is a bigger asset than skill, how do you respond to that?
Christopher Locke
We're in the business of mobile entertainment and this is a game that is enjoyed by millions, the majority of whom aren't paying at all. We're excited to continue providing fans of Kim Kardashian: Hollywood with a great experience without being pay to win.
EurogamerWill you continue to create new content for the game? Are players hungry for more?
Christopher Locke
There's definitely a high demand for new content. Glu plans to fully support Kim Kardashian: Hollywood for a long time to come with a rich roadmap. Since its launch we have updated it frequently with new quests, in-game items/accessories as well as new locations to visit like Mexico, London, and Australia.
"This is a game that is enjoyed by millions, the majority of whom aren't paying at all"
EurogamerCan you see celebrity tie-ins becoming more common as games get more mainstream? Who would your ideal subject be?
Christopher Locke
There's no doubt that other game publishers are taking a hard look at the game's success and are actively working on entries in what we call the "celebrity lifestyle RPG" subgenre. For us and for this game, Mrs Kardashian West is the ideal partner - a perfect alignment between her brand, the game engine, and our shared target audience.