Steam Labs adds two more experiments: Deep Dive, Community Recommendations
Prior experiment Interactive Recommender gets promoted to Steam Store home page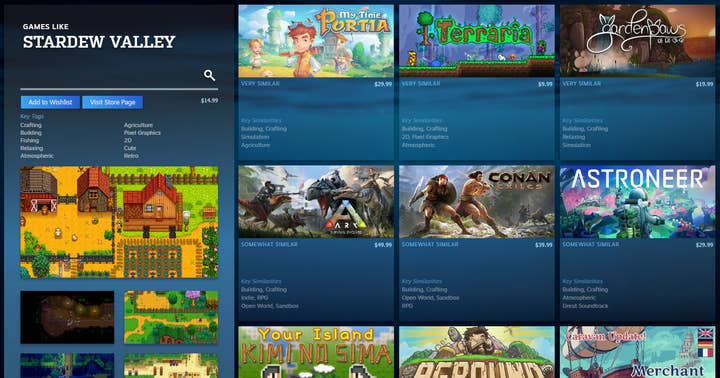 Valve's dedicated corner for storefront experiments, Steam Labs, gets a major update today that includes two new experiments and the upgrading of another to a frontfacing feature.
Deep Dive is the fifth experiment to join Steam Labs, and was teased at PAX West by Valve as a collaboration with Defender's Quest developer Lars Doucet, expanding upon his independent "Diving Bell" project with the aim of addressing discoverability issues.
The experiment uses tags provided by creators and community members to recommend games similar to other games selected by the user. It divides them up into "very similar," "somewhat similar" and "similar gem," the latter of which is, per Steam, for games that are "little-known but well-loved." These games can then be selected for wishlisting, purchase, or to be used as another jumping off point for further game discovery.
A second new experiment entering Labs is Community Recommendations, another discoverability algorithm this time based on games that are currently "hot" on Steam on a given day based on reviews. The tool can be adjusted to show games for the day, week, or month, and recommendations can be filtered by tags.
Finally, former Steam Labs experiment The Interactive Recommender is getting a new position on Steam in addition to its space on Steam Labs. The Steam Store home page will now feature a row of games "Recommended for you by Steam Labs" based on games the user has played before and using the same algorithm and data as The Interactive Recommender. The experiment will still exist on Steam Labs for more detailed searches and filtering as before.