Starship: "The mobile marketplace is completely random"
After an early stumble, Starship's veteran British team has found order among the chaos with mobile VR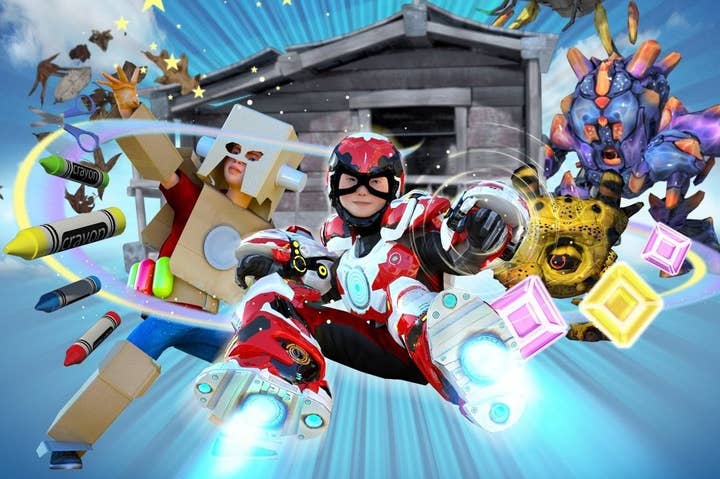 England's North West has been a development hub for almost as long as the games industry has existed in the country. Starting in the early Eighties, companies like Psygnosis and Ocean Software helped lay the foundations for the UK to become one of the leading powers in the global games business. The young talent that emerged from those pioneering developers formed their own teams. Within a decade, the areas around cities like Liverpool and Manchester were vibrant creative centres, home to some of the country's largest and most important studios.
"Starship is totally different to what we'd known before. It was a steep learning curve"

Paul Hollywood, creative director
Paul Hollywood is a part of that lineage. His career started at Liverpool's Digital Image Design (DiD) in 1990, where he rose to the level of art director. When DiD was acquired by Infogrames in 1998 he moved to the newly formed Evolution Studios in Runcorn, Cheshire, where he worked as creative director until 2007. In that 17 year period Hollywood witnessed the North West's rise, and he was still there during its sharp and painful decline. After a convoluted series of acquisitions and closures, DiD's heritage ended with the demise of THQ Digital Studios UK in 2011. Psygnosis became Sony's Studio Liverpool, and was shuttered for good in 2012. Then there's EA Warrington, Bizarre Creations, and many more besides.
"It's pretty much dead," says Mike Humphrey, a veteran of both Evolution Studios and Studio Liverpool. "When I first moved to the area there were some really big studios. Now it's just Evolution in Runcorn. That's about as big a studio as we've got."
Both Hollywood and Humphrey are at Unite Europe in Amsterdam to discuss a new venture, one of a wave of independent studios that could restore the North West to its former status: Starship, the Liverpool-based brainchild of DiD and Evolution Studios founder Martin Kenwright, who finally exhausted a non-compete clause tied to Sony's acquisition of Evolution in 2013.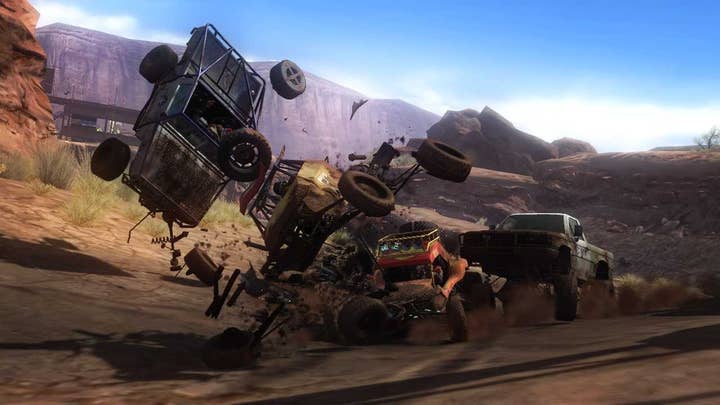 According to Hollywood, that "enforced sabbatical" had allowed Kenwright to start a family and build a house, but it didn't stem the flow of ideas. By the time he was able to take the first official steps in establishing a new company, he found a large and experienced pool of talent to draw from, many of whom he had worked with previously. Hollywood and Humphrey were both working on other projects when they got the call, and neither needed much convincing to join up with Kenwright again.
However, the hardships experienced by studios in the North West had made one thing clear: the games industry in 2013 was entirely different to the one in which Evolution had found success more than a decade earlier. The forces that led to the collapse of so many British studios would have to inform the creation of Starship at the most fundamental level.
"You can make the best game in the world, and will it be discovered? Will there be retention? You just don't know"

Paul Hollywood
"Martin said it was going to be different this time," Hollywood says. "In terms of business model, in terms of being self-funded, self-promoted and self-published. The products were going to be disruptive, for new sectors, and we were going for a new format: mobile. It was totally different to what we'd known before. It was a steep learning curve."
Despite its team being almost entirely composed of hardened game developers, Starship was founded with a much broader agenda. The digital marketplace is a source of content for dozens of devices, with games just one possible area of focus. Entertainment, lifestyle, health, education; Starship could reach a larger and more diverse audience by developing interactive experiences for every part of the market. Games would be an important part of that mix, of course, but Kenwright sensed a bigger opportunity.
Nevertheless, the company's first launch was a game, an opportunity for Starship to demonstrate what its team's AAA skill and experience could bring to a market category that seemed in need of inspiration. Specifically, it would be aimed at young children, directly informed by Kenwright's own frustrations with trying to find quality mobile games to play with his son.
"That was the premise," Hollywood explains. "High production values, console-quality graphics and gameplay, pay once and play forever, with no cynical design. We wanted parents to feel confident, and to trust that their kid could sit and play the game and not be buying £600's worth of in-app purchases."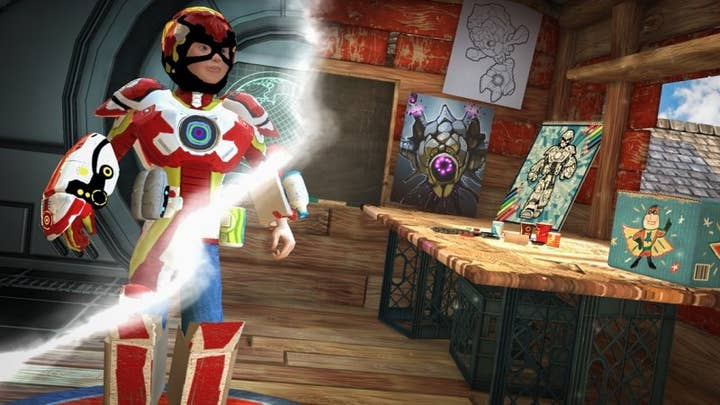 However noble they might appear, these goals are not uncommon among former console developers seeking to impose their own values on a market that has evolved in a separate direction. And, like so many of those developers, Starship didn't make the expected impact with its eventual release, Playworld Superheroes, which launched at the start of 2015 for $3.99. Hollywood maintains that it proved to be a success, but his position is so laden with caveats, and the product itself is so obviously ambitious, that it's fair to assume that expectation and reality were disappointingly misaligned.
"We expanded it, we made it backwards compatible, we did the Android version," he says. "We tried to bolster that by not relying on the platform holder to promote the game. We made a TV advert at our own expense. We put it out on Nickelodeon and The Cartoon Network to get the word out. We did well within that market segment - premium kids games - but it is just really small.
"What's happening right now in VR games is picking a lot of low-hanging fruit"

Paul Hollywood
"Our knowledge of that market wasn't as deep as it could have been, and what we learned is that the mobile marketplace is completely random. It's absolutely unmeasurable. You can make the best game in the world, the best game ever, and will it be discovered? Will there be retention? You just don't know."
Starship certainly isn't backing away from developing mobile games, but its future products will reflect the diversity that Martin Kenwright sought from the very beginning. CyberCook is one example: conceptually, it's a response to the sheer number of lazy recipe collections and 'interactive cookbooks' clogging the mobile app stores; in practice, it's a simulator as detailed as any of the flight and racing titles created at DiD and Evolution. In terms of the technology necessary to make it work, Humphrey says, CyberCook is very much in line with the team's heritage, and as stiff a test of their skills as any game. The concept demanded a fully interactive environment in which each object or ingredient had realistic physical and visual properties that could change in real-time as a result of various cooking and preparatory processes.
"It's the same physical objects with cause-and-effect, and managing that," he says, "but the physics issues that you're trying to solve are not the kind of issues that the games industry has tried to solve. It has never needed to figure out how to get different liquids of different viscosities and colours and densities to mix with each other and take on new properties in real-time. That won't be part of any game, so we have to solve it. That's the benefit of having a team of this calibre."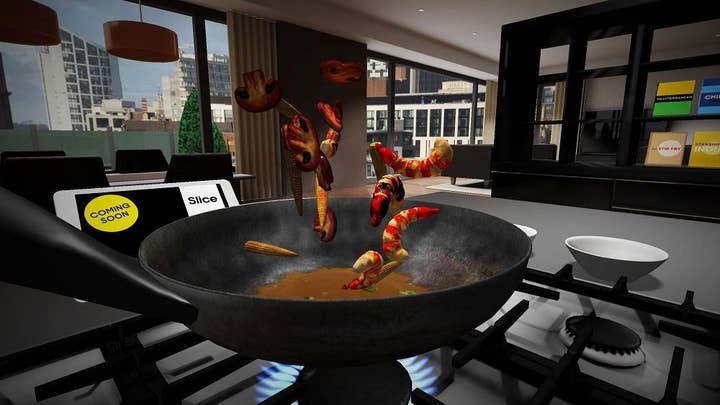 CyberCook will also be released for virtual reality platforms, starting with the Samsung Gear VR. According to Hollywood, Oculus responded with great enthusiasm to a DK2 build during his visit to Oculus Connect last year, a reflection of the fact that applications like CyberCook will be just as important to establishing the market for VR as the games that dominate so much of the conversation. Starship now sees the sophisticated simulations it wants to make as a perfect fit for the nascent technology, and it is pouring more and more if its resources into VR development. The latest evidence of that is vTime, a social network built for mobile VR, which allows its users to meet and connect in simulated 3D environments. To use Starship's own pithy description: "vTime transforms the smartphone into a passport to the metaverse." How's that for ambition?
"There will be a VR experience that cannot translate. At that point, we'll be developing the language of virtual reality"

Mike Humphrey, design director
"As a developer I'm excited. I've got a new toy," Hollywood says. "It's leveraging all of the wisdom I've built over the years, but it's totally new. The user experience is totally new, the rendering, the perception of presence. It's almost like starting again.
"Developers say they're doing a first-person shooter for VR, but I believe that the true VR products don't have a genre yet. What's happening right now is a picking a lot of low-hanging fruit, taking known genres and converting them."
Starship is mainly focused on the Samsung Gear VR, in the belief that mobile VR is the smartest choice for any developer working with the technology right now. The hardware is far cheaper and more accessible to the consumer than any of the big-ticket headsets, and an experience that works for the relatively low-powered Samsung Gear will take far less effort to port to the Rift, the Morpheus or the Vive. And equally important, Humphrey says, is the difficulty of hiding conventional design choices and lazy shortcuts behind bleeding-edge visuals. Like Hollywood, he's a firm believer that, whatever VR games prove to be, they will be very different from what is being created right now.
"We have an established language for games on console and on mobile," he says. "Understandably, people are now taking the experiences they're used to making and trying to translate them to VR. What we're trying to do at Starship is step back and imagine that there is no such thing as games and interactive media, and you're handed VR. What do you do with it?
"There will eventually be an experience that cannot translate to anything else. At that point, we'll be developing the language of virtual reality."
GamesIndustry.biz attended Unite Europe as a guest. As a part of that arrangement, attendance, travel and accommodation costs for attendance were covered by the event's organiser.