Starbreeze sells Brothers IP for $500,000
Brothers: A Tale of Two Sons will now be controlled by 505 Games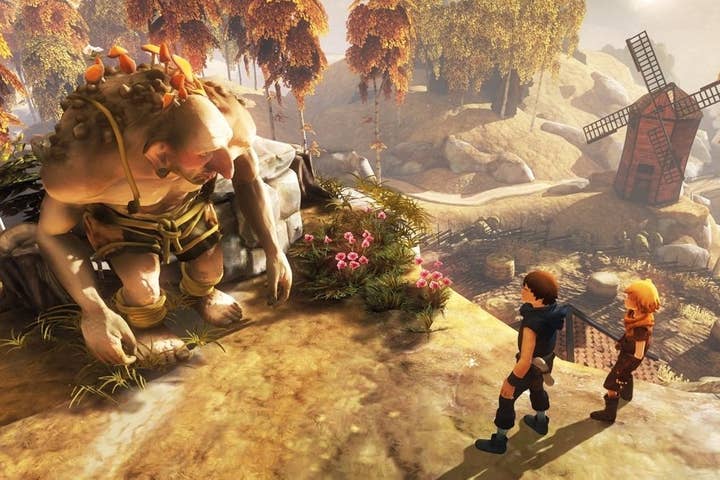 Starbreeze Studios announced today that it's sold the critically acclaimed Brothers: A Tale of Two Sons, both the full entitlement to the game as well as related trademarks and domain names, to 505 Games for the sum of $500,000. The game, which has sold more than 800,000 copies since its fall 2013 release, will be "best nurtured under a new owner," Starbreeze said.
"The sale represents our final transition to the digital strategy," said Bo Andersson Klint, CEO of Starbreeze AB. "With Brothers we've created a strong and critically acclaimed IP, which we now feel can be best nurtured under a new owner. Going forward, we will continue development focused on expansive design, a concept proven with the Payday franchise. Brothers will continue to generate awe and admiration for the great storytelling standard Josef Fares set under 505 Games' watchful eye."
Ian Howe, President of 505 Games, added, "Brothers: A Tale of Two Sons is a remarkable game, one of the most affecting games of the last generation and one of which 505 Games has been very proud to be associated. This acquisition reflects 505 Games' stated strategy of owning and controlling its own IP, and, moreover, IP that can contribute something meaningful to the world of interactive entertainment."
As for the force behind Brothers, it was revealed in December that Josef Fares and others on the project formed a new studio called Hazelight. EA will publish their first game and Hazelight is even working out of the EA DICE studio in Stockholm, but Fares insisted that Hazelight will retain "full creative control" of its new project.