Star Wars Battlefront ships 14m copies, EA enjoys "phenomenal" FY2016
"We grew non-GAAP net revenue, profitability and cash flow to record highs," said CFO Blake Jorgensen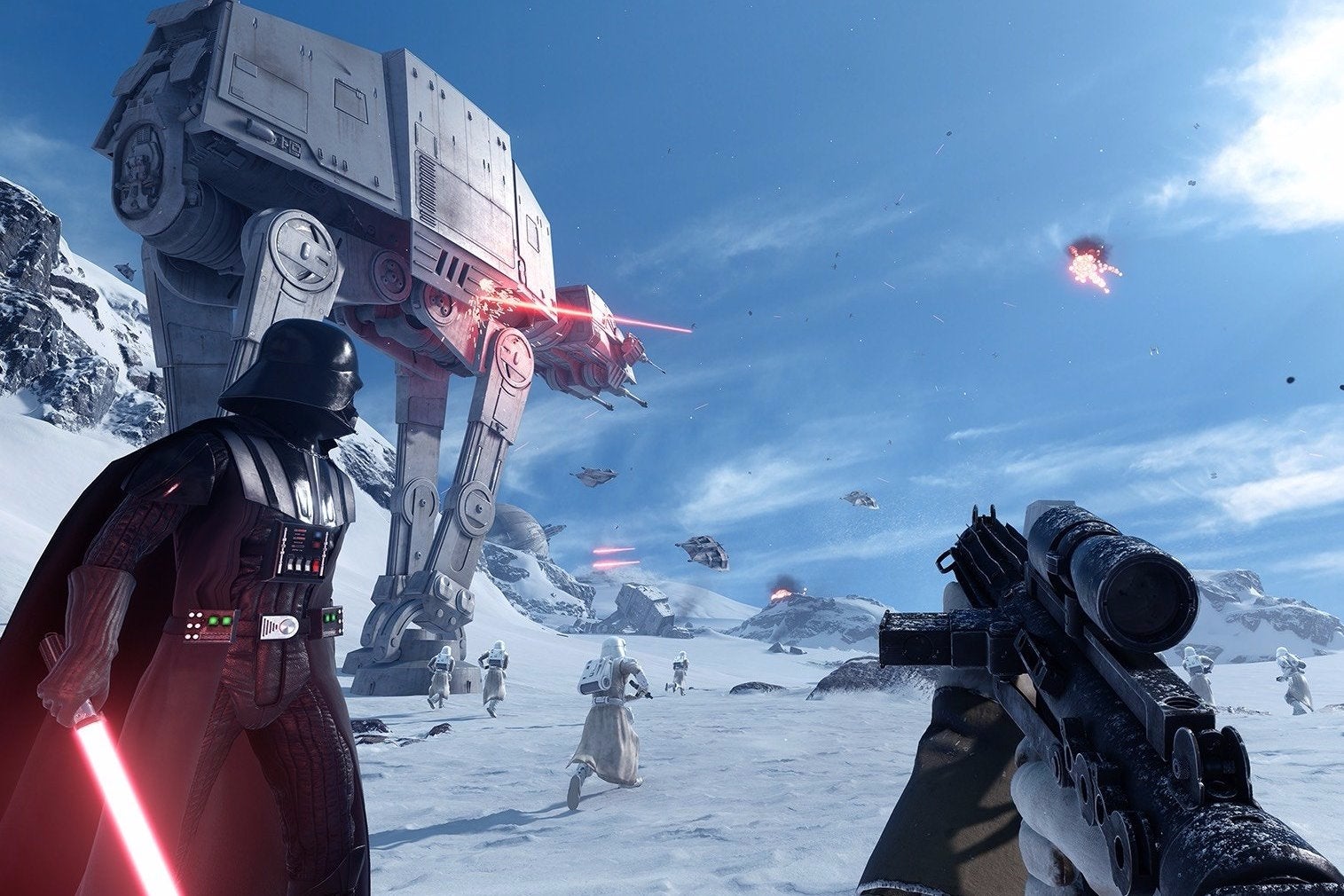 Electronic Arts has just released its full-year and fourth quarter earnings for the period ended March 31, 2016, revealing record non-GAAP numbers. Non-GAAP net revenue in Q4 came to $924 million, beating guidance of $875 million, while diluted non-GAAP earnings per share of $0.50 beat EA's guidance of $0.40. For the full year, non-GAAP net revenue totaled $4.566 billion, while non-GAAP diluted earnings per share was $3.14 and operating cash flow was $1.223 billion. Importantly, 55 percent of revenues ($2.531 billion) came via digital.
On a GAAP basis, revenues climbed slightly to $4.515 billion as income dipped from $1.156 billion to $875 million.
"Leveraging our great portfolio of brands and live services has enabled us to break records across our key financial metrics. We expect to drive strong revenue, earnings and cash flow growth into the future," said EA CFO Blake Jorgensen.
CEO Andrew Wilson added, "FY16 was a phenomenal year for Electronic Arts as we connected hundreds of millions of players to great new games, and helped them connect with each other through rich and dynamic live services.
"The year ahead is packed with excitement. Fans are thrilled with the intense action and epic scale of Battlefield 1, our EA Sports titles will take major leaps in innovation, and we'll bring new experiences from our most popular brands to more players on more devices."
EA noted during its last earnings report that Star Wars Battlefront was an important title from a demographic standpoint as it brought lapsed gamers back into the fold, and brought new people into the EA audience thanks to the appeal of Star Wars. Today, EA confirmed that the game expanded the publisher's base with more than 15 percent of players new to the EA ecosystem. Battlefront managed to ship 14 million copies during the fiscal year.
From the digital perspective, EA boasted that it was the #1 most downloaded mobile game publisher in calendar year 2015, according to App Annie, and Madden NFL Mobile monthly active players grew 30 percent in Q4 over the same quarter last year. Additionally, The Sims FreePlay on mobile reached 200 million installs life-to-date.
The EA Sports business also continued to be a critical driver for the company's bottom line. On the digital side, FIFA, Madden NFL and Hockey Ultimate Team live services saw Q4 non-GAAP net revenue climb up 26 percent collectively (33 percent on a constant currency basis). Furthermore, EA said that over 54 million unique players engaged with its EA Sports console titles during fiscal year 2016, which represents a sizable 65 percent jump in audience from last year.
Looking ahead to the 2017 fiscal year ending next March, EA is forecasting GAAP net revenue of about $4.75 billion, non-GAAP net revenue of $4.9 billion, GAAP diluted earnings per share around $2.53, and non-GAAP diluted earnings per share around $3.50.
It's worth keeping in mind that EA is nowhere close to done leveraging the Star Wars license deal it signed with LucasFilm. With big talent like Amy Hennig, Jade Raymond and, most recently, Stig Asmussen all working on new Star Wars games, and of course more Star Wars films to come following The Force Awakens, EA's in a prime position to benefit at the moment. CEO Andrew Wilson was keen to make the most of the year's successes, as well as the gains he sees on the horizon.
"Our industry continues to grow," he told investors. "Across the world, more players are engaging in more games on more platforms across more geographies. Yet as our audience expands it's evolving as well. The competition for time means there is no room for transient experiences. Players today expect more from the games they play and in return, they will spend more time with the games they love," he said.
"In a world where discovery is increasingly difficult and engagement, decisions are made every second, connecting players with the right experience when and where they want to play is critical. In this transforming world, our focus continues to be on meeting and exceeding our player's needs through direct relationships that add value at every turn. Today Electronic Arts engages hundreds of millions of players and in the future potentially billions."
The company also answered questions about release dates and future plans during the call, revealing that it expected to release a new Star Wars game every year for the next three to four years, and that we could expect an unannounced and new IP next year.
Wilson went on to speak about the reaction to the latest Battlefield announcement, saying the trailer was the company's most liked on YouTube to date, and speculated it could be the most liked trailer ever on YouTube.