Sony patents suggest VR-driven redesign for PlayStation Move
Updated motion controllers will include analog sticks and finger tracking technology
New patent filings indicate PlayStation is in the process of revamping its motion-sensitive Move controllers.
The filings were spotted by VR Focus, which reports that the redesign has been drawn up with PlayStation VR in mind, no doubt in the hopes of establishing the new Move as the standard control scheme for virtual reality on the console.
Filed earlier this month, one patent shows the new device itself, now boasting an analog stick in addition to the face-mounted buttons and triggers present in the original. The handstrap has also been moved from the bottom of the controller to the side.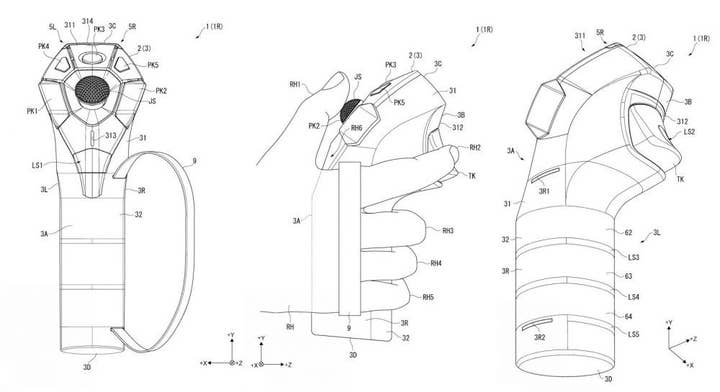 Meanwhile, a second patent published last year indicates the presence of finger tracking technology - not unlike Valve's Knuckles prototype. Sony's version would be tracked by the head-mounted display, suggesting there will be a new model of the PSVR headset itself with cameras to track the controllers - thus solving problems that can occur between PSVR and the PS4's camera.
Last year, we reported that Sony was ramping up production of PlayStation Move to match a renewed push behind the PSVR, no doubt inspired by the success of motion controllers for the likes of Oculus Rift and HTC Vive.
Given that the original Move came out in 2010 and was designed as a rival to the Wii in a pre-VR environment, it's safe to say a redesign was due for the motion controller. Sony also updated the PlayStation VR headset itself towards the end of last year.
PSVR is the leading virtual reality platform with more than two million units sold in its first twelve months, and Sony isn't stopping there. The company expects around 130 PlayStation VR games to be released throughout 2018, upping the device's catalogue to 280.