Roundtable: Who got fat in THQ feeding frenzy?
Now that the publisher's fate is sealed, which of its studios and series will benefit from new ownership?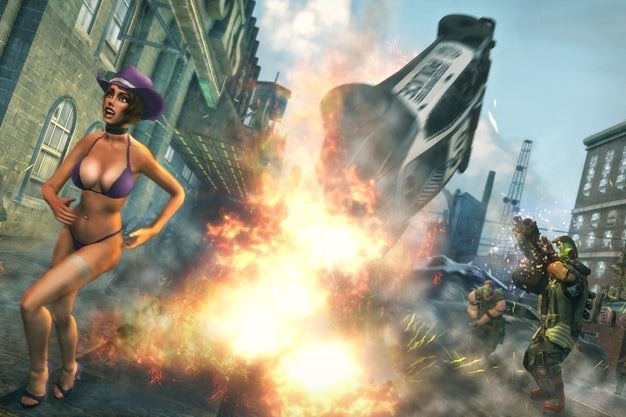 THQ fell victim to the gaming industry circle of life last week, and while the publisher has hit the end of its road, its heart--or at least a few of its brands and studios--will go on.
Company of Heroes developer Relic Entertainment was the headliner at auction, bringing in a $26 million bid from Sega. Volition was the next most lucrative part of the fire sale, going to Deep Silver owner and Dead Island publisher Koch Media for $22.3 million. After that pair, the numbers came down significantly. Take-Two forked over $11 million for the latest project from Turtle Rock Studios, Evolve. Metro brought in $5.8 million (again, to Koch Media). Ubisoft picked up Obsidian Entertainment's South Park game for $3.2 million, and the upstart THQ Montreal studio for $2.5 million. Finally, Crytek purchased the Homefront franchise (the sequel to which it is currently developing) for $500,000, and scooped up a number of the team at Vigil for a new studio based in Austin. What's left of the rest of THQ's assets remains up for sale as the company goes through bankruptcy proceedings.
So THQ is gone, but rather than looking back at the reasons for its demise, this GamesIndustry International roundtable will look at the fate of its various franchises. Which studios and series will ultimately benefit from their new ownership? Which new owners will find themselves disappointed with the return on their investment? Will last week go down as the beginning of the end for the publisher's famous franchises, or a key moment in the gestation of the next industry blockbuster?
Steve Peterson
THQ has been headed for this auction for a long time. Game publishers showed little interest in THQ as an ongoing company; they figured out long ago that if everyone stood back and let THQ go bust, then any interesting pieces could be had for pennies on the dollar. They were right, and it's led to some interesting results. It's not necessarily going to be easy to pick up studios and partly done projects and move forward; companies that paid high prices (like Sega or Koch Media) may have to wait a while before seeing a profit on the purchase. The clear winner to me is Ubisoft.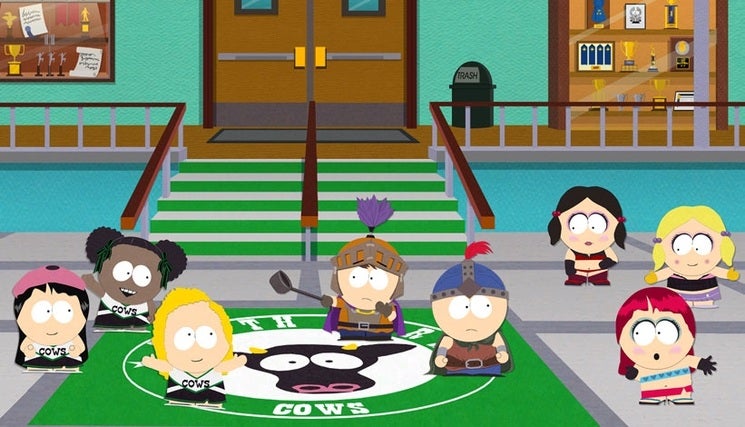 Ubisoft picked up the South Park game, which is being developed by Obsidian Entertainment, for a measly $3.2 million. Assuming Ubisoft can smooth out the ruffled feathers of Trey Parker and Matt Stone, this is a bargain. If the game can capture even some of the madcap magic of the TV show, it should find a ready audience. Can anyone doubt the graphics of a licensed game will, for once, be the equal of the original?
Ubisoft also grabbed THQ's Montreal studio for only $2.5 million, which could be a real bargain if the new IP they picked up turns out to be a winner. It's not clear if Patrice Desilets will rejoin Ubisoft, but certainly the former Ubisoft creative director would be a great addition to the team. Apparently the workers at THQ's Montreal studio are happy to have jobs with Ubisoft, which means the company has just added a new development resource that can be useful immediately. Given the difficulty in setting up and staffing a development studio, $2.5 million is an excellent price.
"In the end, THQ may prove to be much less than the sum of its parts..."

Steve Peterson
While the core Vigil team has ended up with Crytek, it's not clear where the Warhammer 40K license will end up. It surprised me that it wasn't acquired. The license should be a winner if it's anything like the miniatures game in popularity. I wonder if Activision might swoop in for this one... am I the only one who sees the possibilities of combining the Skylanders concept with the Warhammer 40K license? That could be an amazing money machine.
In the end, THQ may prove to be much less than the sum of its parts, if the component pieces move on to greater success at other publishers. It would be interesting to look back in a year and see what the fragments of THQ are worth then after a year under new management.
M. H. Williams
Vigil Games developed the best Zelda game of the past few years. Darksiders 2 may have been short on the heart that accompanies Nintendo's staple series, but the game was absolute aces. Death's quest took players across expansive, beautiful environments with tight, responsive controls. Darksiders 2 built on Vigil's first effort with a skill I'd attribute to a veteran development team.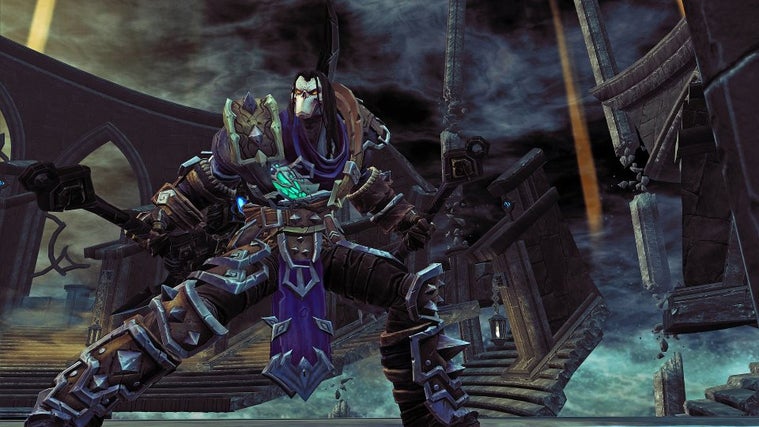 So color me shocked that Vigil Games did not get a single offer when the sharks came for THQ. Not even a lowball offer thrown out on the off chance that there wasn't another bidder. When I read the news about the companies purchased in the auction, my jaw quietly dropped when Vigil was nowhere to be found. Sure, the game struggled to hit its 2 million unit break-even point, but with a smaller budget and renewed focus, I expected big things from the studio in the future.
Fortunately, the "core team" of Vigil has found its way under the welcoming wing of Crytek. I look forward to seeing what comes from the newly-founded Crytek USA, even if Darksiders is not a part of their future plans. According to THQ president Jason Rubin, the Darksiders IP is still up for grabs, but with the departure of creative director and lead visual designer Joe Madureira, it may be better for Crytek USA to take what they've learned in a new direction.
So let's hope Crytek USA does something great in the future, even if that eventual title probably won't launch until 2016.
Matthew Handrahan
At the end of last year, the GamesIndustry team was asked to make one prediction for 2013. Like a fool, I stuck my neck out as far as I possibly could, and proclaimed that THQ would survive to release at least one of the four games it had scheduled for release: Metro: Last Light, Company Of Heroes 2, South Park: The Stick Of Truth and Saints Row 4. I've never been so wrong, so quickly in all of my life, but I took consolation with the fact that my foolhardiness came from the right place.
"Relic could be the catalyst for one of the most remarkable transformations in memory: Sega, the new cutting edge of strategy gaming."

Matthew Handrahan
Over time, games journalists tend to lose enthusiasm for the industry's products, and I am no different, but I found THQ's 2013 release slate more intriguing and exciting than any other publisher. Metro and Company of Heroes are sequels to two of my favourite games of recent times, Obsidian is one of the most under-valued creative teams in the industry, and Saints Row 4 is, well, another Saints Row game - and that is a very good thing. I wanted THQ to survive because I wanted to play these games. Selfish, I know, but there you have it.
When it comes to bankruptcy there are always losers, and the sad fact is that it's generally a bunch of hard-working people who had little to do with the problems that ultimately sank the ship. But there are winners here, too, because the companies that picked THQ's bones left with some real bargains. None more so than Sega's acquisition of Relic Entertainment, one of the most talented studios in the industry, and a very fine fit for the publisher's current focus on high-end, niche PC titles. In concert with Sports Interactive and The Creative Assembly, Relic could be the catalyst for one of the most remarkable transformations in memory: Sega, the new cutting edge of strategy gaming. Sonic, and the significant majority of the Japanese market, need not apply.
Brendan Sinclair
Relic may have attracted a larger bid, but as far as I'm concerned, the real gem in the THQ auction was Volition. The Champaign, Illinois-based studio has clearly been THQ's all-star this generation, churning out two Red Faction titles and three installments of the most successful Grand Theft Auto knock-off on the market, Saints Row.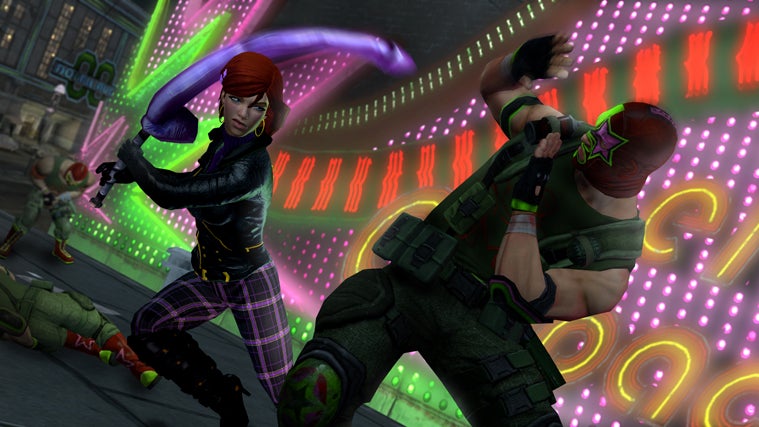 While Rockstar was busy loading down GTA IV with gravitas that mismatched the inherent idiocy of the gameplay, Volition took the opposite tack with Saints Row, shedding more seriousness and embracing its own absurdity as the series went on. The result was a gleefully irreverent series where men in hot dog suits went on sewage spraying rampages and "giant purple dildo bat" became, if not a household phrase, at least one that people had said out loud more than a handful of times. In short, Saints Row grew into its own skin, and carved out its own identity apart from its inspiration. It is a AAA franchise, and it will enter the next generation of systems with a built-in audience. Chances are it will also beat Grand Theft Auto to the next-gen punch, being the first significant open-world crime game available on the new systems. After all, that same formula helped establish the Saints Row franchise in the first place when THQ debuted the series on the Xbox 360 in 2006.
So now Koch Media/Deep Silver has Volition, effectively buying its way into the AAA console development scene. On the surface, it's not a bad match. Saints Row strives to be outrageous, and Deep Silver has shown a penchant for similarly attention-grabbing marketing with Dead Island, first with a CG "sadvertisement" and then with female-torso-in-a-box special edition swag. But it doesn't seem likely Deep Silver will be able to sell Volition and Saints Row as well as THQ did.
"It doesn't seem likely Deep Silver will be able to sell Volition and Saints Row as well as THQ did."

Brendan Sinclair
Looking back on the marketing for Saints Row 2 and 3, THQ clearly understood what it had on its hands. The company identified the series' distinguishing characteristic, matched the tone of the products perfectly, and got the word out in places where the intended audience of core gamers would see it. To be blunt, I don't have faith in Deep Silver to do the same thing. While Dead Island has garnered plenty of visibility with its ads, they haven't fit with the product they're ultimately selling. Raising awareness for a product is great and can certainly sell some copies, but you're not likely to get great word of mouth if you sell an audience on one experience, but then deliver something very different.
So despite Deep Silver's clear willingness to use shock and controversy as a marketing tactic, I doubt the company will be able to improve on the quality of THQ's Saints Row marketing. That leaves the option of outdoing THQ on the quantity of marketing, buying more TV spots, web space, and billboards. If it were Activision, Electronic Arts, or Warner Bros. that bought Volition, I might be optimistic about that happening. But Koch Media doesn't exactly have a lengthy track record of carefully orchestrated media blitzes.
In the end, this deal could work out for both Koch and Volition. The former gets to legitimize its position in the console market, while the latter gets to continue making games. I just wouldn't expect Saints Row 4 to top the 5.5 million sold of its predecessor.