Ring Fit Adventure at No.2 following stock boost l UK Charts
51 Worldwide Games debuts at No.6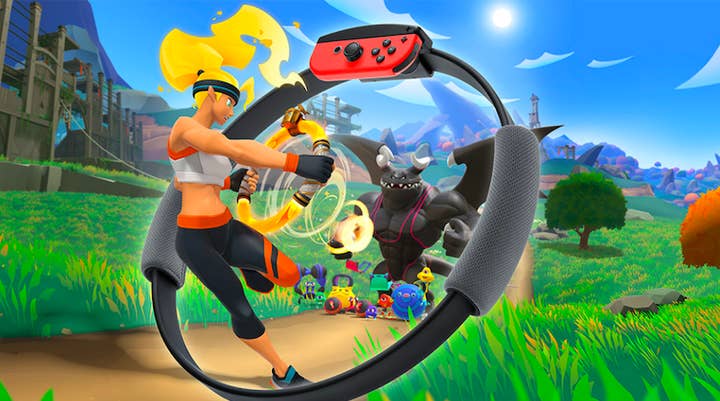 FIFA 20 is back at the top of the UK boxed game charts.
EA's football game has been a mainstay in the Top Five over the past three months and it has become a home for fans of the sport since the real world leagues were put on hiatus in March. It surged in sales by 55% week-on-week thanks to a price drop to under £25.
The biggest riser of the week, however, is Nintendo's Ring Fit Adventure at No.2. The fitness game received a big stock boost this week and was backed by a TV marketing campaign, and as a result sales surged by 1160% week-on-week.
Last week's No.1 Xenoblade Chronicles: Definitive Edition on Switch drops all the way down to No.28 after an 87% fall in sales.
The big new release of the week was also a Nintendo Switch game. 51 Worldwide Games debuts at No.6 and was also backed by a TV advertising campaign. The casual nature of this title means that it's likely to be a long-term seller, as opposed to the big opening week you would see from games aimed at hardcore audiences.
Sticking with Switch, Private Division's The Outer Worlds re-enters the charts at No.30 following the launch of the Nintendo Switch version of the game. The RPG was initially released late last year on Xbox One and PlayStation 4.
Sony's Day of Play sale continues and titles such as The Last of Us Remastered (No.8) and Marvels Spider-Man (No.10) saw another uptick in sales week-on-week of over 30% each.
All data is just for physical game sales.
Here is the GfK Top Ten for the week ending June 6th
| Last Week | This Week | Title |
| --- | --- | --- |
| 5 | 1 | FIFA 20 |
| Re-Entry | 2 | Ring Fit Adventure |
| 2 | 3 | Animal Crossing: New Horizons |
| 3 | 4 | Call of Duty: Modern Warfare |
| 4 | 5 | Grand Theft Auto 5 |
| New Entry | 6 | 51 Worldwide Games |
| 12 | 7 | Mario Kart 8: Deluxe |
| 9 | 8 | The Last of Us: Remastered |
| 7 | 9 | Star Wars Jedi: Fallen Order |
| 14 | 10 | Marvel's Spider-Man |