Project Scorpio "performance is remarkable"
Microsoft has officially confirmed the new Xbox console's specs to our friends at Digital Foundry
At E3 2016 Xbox head Phil Spencer announced Project Scorpio for the first time. He promised a massively powerful console that would offer true 4K gaming but also would be compatible with the entire Xbox family of systems, including the Xbox One and One S. "No one gets left behind," he said. Now, in a world exclusive reveal for Gamer Network, Digital Foundry has gotten the official scoop on Scorpio's final specifications and performance, and early impressions are very solid.
Richard Leadbetter was invited to Microsoft's Redmond campus and was given a complete walk-through by Xbox engineers of Scorpio's capabilities and how the team arrived at its design choices.
"Combining smart design with sheer horsepower, Project Scorpio hits the six-teraflop target set for it as E3 last year thanks to a custom GPU that has been designed, from day one, to maximise the performance of existing Xbox One games - and that runs at an unprecedentedly high clock speed for a console," he says.
"The GPU is paired with 12GB of very fast GDDR5 memory and a custom eight-core CPU, and the whole thing is housed in a compact body with integrated power supply and, for a console, state-of-the-art cooling. Performance is remarkable. We saw a Forza Motorsport demo running on the machine at native 4K and Xbox One equivalent settings, and it hit 60 frames per second with a huge performance overhead - suggesting Scorpio will hit its native 4K target with ease on most games, and have power to spare to spend on other visual improvements."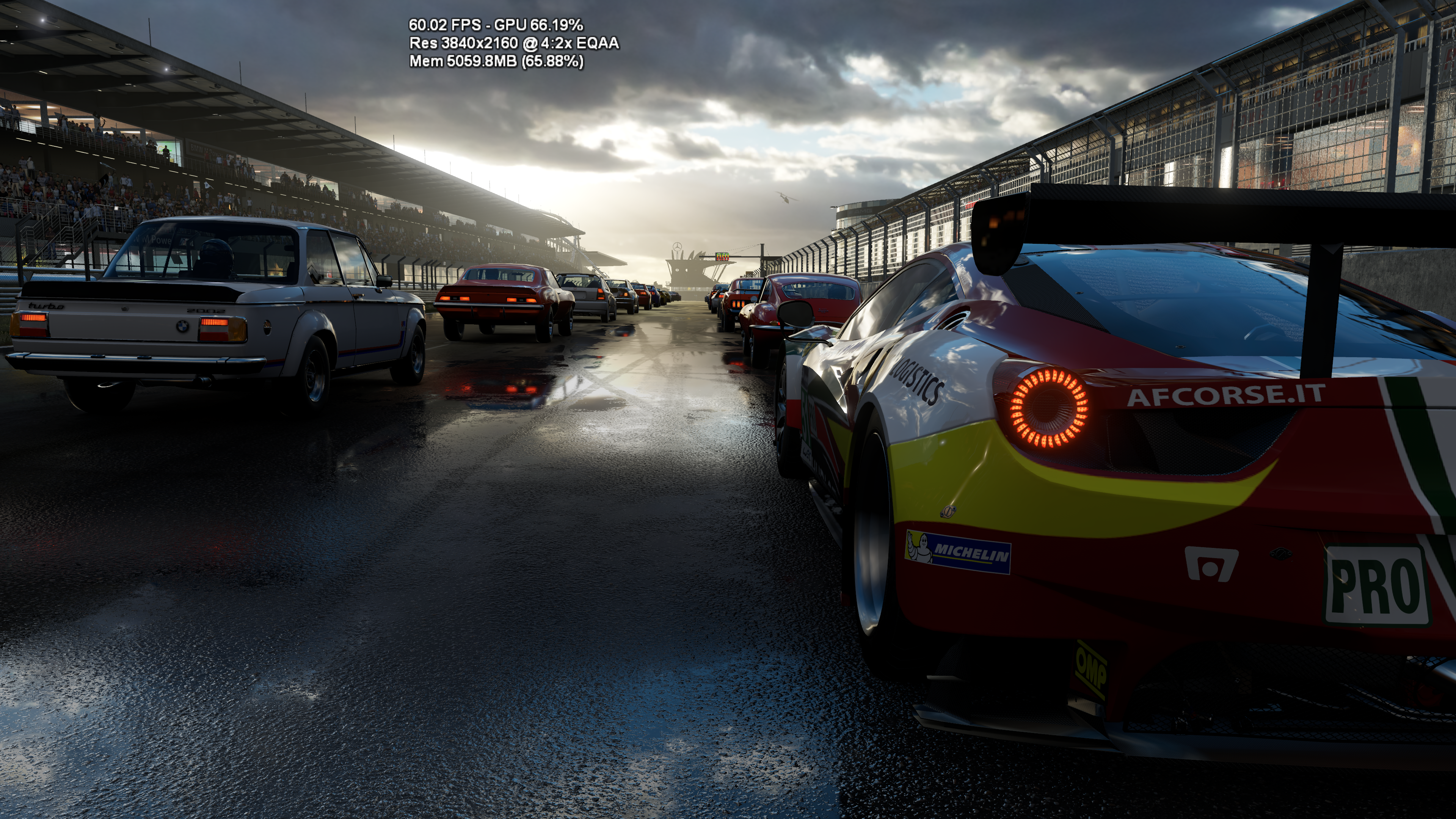 Importantly, even if you don't own a 4K television, the Scorpio should be very effective at downsampling to 1080p. In fact, Leadbetter reports that Microsoft has mandated that all developers make their titles easy to downsample on Scorpio and that they should all run at the same frame-rate or higher as the standard Xbox One. [Update: MS has now clarified that Scorpio will automatically supersample titles on developers' behalf if they are running on a 1080p TV, so there's no extra work required on their end.]
"We wanted to maintain 100 percent backwards compatibility with Xbox One and Xbox One S while also pushing the performance envelope"
And for consumers who have vast Xbox One libraries, their games should see a nice visual boost when played on Scorpio. "We wanted to maintain 100 percent backwards compatibility with Xbox One and Xbox One S while also pushing the performance envelope," explains Nick Baker, Distinguished Engineer, Silicon.
As you can see from the handy specifications chart Digital Foundry put together below, Scorpio is quite a leap up from the Xbox One and is still a good deal more powerful than Sony's PS4 Pro. And yet, even with super powerful components, Microsoft managed to fit the pieces into a fairly slim design with an integrated power supply. The company even went so far as to design a custom cooling system similar to those found on high-end GPUs like the GTX 1080 from Nvidia.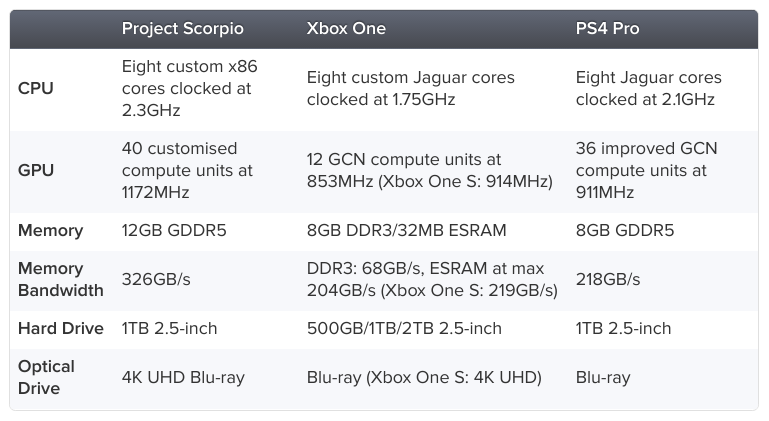 "We went to a custom designed adapted centrifugal fan for this design," notes Leo Del Castillo, general manager of Xbox hardware design. "It kind of looks like a supercharger on a car, it looks like an intercooler almost. Every part about this is custom designed for the application."
Del Castillo actually constructed a Scorpio right in front of Leadbetter but promised that the final form factor of the console for consumers would be revealed at E3. The eight cores in the Scorpio are custom x86 from AMD, not the new Ryzen technology that some had speculated would be in the console. Part of that decision comes down to price. There's no doubt that Scorpio will command a premium price, but Microsoft has to control costs somewhere.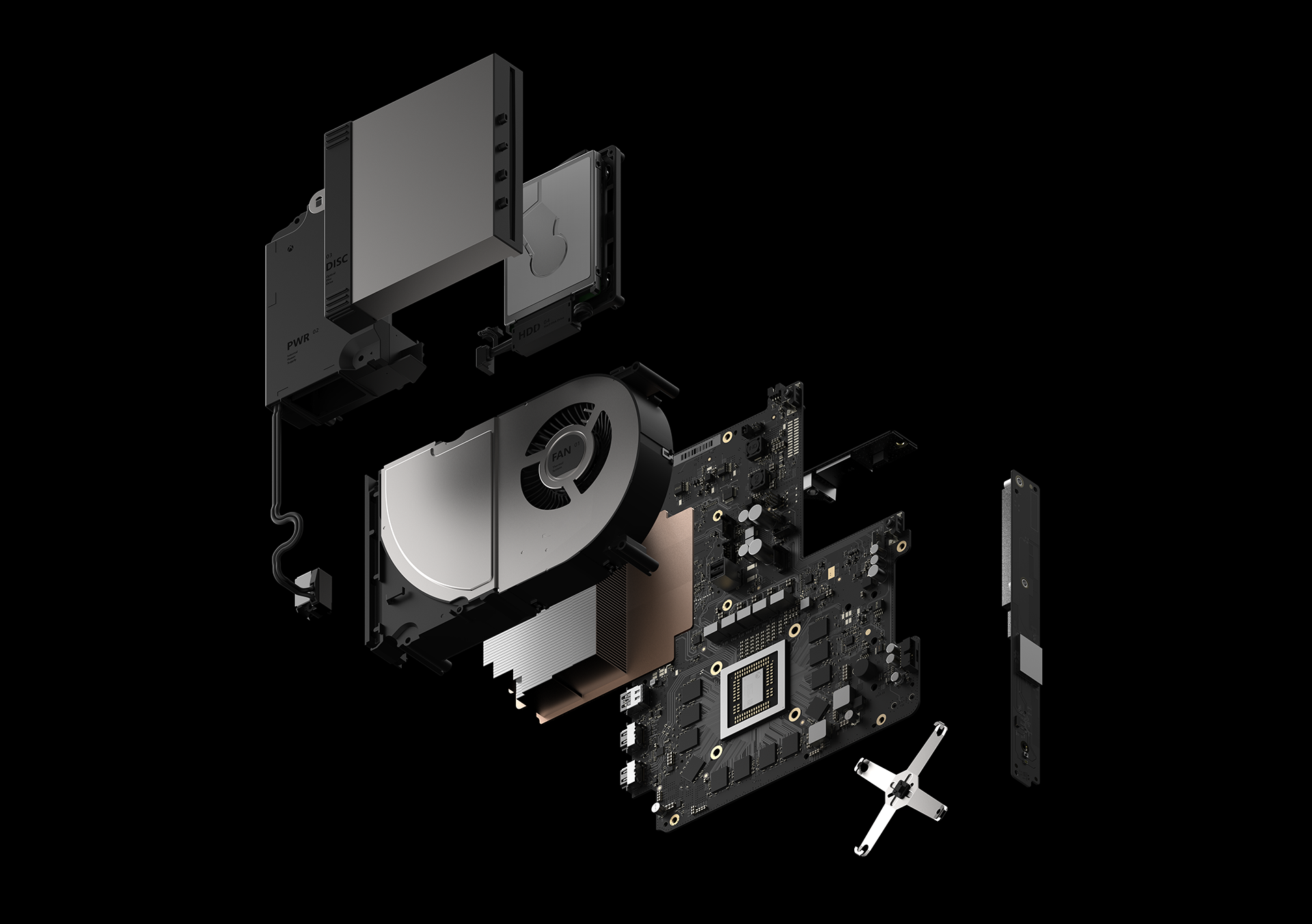 "On the CPU side of things, we could still meet our design goals with the custom changes we made," Kevin Gammill, Group Program Director of the Xbox Core platform, points out. "At the end of the day we are still a consumer product. We want to hit the price-points where consumers want to purchase this. It's about balancing the two."
Another detail to note is the lack of Kinect support, further minimising the chances of Microsoft attempting a third revival of the troubled motion-sensing device. Digital Foundry explains that "since port arrangement is based on Xbox One S, there's no return for the original Xbox One's Kinect port". If Scorpio owners are determined to use Kinect with the new console will be required to purchase a USB adapter that was released alongside the Xbox One S.
The absence of a Kinect port is no surprise. Three years ago, Microsoft decided to stop bundling the camera with Xbox One and sell the two separately - a move that instantly improved the console's sales. The following year saw both a price cut for the Xbox version of Kinect and the end of production for the Windows iteration.
There's plenty more Scorpio discussion in the full article, including much deeper dives into what each Scorpio specification means for the machine's performance.