Pride Run developers: "We didn't expect so much resistance"
The IV Productions team discuss the challenges they've faced in making a game that celebrates LGBTQ+ culture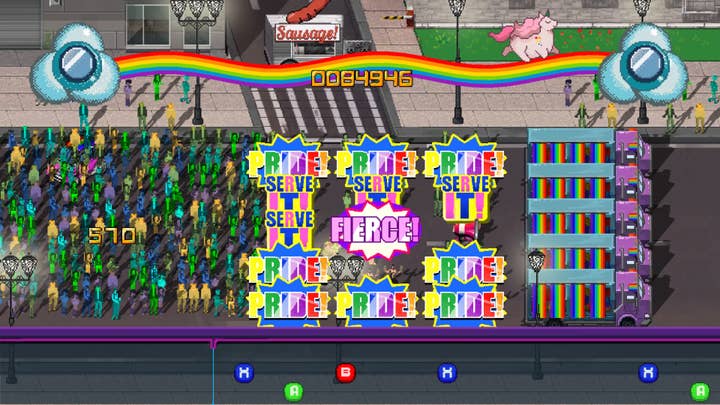 The growing acceptance of LGBTQ+ lifestyles is a battle, but it is hopefully one that those most affected will win.
As Ivan Venturi -- CEO of Italian games studio IV Productions -- points out, there are plenty of theatre shows that draw from this theme, such as Priscilla Queen of the Desert and The Rocky Horror Picture Show. LGBTQ+ people are represented in music, in films, on TV, but that representation is still lacking in video games.
"So we decided, let's do it, let's do one game on the colours of the music, with the beauty of the LGBTQ culture," he tells GamesIndustry.biz.
That game is Pride Run, a rhythm action title where players lead a parade during pride with the goal of getting everyone dancing to the beat together. It will be published on Steam on October 11, with 10% of all proceeds will go to the international LGBTQ+ charity Kaleidoscope Trust.
The founders of IV Productions are LGBTQ+, and the outlier -- CEO Ivan Venturi -- openly classes himself as an ally. But, as you can imagine, the story of Pride Run has not been as carefree and colourful as its in-game parades.
Art director Giacomo Guccinelli says resistance was inevitable: "It's always been like that. There are various people that are still asking why are you making a pride game? What's the point about making video games about LGBTQ, whatever? What's the point about making music where two men are kissing each other? When there are no people complaining about LGBTQ things, we won't need Pride anymore. That's still very far away, it's going to be a long time reaching that goal."
"A lot of journalists say they support the LGBTQ community - yet they are scared of losing unique viewers. Honestly, we didn't expect so much resistance"

Giacomo Guccinelli, IV Productions
He continues: "[In the meantime] there is no way not to avoid any bad feedback. It's not possible. We've already had some bad feedback, mostly from people we could say are homophobic, who have issues about [people] being gay or LGBTQ issues. We expected this and there's going to be probably more. But it's a game that's about having fun, it's about enjoying music, it's about dancing -- of course, there's this little extra thing that would make some people uncomfortable."
What IV Productions did not expect was a resistance, even reluctance, from the media. The studio even tells us that a few high-profile sites that apply the rainbow colours of Pride to their logo every year abstained from covering the game's announcement earlier this year -- due in part to that anti-LGBTQ element of their readership.
"We expected some [resistance]," says Venturi, "but a lot of people and journalists say they support the LGBTQ community -- yet at the end of the day, they are scared of losing unique viewers. Honestly, we didn't expect so much resistance.
"Two years ago, we tried [to get] some news on Italian newspapers, and we discovered this fight. For example, on Nationalmultiplayer.it we had something like 400 comments. Some of them [were] full of hate, [and it was] more comments than usual for a game article overall. So there is a problem [with] the market of video games and [its users]."
This brings up the question of whether larger corporations sporting a Pride logo actually do anything more active beyond changing their Twitter icon for a few weeks. IV Productions was keen to avoid this cynicism -- while the partnership with Kaleidoscope Trust was only announced last week, the studio and Green Man Gaming has been seeing a charity partner from the beginning.
"Of course, capitalism has gone like this," Guccinelli says on corporations seemingly supporting Pride. "It's very big so now everybody is like a rainbow when it comes about."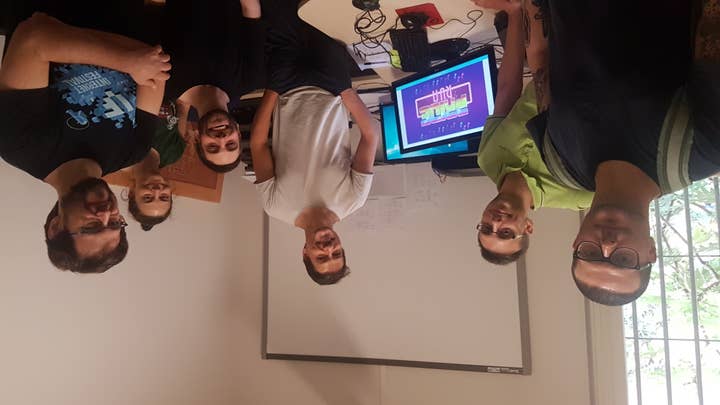 One fascinating element to Pride Run's development is that its origins lie in a far more violent game. Venturi previously worked on Riot: Civil Unrest, a title about fighting between police and rioters. For that project he did a lot of research into social topics, the type of things that can prompt riots.
Then, three years ago, he was listening to young people talking on the radio about their experiences of coming out, which sparked the idea for Pride Run. He called up close friend Guccinelli, who is "an activist and a super good artist" to flesh out the idea of a game around LGBT riots.
"We wanted to do a game based on LGBTQ culture, a joyful thing, something for amusement. Your amusement"

Ivan Venturi, IV Productions
"In the beginning, we didn't know if we were doing a serious game or a [casual] game," Venturi says. "But we discovered immediately that we wanted to do a game on music, as that's a wonderful part of Pride. I go to the front [of the parades] with my family, it's super beautiful.
"Very soon we decided that we wanted to do a game based on LGBTQ culture, a joyful thing, something for amusement. Your amusement."
Check out the trailers and you'll soon see the vibrance of Pride parades certainly comes across, with the soundtrack by music artist Mauro creating an atmosphere of celebration. However, some of the artistic choices also seem to open the developers to criticism.
Like so many indie games, it's presented with pixel art -- a style adopted by a multitude of Steam titles sending quite the opposite message to Pride Run thanks to Valve's relaxed stance on moderation. With the game's vanilla mode, it's obvious the intention behind Pride Run is as peaceful as it claims. But the Play Hard mode, aimed at more experienced gamers, introduces dance-offs against notable figures that are far from allies of the LGBTQ+ community -- including President Trump and even a caricature of a stereotypical gamer.
There's a danger that this could undermine the sentiment at the very heart of Pride Run, making fun of the subject rather than celebrating it. But Venturi is convinced the message is clear.
"It's about protecting yourself from hate," he says. "There's no violence here, no violent content. The answer is more about sharing love and accepting about being different."
Pride Run is not the first game to explore LGBTQ culture, although perhaps it is the most light-hearted. Several indies have delved into their own experiences for more serious titles, while LGBTQ characters are very, very slowly appearing in AAA games. But more can be done and Guccinelli is keen to encourage this.
"Maybe they just need someone to open that door, and then they will follow," he says.