Portalarium partners with Zynga for Ultimate Collector
Ultimate Collector is coming to Zynga's network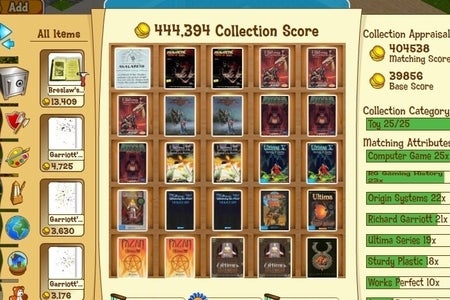 Social and mobile publisher Portalarium has partnered with Zynga to bring Ultimate Collector to Zynga's existing userbase. Launching on the Zynga Platform - like Sports Casino earlier this week - means that Ultimate Collector will be available on Facebook and Zynga.com. The title itself is a collecting game based on shows like Pawn Stars and Storage Wars, developed under the guidance of Ultima creator and Portalarium creative director Richard Garriott.
"We couldn't be more pleased to be rolling out Ultimate Collector on Zynga.com," said Portalarium CEO, Fred Schmidt. "With its millions of players worldwide, Zynga provides the best vehicle for us to put our game in front of the biggest audience. Plus, Zynga understands social gaming better than anyone else in the world."
"Ultimate Collector is really three games in one," says Garriott, Portalarium's co-founder and creative director. "It's a collecting game where players go on a major hunt for collectibles ranging from toys, gadgets, historical weapons, novelties and famous art and display those collections in their homes. It's a shopping game where players can visit shops and stores in our game, some of them from national retailers, to purchase items and add to their collections. And it's a world building game that allows players to outfit a home, show off their collections to their friends, sell virtual items to other collectors and make in-game money to upgrade their house and grow it even larger."
Portalarium counts Macy's and book publisher Simon and Schuster as brand partners for the game, with more being announced at a later date. The game is currently in limited beta on Facebook, with a release on Zynga.com in the future.