PlayStation unveils four new IPs at State of Play showcase
Show gives first look at Capcom's Exoprimal, GigaBash from Passion Republic, new games from Square Enix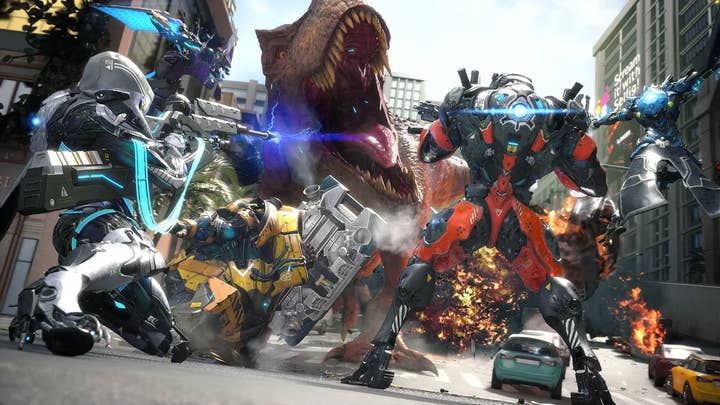 Yesterday, Sony hosted its semi-regular State of Play event, showcasing trailers for upcoming titles, new announcements, and a first look at some fresh IP.
The 20-minute showcase unveiled Exoprimal, a new dinosaur-fighting co-op game from Capcom slated to release in 2023 across multiple platforms.
Viewers got a first look at GigaBash, a new team-based brawler from new Malaysian studio Passion Republic Games. It is set to release later this year.
State of Play also showed a first glimpse of two new IPs from Square Enix, a strategy RPG called The DioField Chronicles and another RPG, Valkyrie Elysium. Both are slated to release sometime in 2022.
Other announcements included a new collection of Teenage Mutant Ninja Turtles games titled The Cowabunga Collection. The game, from Konami, contains 11 previously-released TNMT titles including the original arcade game, Tournament Fighters, The Hyperstone Heist and more.
Other announcements included a remake of 2013 game JoJo's Bizarre Adventure: All Star Battle due to release in autumn, and Gundam Evolution, an online shooter based on the big robot franchise. A network test for the latter will open sometime in the spring.
Returnal is also getting a free update on March 22 that will add a co-op option to the roguelike, as well as a new area to explore.
A new trailer for Ghostwire: Tokyo was shown, which is due to release later this month following its delay last year. Trek To Yomi, an upcoming samurai-inspired fighting game, also got a trailer.
There was also another look at announced Square Enix games; Stranger of Paradise: Final Fantasy Origin, and Forspoken, which is now slated to launch in October following a delay last week.