The rebuilding of People Can Fly
CEO Sebastian Wojciechowski reflects on the company's journey since re-gaining its independence, and the future of its new IP
When People Can Fly was rebranded to Epic Poland in 2013, the consensus was that the studio best-known for outlandish shooters -- Painkiller and Bulletstorm in particular -- would be forever consigned to working odd-jobs at the behest of its parent company.
However, in 2015 the industry was met with the surprise announcement that People Can Fly had reclaimed its independence, later even announcing a new AAA shooter in partnership with Square Enix.
Since then the company has expanded rapidly, growing to 160 developers across three studios in Warsaw, Rzeszów, and Newcastle. The Rzeszów studio is staffed primarily by former Sniper: Ghost Warrior developers who were laid off from City Interactive earlier this year, while the Newcastle Studio is populated by many Ubisoft alumni, along with "veteran developers" from other UK houses.
Cases like that of People Can Fly are rare in this industry. Speaking recently with GamesIndustry.biz, CEO Sebastian Wojciechowski remained coy regarding the details, but he did shed a little light on how and why the studio was able to reclaim its independence.
After Bulletstorm, which launched in 2011, Gears of War Judgement was the last AAA game People Can Fly developed before being rebranded. From there, the studio began working on multiple projects within Epic and in collaboration with one of its subsidiaries, Chair Entertainment, on Infinity Blade and Spyjinx. It also worked on a number of other games that were ultimately never released.
"The reason why we went independent was partially because after Bulletstorm and Gears of War Judgement, we stopped working on our own games," says Wojciechowski. "We started working on someone else's games which was not bad; but at the same time, from the creativity standpoint, and the standpoint of developers that want to have creative freedom and develop something they will associate themselves with, there were a couple of years we were struggling with that situation."
The solution? A management buyout. While Wojciechowski was unable to discuss the details, he did say that nearly everyone who was working at the studio when it split from Epic is now a shareholder. There was no angel investor or venture capital funding involved -- it was a "real management buyout".
For Wojciechowski, who joined in People Can Fly in 2012, reclaiming the studio's independence was the key to finding its success.
"After Bulletstorm and Gears of War Judgement, we stopped working on our own games. We started working on someone else's games"
"It's a great journey because I joined the company when it was owned by Epic so it was part of the international group and was the house of the Unreal Engine," he says. "But of course the most important thing for me from the very start was the success of People Can Fly.
"Back then it was still a separate brand, so the success of this company was the most important thing, and throughout those years I saw that to be successful, we had to come back to being an independent developer. So that's how the new journey for People Can Fly started.
"Since then we've been working on our new game; at the same time, we also launched Bulletstorm: Full Clip... I think that running the game studio through those days was a great ride. It's super challenging, obviously, but at the same time, being able to develop something and create a new game, to wait for this moment to be able to mark our presence again on the market is a great journey."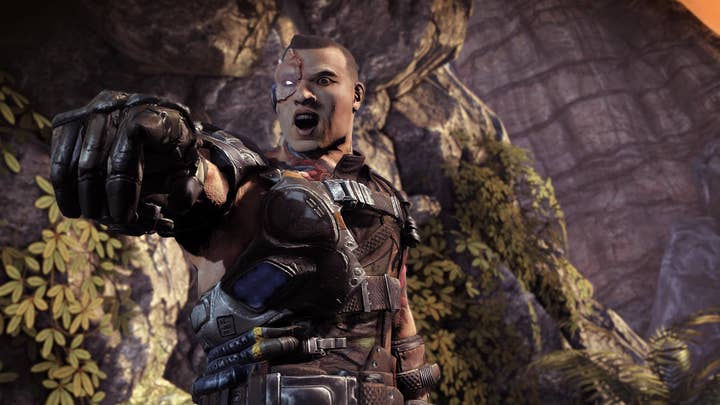 Bulletstorm: Full Clip was released last year, and found the audience it was unable to with the original launch in 2011. Although it has since become widely recognised as one of the under-appreciated gems of its time, the game itself failed to meet certain expectations. Mike Capps, president of Epic at the time, told Kotaku "the game didn't make money for us", while an unnamed source at publisher EA added that it "under-performed".
Fortunately for People Can Fly, Bulletstorm is an IP it retains the rights to, and so the studio was able to release the HD remaster for current-generation. It proved far more successful the second time around, possibly laying the groundwork for more games from the property in years to come.
"Bulletstorm's future is in our hands," says Wojciechowski. "That's not to say that we're doing anything with it right now, but the sales of the remastered version showed us the potential, and showed us it's a real thing and we need to really think about it in the coming future."
Wojciechowski says the performance of the original release, while before his time, was a matter of expectations, and said he would "never say it was a commercial failure".
"I saw that to be successful, we had to come back to being an independent developer"
"Let's be honest, Epic Games was back then the home of Gears of War," he adds. "You're thinking about the game that's selling five or six million copies. When you have a new IP and you sell about two million, you might be saying it's not a success, but at the same time, would you say that selling almost two million copies was not a success in those days?
"It's always about expectations, it's always about whether you are thinking about a new IP that will become as big and successful as the IP that you already have. And I think from that standpoint, it could be deemed not as successful... that's absolutely correct and true, but I would never say is it's a failure."
But with Bulletstorm far from dead, and People Can Fly having closed a publishing deal with Square Enix for the release of its enigmatic AAA shooter, the studio has a future that looked impossible just a few years ago.
Wojciechowski was unable to say whether People Can Fly would retain ownership of the IP for its new shooter, but did underline that AAA development is expensive, and there has to be "the right trade".
Why exactly People Can Fly ended up with Square Enix was another area which Wojciechowski remained guarded, but he did make clear that the partnership was a positive one.
"When we were pitching the project we were pitching, we were looking for a partner that would be interested in basically allowing us to develop the project," he says. "I must say that it's looking great, we have a great partner, we have huge support from our publishing team and I can only say good words for how we work together."