Nintendo two years away from redefining video game platform - Iwata
Company expecting Quality of Life initiative to launch next year, Wii U's best days still ahead of it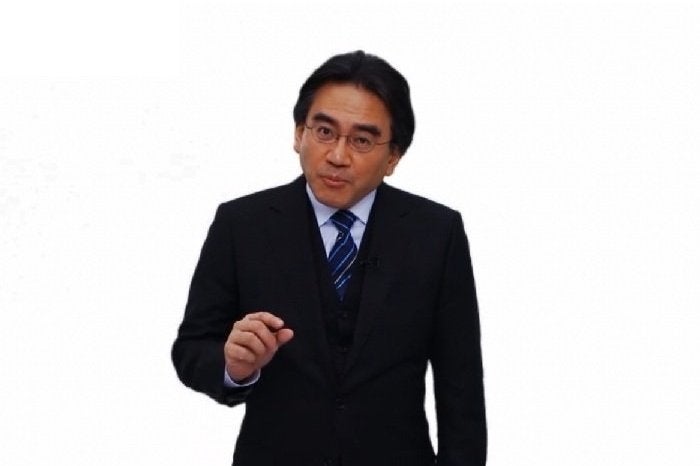 With the Wii U posting year-over-year declines in unit sales for its first full year on shelves, Nintendo investors had a lot of questions about new hardware in their post-earnings Q&A with company president Satoru Iwata. In an English translation of the event newly released by Nintendo, Iwata addressed both the company's nebulously defined Quality of Life initiative, as well as its eventual successor to the Wii U.
When asked about the company's priorities in the mid-term, Iwata mentioned the new Quality of Life platform, saying he would be ready to talk about it more specifically this year, with the actual deployment of the idea happening sometime in the company's next fiscal year, which runs from April of 2015 through March of 2016. Iwata also teased another new rollout from the company slightly further out on the calendar.
"[T]he idea I mentioned about redefining the definition of video game platforms will also require approximately two years," Iwata said. "This is how we would like to talk more about our mid-term measures and lead them to actual results. However, we will not be able to create a good environment for the company unless projects are undertaken simultaneously, so this is the kind of timeframe that we have in mind."
Iwata also sought to alleviate concerns about the Wii U's eventual successor, saying Nintendo already had a rough idea of where it would be going with the system. However, it's in no rush to get there because it still needs to do right by existing Wii U owners.
"I can certainly assure you that we are not at a dead end of any kind in which we are out of ideas for developing new hardware," Iwata said. "I of course believe that launching new hardware will not produce good results unless we first make sure that those who have already purchased our platforms are satisfied. We will continue to work hard to ensure that consumers who already own our platforms are satisfied, and make sure that people will continue to see great value in our software, but I would like to say that we are preparing for our next hardware system, and in fact, we already have a clear idea to some extent about the direction our next hardware is going to take."
That isn't to say Nintendo has given up on the Wii U and is just trying to hit some minimum threshold of satisfaction, either. When asked about Nintendo's Wii U sales forecast for the coming year, a modest 3.6 million systems, Iwata said that isn't expected to represent peak sales, and there is still hope for the system to far surpass that number.
"The fate of a video game system is often influenced greatly by the introduction of a single title," Iwata said. "As many of you probably remember, before the release of the Pokémon game, Game Boy had been showing slow growth, and many people wondered whether it was the end of Game Boy. But the Pokémon game singlehandedly changed the landscape of the system, which then started to show the strongest sales in the lifecycle of the system."