Nintendo targeting Wii U marketing to kids, families
Reggie Fils-Aime lays out holiday plan for latest console, says Nintendo experimenting with mobile experiences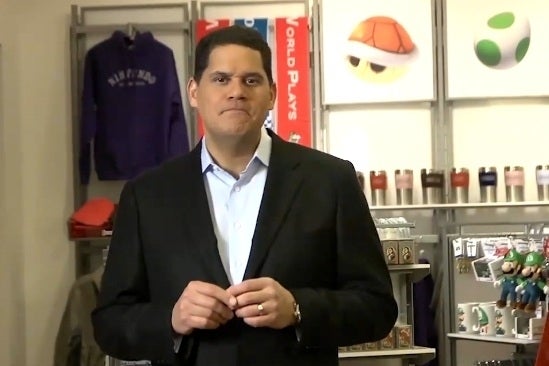 With the Xbox One and PS4 fighting over the core gaming crowd this holiday season, Nintendo is targeting its Wii U marketing elsewhere. In an interview with Seattle NBC affiliate King-5, Nintendo of America president Reggie Fils-Aime said the system is enjoying strong holiday momentum, thanks in part to a renewed and refocused marketing push.
"The marketing has tremendously ramped up," Fils-Aime said. "And really where it comes down to is being crystal clear in who's your target. For us, this holiday with the Wii U, the target is parents and their kids. So if you're watching primetime family entertainment, you're seeing our marketing. If you're a parent watching morning or daytime media, you're seeing our content."
Fils-Aime declined to give specifics about Nintendo's marketing spend, but did expound on the company's overall strategy.
"More than just the dollars, we're putting our product where the consumer can see it, touch it, and feel it," Fils-Aime said. "We're in over 20 malls across the country. We're creating an opportunity for consumers to see the product, because that, for Nintendo, is where the 'wow' happens. It's not when you talk about specs or technology."
Fils-Aime also addressed continued calls for Nintendo to begin making games for smartphones and tablets. While he stressed a corporate philosophy that Nintendo games are best played on Nintendo devices, Fils-Aime said the company has been doing "experimentation" on mobile platforms. However, he cautioned that experimentation is "largely going to be much more marketing activity oriented," and designed to push users to experiences on the 3DS or Wii U rather than serve as stand-alone experiences in themselves.
"What drives us is creating fantastic experiences for consumers that in the end we're able to monetize as a for-profit company," Fils-Aime said. "The issue is that if you have games out there on all of these smart devices for very small amounts of money, it's very difficult to monetize. And if you look at all of these companies who are trying to do it, there aren't many that are doing it long-term, profitably."