Nintendo cuts sales targets for Wii U, 3DS consoles
Company sells 3 million Wii U consoles to December 31, 11 million games for new system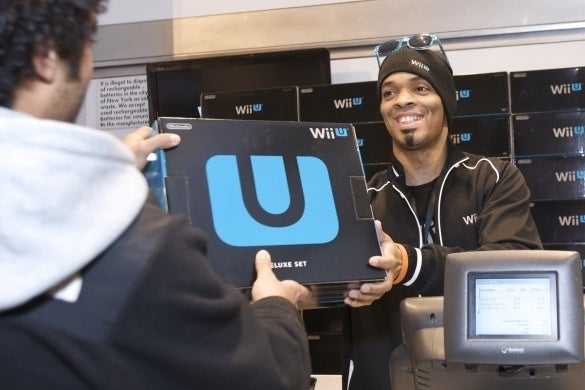 Nintendo has cut forecasts for its consoles, expecting to sell 4 million Wii U units by the end of March - down from a prediction of 5.5 million units.
It also said it projected 3DS sales to hit 15 million rather than 17.5 million and dropped DS expectations from 2.5 million to 2.3 million.
"Wii U hardware sales have a negative impact on Nintendo's profits"

Nintendo statement
The company has raised its full-year profits expectations to ¥14 billion ($153.8m / £97.6m) following the launch of the Wii U console. The system sold just over 3 million units from November to the end of December.
That's up from the ¥6 billion it predicted back in October following slow sales of the 3DS handheld.
For the nine months ended December 31, the company recorded net profits of ¥14.5 billion ($159m / £101m) compared to a loss of ¥48 billion the previous year, with sales of ¥543 billion ($5.9bn / £3.7bn). Nintendo noted that "owing to the fact that the Wii U hardware sales have a negative impact on Nintendo's profits, the operating loss was ¥5.8 billion."
The Wii U has sold 3.06 million units since launching in November and December last year, with 11.69 million game sales for the system.
New Super Mario Bros U had sold 2.01 million units and Nintendo Land 2.33 million.
The original Wii is still outselling the Wii U, with 3.53 million hardware sales and 45.08 million software sales.
During the nine months Nintendo sold 12.71 million 3DS consoles and 39.56 million games for the systems. The company noted success with the 3DS console cut in to sales of the regular DS, with only 2.15 million sales of hardware and 30.24 games.
Software unit sales to the end of December 31.
New Super Mario Bros. U (Wii U) - 2.01 million
Nintendo Land (Wii U) - 2.33 million
Pokemon Black Version 2/ Pokemon White Version 2 (DS) - 7.63 million
New Super Mario Bros. 2 (3DS) - 5.96 million
Animal Crossing: New Leaf (3DS) - 2.73 million
Super Mario 3D Land (3DS) - 12.71 million