Newzoo: Gamers like brands more than non-gamers do
Survey covering 13 different brands that have been active in gaming found players held significantly more favorable attitudes than non-gamers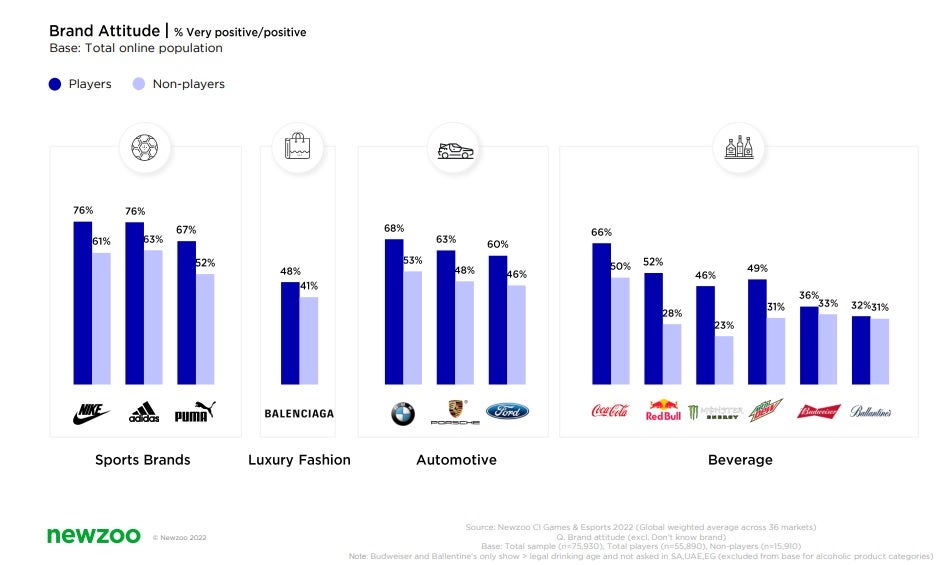 Gamers may have more favorable attitudes toward brands than their non-gaming counterparts, according to Newzoo's latest consumer insights report.
The market intelligence firm conducted an online survey earlier this year covering more than 75,000 respondents from 36 markets around the world, polling the group on a variety of topics, including how favorably they viewed each of 13 different sports, car, drink, and luxury fashion brands.
All of the brands have run gaming activations in recent years, from Ballantine's releasing a whisky with the Borderlands character Mad Moxxi to Nike, Puma, Balenciaga, and Coca-Cola putting their brands into Fortnite.
Across the board, gamers were more likely to hold "very positive" or "positive" attitudes toward the brands polled, but the boost varied by product category.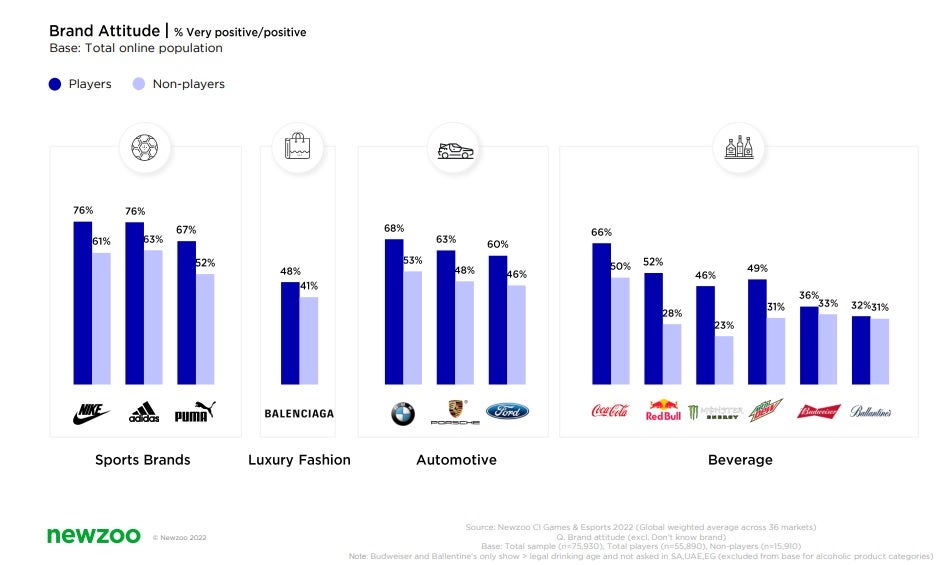 The greatest gaps in attitudes between gamers and non-gamers were seen by energy drinks and sodas like Red Bull, Monster Energy, Mountain Dew and Coca-Cola, in that order.
52% of gamers had "very positive" or "positive" attitudes toward Red Bull, compared to just 28% of non-gamers. For Monster, the gap was 46% to 23%.
Sports and car brands saw the next biggest gaps, followed by the only luxury fashion brand in the survey, Balenciaga.
Alcohol brands like Budweiser and Ballantine's saw the most minimal discrepancies between the gaming and not gaming audience.
Roughly 36% of gamers had favorable attitudes toward Budweiser, compared to 33% of non-gamers. For Ballantine's, it was 32% to 31%.
A 2020 report by Gameloft for Brands saw similar results, finding that 56% of gamers trusted companies and brands, compared to 47% of non-gamers.