NBA 2K, GTA, catalog titles drive Take-Two's holiday quarter
CEO Zelnick talks about growing M&A activity, next-gen hardware shortages, minimal pandemic impact on release dates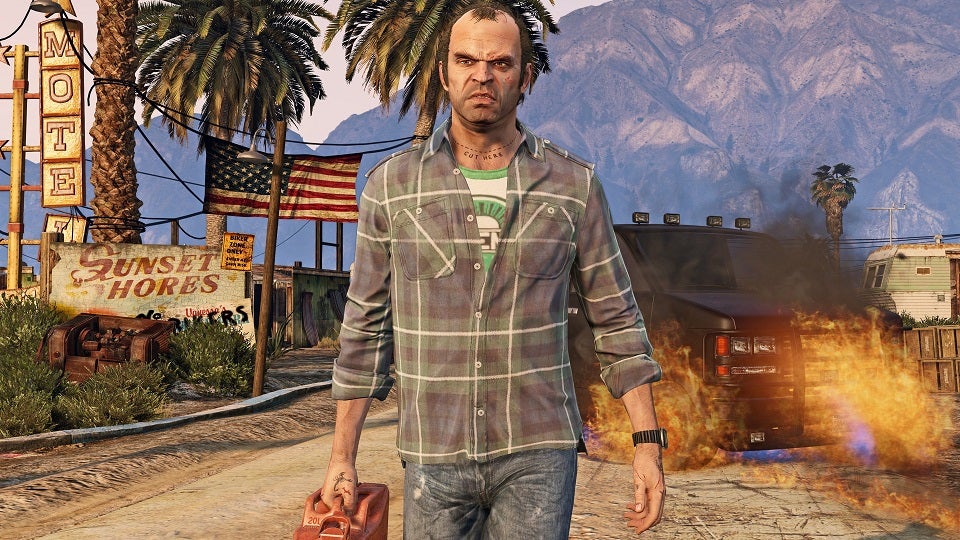 Take-Two Interactive didn't have its strongest slate of new releases for the holiday quarter, but a strong showing from its catalog helped offset lower sales of new games and actually pushed profits higher year-over-year.
Take-Two reported its earnings for the fiscal third quarter ended December 31 today, with net revenues down 7% to $861 million, while net profits came up 11% year-over-year to $182 million. Despite the dip in overall revenues, recurrent consumer spending was up 57% year-over-year and accounted for 62% of all revenue.
Net bookings were also down 8% to $814 million. The company noted its continued shift in the digital-physical mix, with 82% of net bookings coming digitally, compared to 78% in the year-ago quarter.
The declines in sales and bookings can be at least partly explained by the publisher's release slate for the quarter. Where the previous year's holiday quarter saw the launches of WWE 2K20, The Outer Wilds, Civilization VI on Xbox One and PS4, and Red Dead Redemption on PC, this year's slate was headlined by the launch of previously released titles like Borderlands 3 and NBA 2K21 on next-gen systems, which were tightly supply constrained.
Speaking with GamesIndustry.biz about whether consumer adoption of the next-gen hardware has been slower than in previous generations, Take-Two chairman and CEO Strauss Zelnick said, "In terms of consumer demand, absolutely not... These consoles are flying off the shelves and you can't get them for love or money. We don't see any concerns there whatsoever. Naturally we would have liked to have seen a bigger supply because that would benefit us, but we remain very excited. And certainly, you want to have unfilled demand rather than dead inventory."
While new releases may not have brought in as much this quarter, Take-Two's catalog of hits offset a large part of the shortfall. Despite the dip in overall bookings, catalog bookings were up 39% to $500 million. Overall, the largest contributors were NBA 2K21, NBA 2K20, Grand Theft Auto Online/Grand Theft Auto V, Red Dead Redemption 2/Red Dead Redemption Online, and Social Point's mobile games.
As for new milestones, Grand Theft Auto V has now shipped 140 million copies. On top of that, calendar 2020 saw the second most copies of GTA V sold, trailing only the game's debut year on PS3 and Xbox 360, 2013.
Those customers weren't just playing the game's single-player mode either, as Zelnick said Grand Theft Auto Online had more players in every month of 2020 than in any other year since launch.
In other Rockstar news, Red Dead Redemption 2 has now shipped 36 million copies, and Take-Two has committed to supporting both Red Dead Online and Grand Theft Auto Online through the end of calendar 2021.
On the 2K side of the company, NBA 2K1 has sold-in 8 million while Borderlands 3 shipments have reached 12 million worldwide to date.
Take-Two said there is "no doubt" the company's results have benefitted from people staying home more due to COVID-19, and acknowledged that it may be faced with tougher comparisons down the road.
"As we look ahead, we are mindful of how the tailwind from consumers sheltering-at-home will continue to influence our results, and acknowledge that current trends of heightened engagement could possibly change over time as the situation with the pandemic continues to evolve," the company said.
While some industry-watchers have suggested that 2020 will see a flood of game delays as the effects of a year of pandemic-related work-from-home pile up, Zelnick said Take-Two has mostly avoided such problems.
"For us, we have not been slowed down, remarkably enough," Zelnick said, before noting that Kerbal Space Program 2 has been delayed into the company's fiscal 2023.
"Apart from that we've been able to stay on time, and the quality more importantly is fantastic. We have a workforce that's adjusted to working from home. We've been able to create production bubbles for our motion capture work, which is more expensive, but we're able to do the work and we are on time. So we're trending to be just fine. But it's been an enormous challenge and an enormous morale challenge, quite frankly."
In light of Take-Two being outbid by EA on a Codemasters acquisition, Zelnick acknowledged that there's more merger and acquisition activity in the industry right now, and that it's been driving prices up across the board.
"There's definitely a lot of activity," Zelnick said. "Prices are pretty heady, and we are remaining disciplined. We are anxious to grow. Our entire story really has been organic growth. We have the balance sheet to grow inorganically as well, but we've shown with Codemasters -- a deal we very much wanted -- that under all circumstances, we'll keep a firm grasp on our HP12C [financial calculator] on the one hand, and our discipline and strategy on the other."
Given the Codemasters move, the decades-long rivalry between 2K Sports and EA Sports, and EA's failed attempt at a hostile takeover of Take-Two in 2008, we asked Zelnick if it's ever hard to keep things between the competitors from becoming personal.
"Not in the least," Zelnick said. "I consider Andrew Wilson a very good friend."
In light of its third quarter results surpassing its forecast, Take-Two also nudged its full-year forecast up. It now expects net revenues of $3.24 billion to $3.29 billion with net income of $472 million to $484 million.