"More people have played Florence in Mandarin than in English"
At Game Connect Asia Pacific, Mountains founder Ken Wong emphasised the importance of Asian markets - for studios of all sizes
Mountains creative director Ken Wong believes that every indie developer should have a strategy for Asian markets, based on the unexpectedly stellar performance of Florence in China.
Wong was speaking as part of a panel on how best to find your audience at Games Connect Asia Pacific (GCAP), one of the centrepiece events of Melbourne International Games Week. As the lead designer of Ustwo's Monument Valley, Wong certainly has form in this area, even if that game's far-reaching success came as something of a surprise.
Ustwo isn't really a game developer as such, Wong explained; it is more a "digital design agency" with a large roster of corporate clients. That work was the source of the company's revenue, some of which funded the work of the small games team he worked on.
"Because they were funding it I wanted to make a game that was going to impress digital designers," Wong said. "They were very tech savvy, but they didn't play games necessarily. And this was in this very hipster area of London, so I thought we were making a game for hipsters. That's how Monument Valley came to be; very design-y, very pastel coloured, really clean UI.
"We haven't shared this before, but half of the sales of Florence are in China. That's more than the US audience"

Ken Wong
"It turned out that what we were actually doing was making a game for non-gamers; people who had grown up in digital culture and were into aesthetic things, pretty things, usable things like delightful interfaces. And that meant it was very accessible, so Monument Valley became popular with kids, with families, and with older people.
"That has now become a real passion of mine: making games for people that maybe don't know there are games out there for them... It's really important that we continue to go out and seek new audiences."
That is precisely what Wong set out to do with Mountains, the Melbourne-based studio he founded after leaving Ustwo in 2016. His first game as Mountains' creative director, Florence, was a conscious attempt to challenge "gaming's remit" with a subtle, emotive story about first love, which drew more from slice-of-life graphic novels than Monument Valley.
Throw in the fact that Florence was a premium-priced game only available for iOS, and it seems like an unlikely contender for success in China. And yet that's exactly what Florence has achieved, and to a much greater extent than one might expect.
"This room would really miss out if they didn't hear about the power of the Asian market," Wong said. "We haven't shared this before, but half of the sales of Florence are in China. That's more than the US audience. More people have played Florence in Mandarin than in English.
"And that's with almost no promotion, because we're only on iOS; we're not even on Android yet. That's a big thing. Your business model - all of you here - should include an Asian strategy, because potentially half of your market is there, if not more."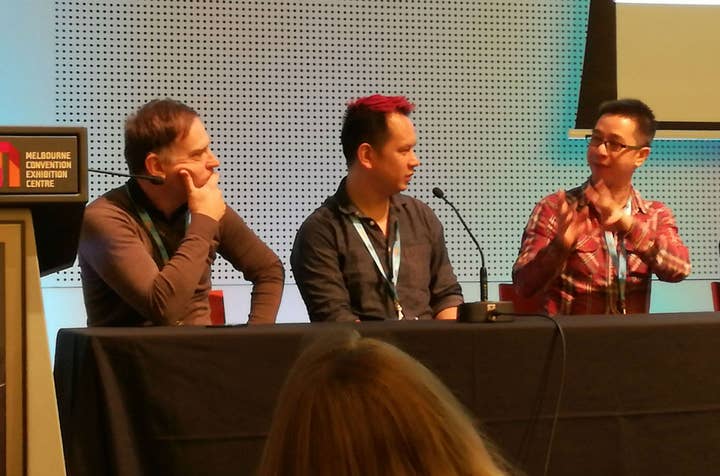 Two of the other panelists also related a surprising success in a major Asian territory: Hipster Whale co-founder Matt Hall, one of the creators of the mobile smash hit Crossy Road, and Yodo1 CEO Henry Fong, who signed Crossy Road to a publishing deal.
"One thing that surprised both Matt and myself when we launched Crossy Road was how well it did in Korea," Fong said. "That actually wasn't planned, as much as I've told him it was. Back then, when you looked at the Google Play charts, there was a sea of Korean games and then there was Crossy Road in the number one spot - and it stayed there for 50 days in that market."
"One thing that surprised both Matt and myself when we launched Crossy Road was how well it did in Korea"

Henry Fong
However, while that initial burst of success was very welcome, it wasn't the result of a calculated strategy or significant marketing spend. Fong set Yodo1's "entire team" the task of finding out why.
"We found that, because it was so tweetable and so [inherently] viral, we found that BTS [a successful Korean pop band] had picked it up and were tweeting it to their fans - every time there was a tweet, there was a surge."
Far from being a surprise, this quality was at the very core of what Hall and his co-creator, Andy Sum, were trying to accomplish when they started to design Crossy Road. The intention, Hall explained, was to make "the meme-iest game we could come up with". When either one felt the desire to share an idea on social media, it was evidence that they were on the right track.
"Anything that would make people laugh - that was our vector," he said. "People watch cat videos for hours every day. Why do they do that? They want to laugh. That's what we tried to harness."
Crucially, that stickiness was as powerful in driving success in Korea as it was in North America and Europe. And, upon hearing the thinking behind the creation of Crossy Road, Wong admitted that he took a "sorta similar" approach to Monument Valley and Florence.
"Be bold with your designs, so it doesn't look like anything else," Wong said. "Gifs are important, trailers are important, screenshots, the name of the game.
"I try to make games that market themselves, which is a lot harder than it sounds. That doesn't mean don't do marketing. It means that everything, from the name of the game, to the icon, to the art style, they all have to work really, really hard to get people to talk about it and share it."
GamesIndustry.biz attended Melbourne Games Week as a guest of Creative Victoria.