Monster Strike drives 900 per cent revenue growth for Mixi
Mobile hit made $3.8 million a day in Q4, Mixi looks towards international growth in the year ahead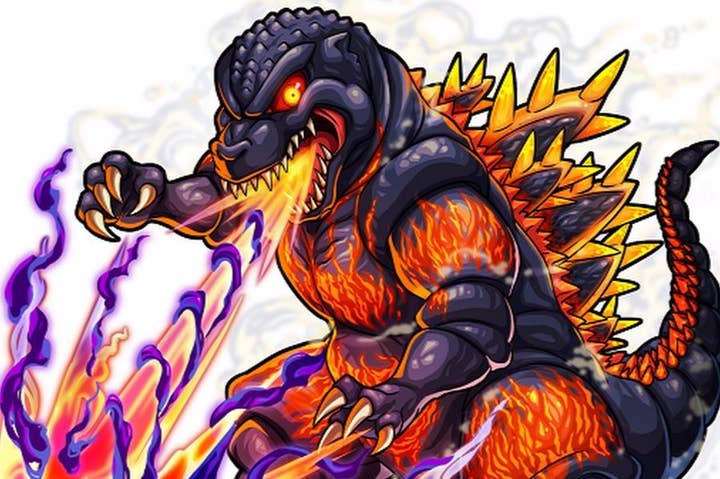 Mixi has provided an object lesson in what's possible when a company strikes a chord with the Japanese mobile market. Monster Strike, the company's biggest ever hit, earning more than $3.7 million every day in fiscal Q4.
That's based on the game's ¥40 billion ($333.8 million) Q4 revenue. Monster Strike is now the biggest Japanese mobile hit since GungHo's Puzzle & Dragons, which it unseated as the country's number one app in 2014. Monster Strike is available in many more countries than Japan, of course, but Mixi's native market is by far its biggest and most valuable - the engine room driving the company's success.
In the year ended March 31 2015, the company earned ¥111 billion ($927 million) in revenue, a year-on-year increase of 829 per cent. It made ¥33 billion ($275.4 million) in profit from that amount, up from just 227 million ($1.9 million) in the prior year - an increase so large Mixi didn't even attach a percentage in its report.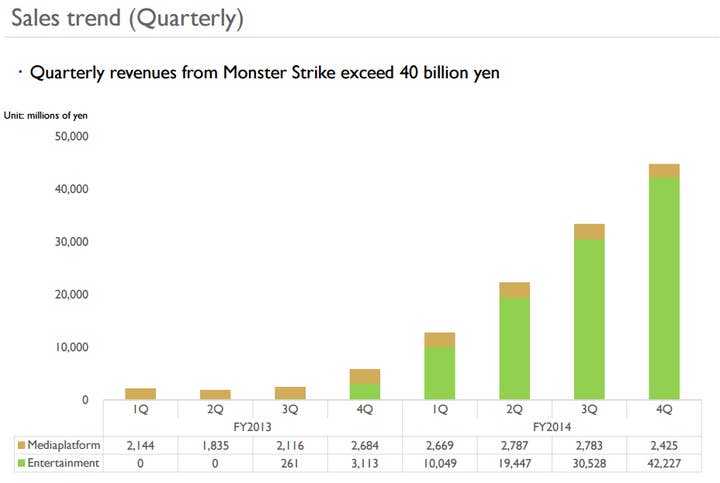 Monster Strike only launched in October 2013, and it's rapid growth has all happened in the last financial year. Mixi has fuelled that interest with investment in advertising and marketing, placing ads in 372 locations all over Japan, along wil TV commercials, TV show collaborations, and licensing deals with food and apparel companies.
It will host a "Monster Strike Festival" in Japan this year, and release an animated video series based on the property. Mixi also announced a version of the game for Nintendo's 3DS, the most popular console platform in the country.
The next year will be about growth, with international markets the obvious target. Monster Strike has been launched in Taiwan, North America, South Korea, China and Hong Kong and Macau since May 2014, but only Taiwan and Hong Kong and Macau have received significant investment in promotion.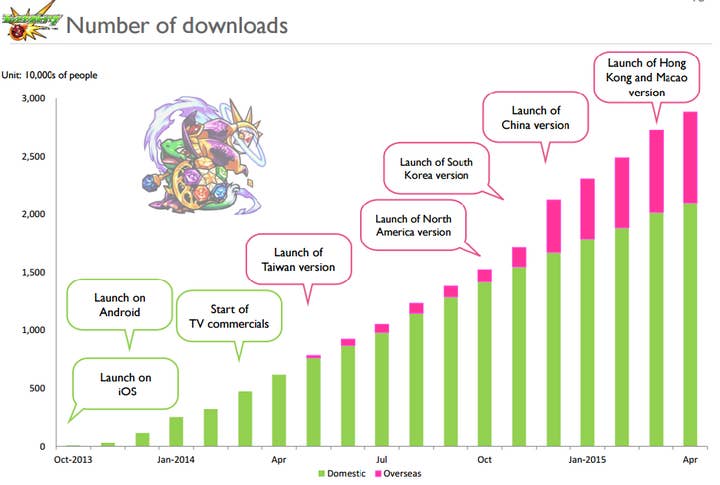 Mixi will also use mergers and acquisitions for growth in the coming year, and it is well placed to do so. At the end of the fiscal year, the company had ¥65.4 billion ($545.9 million) in cash and deposits, up from ¥17.8 billion ($148.6 million) at the close of the year before.
And those reserves will only increase in the year ahead, if Mixi's forecast proves to be accurate. The company expects to earn ¥185 billion ($1.54 billion) in this fiscal year, banking ¥52 billion ($434 million) in net profit.