Monster Hunter Rise | Critical Consensus
Capcom's franchise returns to Nintendo with a vibrant world, an enthralling combat system, and the same (old) winning formula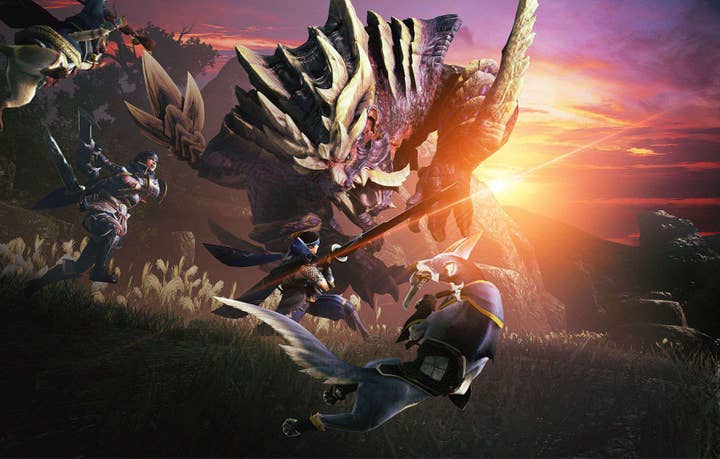 Monster Hunter fans have been waiting for a new entry on Switch ever since the console's release in 2016.
The series' last appearance on a Nintendo console dates back to Monster Hunter Generations, which released on Switch as a HD port in 2017 in Japan, and 2018 worldwide. The previous new entry was Monster Hunter 4, which released on the 3DS in 2013 in Japan, and 2015 elsewhere.
Capcom's latest installment in the series, 2018's Monster Hunter: World, launched on PS4, Xbox One, and PC, but skipped Nintendo's new console.
Despite being a franchise that historically sells primarily on the Asian markets, World allowed the series to reach neight heights, becoming a massive hit worldwide and Capcom's best selling game of all time with 16.8 million copies shifted.
Needless to say the expectations are high for Monster Hunter Rise, which releases on Switch tomorrow, March 26, with a PC release due in 2022.
The critical reception for the title has been generally very positive. Capcom's action RPG currently has a Metacritic score of 87, which is just a couple of points below the average Metascore of Monster Hunter: World across the three platforms.
"Each character brings colour and history to Kamura in a way that's never really been represented by Monster Hunter's previous titles"Sayem Ahmed, NintendoLife
The game's world building was praised in all the articles we read, with Game Informer's Jason Guisao commending in his 7.75/10 review an environment that feels like a living, breathing ecosystem "filled to the brim with endemic life as well as hard-to-find secrets."
Writing for The Guardian, Dom Peppiatt said in his 4/5 review that he appreciated that the title "deviates from the uncomfortably colonialist new-world casings of Monster Hunter: World and leverages the newfound global popularity of the series to tone things down, take things a bit slower and bring you back to a more rural, communal setting: Kamura Village."
In his 9/10 review, NintendoLife's Sayem Ahmed added: "Each character brings colour and history to Kamura in a way that's never really been represented by Monster Hunter's previous titles. It's not just set-dressing; this game lives and breathes in its aesthetic, and makes you really believe in the history and world, too."
Monster Hunter Rise's world is inspired by Japanese folklore, with players able to take quests either from the Hub Rank, for more seasoned players who want to jump straight into the action, or from the village itself for those who want to be eased into the game in a more narrative-driven way.
"What makes the Village quests so unique are the short cutscenes that appear when hunting a monster for the first time," Kazuma Hashimoto noted in his 9/10 review for Siliconera. "These cutscenes are short and draw direct inspiration from Japanese kabuki theater, with a narrator providing a short synopsis of the monster that either draws upon the appearance or background of the monster itself.
"These little nuggets of lore and their real-world connection to Japanese folklore and mythology felt refreshing"Kazuma Hashimoto, Siliconera
"Unlike the cutscenes in Monster Hunter: World -- which you can skip in Monster Hunter Rise -- these are more engaging and help create a sense of believability in the locale and the overall world. These little nuggets of lore and their real-world connection to Japanese folklore and mythology felt refreshing. Everything ties neatly together with random collectibles that also provide records of hunters that came before you."
Ahmed added that it's also easier than ever to navigate the game's world, saying: "While Monster Hunter: World before it draped every nook and cranny with the highest quality environments and areas, it was fairly easy to lose your way, even if you were someone -- like us -- who had put hundreds of hours into the game. This has never been an issue in Monster Hunter Rise, thanks to the somewhat simpler geometry of the areas. But make no mistake, they're just as detailed and thriving with life, collectables and things to do. You could almost make an entirely different game out of Monster Hunter, just by going fishing, looking for all of the endemic life, or just trying to explore."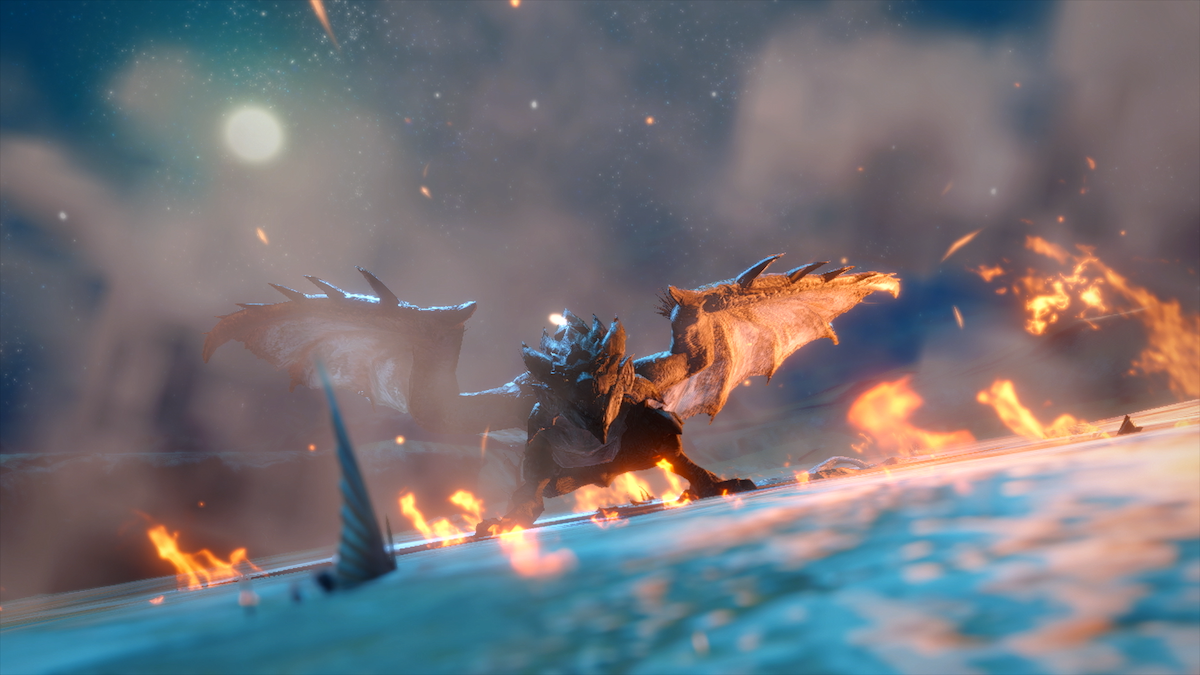 The title's combat system, while tricky at first, will feel extremely rewarding to players once they've got the gist of it, Dean Abdou noted in his 7/10 review for Gaming Bible.
"There's a variety of playstyles for you to choose from, and once you find the right one and learn it then you're set," he wrote. "Taking down monsters will just be non-stop fun every single time."
Ahmed concurred, saying Monster Hunter Rise caters to all players regardless of their preferred playstyle, especially thanks to the introduction of the Wirebug feature, which gives the players additional ways to attacks and move. And not only is the range of weapon options wide, but they also visually look different.
"In World, it would be too often that you'd see a big metal sword with a couple of feathers stuck onto it," Ahmed wrote. "However, Monster Hunter Rise has taken a look back to its roots to fully realise the weapon designs and the items you craft them from to properly inform their design, meaning that you can get everything from bombastic hammers to incredibly intricate weapons that actually look like the monster parts that you've crafted them from."
"It's perfect for more time-pressed followers of the series, but might leave veterans under-occupied"Dom Peppiatt, The Guardian
He continued: "The series has previously been known for having somewhat slow, clunky combat, but the truth is that every weapon is near-perfectly balanced. The changes to ranged weapons that came in Monster Hunter: World are reflected and refined in Monster Hunter Rise, meaning that they're much easier to use and aim, and you can even use the Switch's gyro aiming, which feels fantastic."
Peppiatt noted that the branching weapon techniques seen in Monster Hunter: World have been toned down, and that "everything feels more arcade-y."
"Special attacks can be swapped out on a whim to make movesets more flexible and comfortable to play. Fourteen weapons, interchangeable skills, ludicrous anime-inspired special attacks that have you leaping around like a particularly flamboyant Power Ranger... it all compresses into a fun, easy-going action game that delights in letting you soften a monster up for 15 minutes before putting it out of its misery with a stylish flourish. It's perfect for more time-pressed followers of the series, but might leave veterans under-occupied."
The latter point is a concern that was expressed both by NintendoLife's Ahmed and Siliconera's Hashimoto, who both regretted a lack of endgame, for a franchise that got its fans used to hundreds upon hundreds of hours of content.
More importantly, what Monster Hunter Rise offers is not necessarily going to revolutionise the franchise.
"Even with the introduction of new mechanics, Monster Hunter Rise struggles to establish a creative identity of its own"Jason Guisao, Game Informer
"If you've played a Monster Hunter game, then you'll find that this is pretty much same old, same old," Gaming Bible's Abdou said. "Why change what already works, and has done for so many games now?"
Game Informer's Guisao agreed that Rise isn't reinventing the wheel -- instead it's trying to emulate what made Monster Hunter: World a success.
"Monster Hunter: World was an important paradigm shift for Capcom's beloved franchise. The well-paced difficulty ramp made progression enjoyable for newcomers, while countless endgame challenges kept expert hunters coming back for more. Monster Hunter Rise's gameplay often attempts to copy World's success, which isn't always a bad thing. Battles continue to be an exhilarating dance with death, gear customization is satisfying, and coordinating hunts with friends makes for awesome fun and unexpected outcomes. Even with the introduction of new mechanics that help amplify these features, Monster Hunter Rise struggles to establish a creative identity of its own."
There's a routine to the title's gameplay that Guisao compared to a "comfortable monotony that Monster Hunter fans will likely appreciate." However, he added that Monster Hunter Rise "doesn't venture far beyond that comfort zone."
"You spend most of your playthrough experiencing the classic loop: battle gigantic adversaries like the feral Arzuros and Lagombi, collect mundane items, and deliver heavy objects to camp."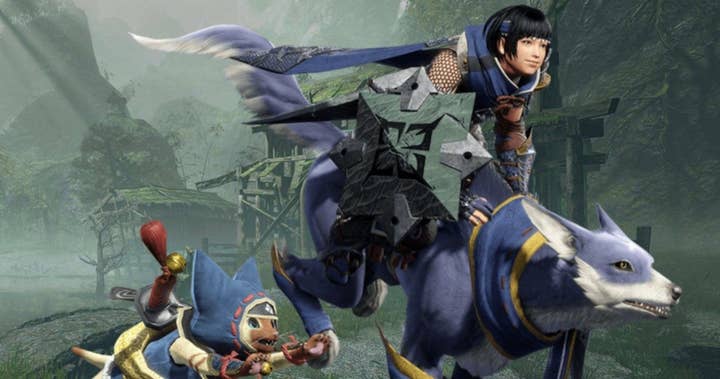 Ahmed believes Rise actually goes beyond that core loop though, as the title boasts over 30 monsters that all feel unique, and "looks to shake up the usual 'hunt, carve, craft and repeat' cycle with a few new significant tricks up its sleeve that completely change how you play the game."
Said tricks include the new Wyvern Riding mechanic, which lets players ride beasts to battle, or the Buddy Plaza, which is the base from which you interact with Palicoes and Palamutes, big cat-like and dog-like companions that help you in your quest.
"Buddies are extremely versatile, and Monster Hunter: Rise constantly rewards you for using the plaza's various facilities," Guisao conceded. "Still grinding for that rare beak or tail? Your palico 'meowcenaries' might surprise you with one from a recent expedition. This kind of positive feedback gives the lulls between combat/exploration some much-needed flavor."
Reviewers agreed that multiplayer is where the title really shines, but there's one caveat: Monster Hunter Rise does not support voice chat. Once in a lobby together, players can send messages and stickers to each other but that's pretty much it.
"This is somewhat disappointing, as the voice chat integration present in the Wii U version of Monster Hunter 3 Ultimate was a fantastic way to chat with your fellow hunters," Ahmed said. "If voice communication is an essential part of online gaming for you, then you'll have to coordinate with your team using a third-party app, like Discord.
"Going from a big-screen console title to a handheld game is a big shift for players who are expecting something akin to World"Dean Abdou, Gaming Bible
"With that said, multiplayer hunts remain a true spectacle. Every hunter can pick either a Palico or Palamute to come on a quest with them, which can mean that things can get very busy on screen, and on occasion, it becomes difficult to parse what's actually happening, what with all the fancy graphical effects. But, the feeling of taking on monsters with a well-rounded team is peerless for a PvE experience."
Finally, several reviews mentioned a lack of accessibility on some fronts. Abdou noted a "tiresome" first hour of tutorials, which includes a lot of reading -- a task that becomes "pretty troublesome" if you're dyslexic, for instance.
Meanwhile, UI accessibility was an issue for Hashimoto: "Monster Hunter Rise lacks any real accessibility features regarding its UI, which became a huge problem for me. Through the time I played Monster Hunter Rise before release, both of my eyes became bloodshot after extended periods of playing. Even resting the day after, my eyes would immediately become bloodshot again roughly four hours into a session. This issue is even more apparent when playing the game while the Switch is in handheld mode. The font is almost unreadable if you don't have the Switch close to your face. While Monster Hunter Rise is a mostly perfect game, this is one of the things that holds the title back considerably."
Critiques were divided when it came to the game's performance in handheld mode versus docked. Abdou noted that Rise's attempt to cater to on-the-go gamers is somewhat unsuccessful: "Going from a big-screen console title to a handheld game is a big shift for players who are expecting something akin to World. It took a little getting used to, but eventually playing it in docked mode was the best way to go, to properly enjoy exploring the gorgeous new world. Playing in handheld mode was more of a struggle, whereas playing docked actually let me take in the visuals when playing on the big screen."
Hashimoto and Ahmed also preferred playing docked, especially when it came to performance during multiplayer online play, but Peppiatt didn't encounter any issue even in handheld, saying that the "game's netcode runs seamlessly -- even despite the Switch's historically shonky online play."
Concluding his review, he added: "Given that you can mount a dog, ride it into battle, then hop on to monsters and turn them against the other yetis, fox-dragons, T-rexes or whatever else happens to be within biting range, before zipping off back to your village with the help of a magic bug, it doesn't seem like Rise should be taken all that seriously.
"This is a game about relentlessly hunting monsters until you've practically pushed a whole ecosystem to the brink of collapse; it's absurd, it's theatrical, it's inane, and it's fun, a delightfully silly recalibration of a time-tested and powerfully absorbing adventure."