Mobile's fast risers of 2019 could be leaders in 2020
Call of Duty and Mario Kart fell away in November, according to Sensor Tower, while Playrix' Township and Dragon Ball Z: Dokkan Battle were ascendant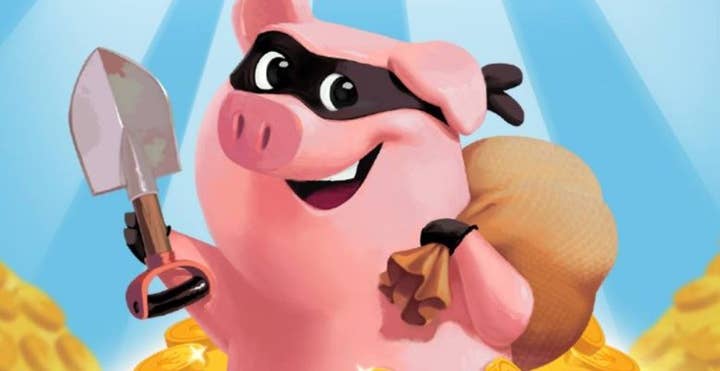 Last month, we reflected on the increasing influence of console and PC IP on mobile, headlined in October by the launches of Mario Kart Tour and Call of Duty: Mobile. In November, there was no place in the worldwide top ten grossers for those big releases.
Sensor Tower Store Intelligence data shows Activision's Call of Duty: Mobile falling to 24 from 12 month-on-month, though it still brought in an impressive $31.8 million in gross revenue. Nintendo's Mario Kart Tour dropped to 57 from 27, generating $16.4 million. There was still room in the top 30, however, for eight franchises that started life on PC and console -- down just two from October.
New to the overall top ten in November was Sony's hit mobile RPG Fate/Grand Order, which generated $54.3 million, a 10% month-on-month increase. NetEase's Fantasy Westward Journey picked up $53.3 million, despite a fall of 11% from October.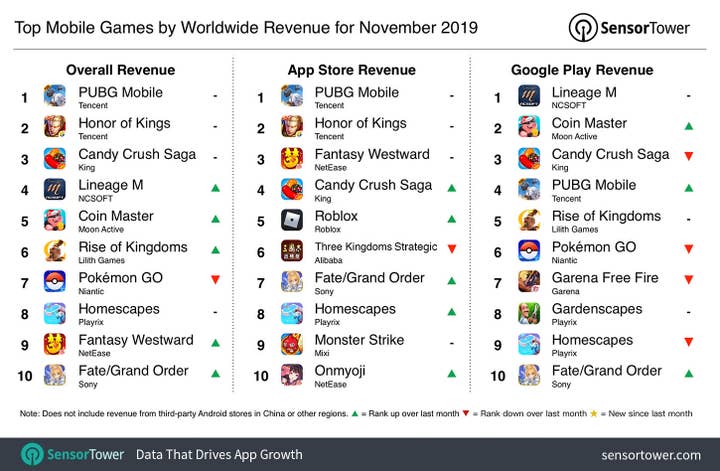 Alongside Fate/Grand Order, the fastest risers in terms of revenue on the November top 30 chart were Bandai Namco's Dragon Ball Z: Dokkan Battle (18), NetEase's Onmyoji (22), and Playrix's Township (28).
Rising revenue
Dragon Ball Z: Dokkan Battle was first released in 2015 and has since generated more than $2 billion in lifetime revenue. User spending in November increased 59% month-on-month to $34.2 million. The title's revenue typically spikes and dips throughout the year due to a variety of successful in-game events. This year's biggest event, based on the film Dragon Ball Super: Broly, drove $109 million in player spending in February, its best ever month.
Playrix's Township had its best month in November, despite first launching on mobile back in 2012. The simulation title brought in $28.5 million, up 17% over October and 144% Y/Y over November 2018. Township has grown substantially in 2019, giving Playrix another top 30 grossing title in its portfolio, which already includes the highly successful Gardenscapes and Homescapes. Increased spending in 2019 has largely been driven by countries such as the United States and Japan.
This has coincided with a large increase in the number of downloads, suggesting a strong user acquisition push. In January, Township picked up 3.1 million new unique installs, peaking at 13.8 million for May. The push followed a few key updates, such as the introduction of Zoo Animal Cards in January and a new Tool Exchange in the game, which appear to have helped drive spending.
Another title, Coin Master from Moon Active, rose up to fifth spot on the overall grossing rankings for November -- claiming its best month ever with $63.3 million in gross revenue, in what has been a year of records for the title.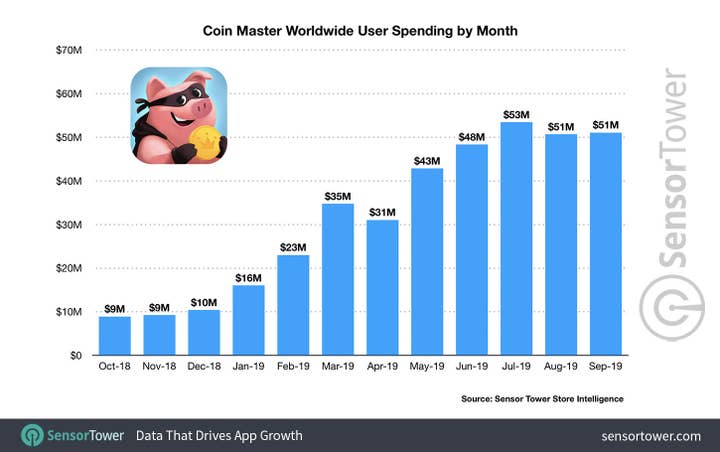 Revenue has been led by the United States, generating $327.2 million in lifetime revenue in the country to date, or 52.3% of player spending, while Great Britain was the second highest grossing country with an estimated $85.2 million, or 13.6% of revenue.
Much like Township, growth has been backed by an increase in downloads between January and August. However, its single best month for installs remains March 2018 with its total of 4.1 million. While that led to a consistent increase in sales, it did not result in the same dramatic jumps experienced in 2019, which you can see in the chart above.
Regional and category trends
Asia's influence over the top rankings is clear. Six titles in the overall top ten for revenue were developed in the region, while Asian publishers are responsible for seven games on the App Store chart and five on Google Play.
Zooming out to the overall top 30 grossers, 17 of the games are published by Asian companies. Six titles have been developed by European studios -- though Empires & Puzzles maker Small Giant is owned by US publisher Zynga and Candy Crush Saga creator King is owned by U.S.-based Activision Blizzard. Meanwhile, Supercell, developer of Clash of Clans and Clash Royale, is majority-owned by China's Tencent.
North America has three games in the top 30: Niantic's Pokemon GO, Roblox, and Activision's Call of Duty: Mobile (developed by Tencent's TiMi studio). While Asian companies account directly for 17 of the top 30 grossers, Asian publishers also have stakes in the companies behind six other titles.
When it comes to categories, the top 30 has a mix of the leaders of various genres, including shooters, RPGs, casino, location-based games, match-three, and other casual/puzzle titles. Strategy and its various sub-genres -- such as MOBA and 4X -- lead the way, however, with nine titles out of the top 30.
Many of these games are also in it for the long haul. Year-on-year, November 2019's top 30 grossers saw nine different games rank in the chart compared to November 2018, showing that this year's fast risers could continue to be next year's leaders.